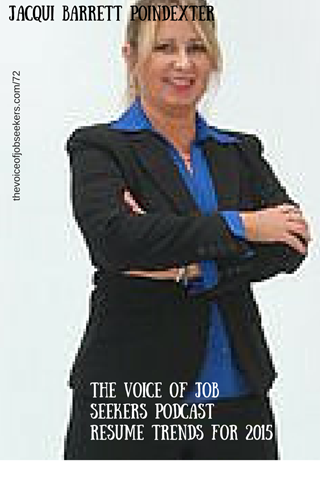 Podcast: Play in new window | Download | Embed
Subscribe: Apple Podcasts | RSS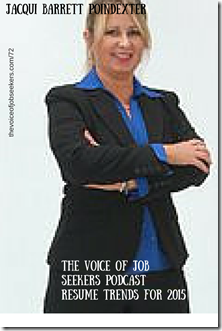 In this episode, we discuss trends of resume writing helping you write more purposeful and tell a story moving employers to call you. More resume writers and career professionals including myself and my guest, Jacqui Barrett-Poindexter advises your resume along with your Linkedin profile tell a complete story. We discuss storytelling everywhere, the importance of focus, and social media.
Does your resume and social profiles tell a story that helps your knowledge, skills, and abilities stand out? Here are three ways to provide feedback:
Call and leave a voicemail at 708.365.9822
Email: mark@thevoiceofjobseekers.com
Go to TheVoiceofJobSeekers.com/72, press the Send Voicemail button on the left, which will activate your laptop microphone, then leave a message
If you are a career advisor, coach, instructor or career professional and leave a comment, I will mention your blog and include a link in the show notes.
Jacqui (@ValueIntoWords) is one of the 37 Master Resume Writers and quoted in many national publications including TIME, Forbes.com, and FOX Business. She blogs for U.S. News, Glassdoor.com, and her  blog CareerTrend.com
As a resume writer, I was reminded how important the process of ascertaining the job seeker. Jacqui loves the journalistic approach of the who, when, why, what, and how. I wanted to talk with Jacqui about trends not necessarily how to write a resume. These days employers are looking shorten the amount of time they review resumes and what gives them the most information in minimal time.
Here are some of the highlights of our discussion:
We discuss the significance of the visual resume "The Resume Infographic" by Hannah Morgan and how the resume has evolved since 2009.
Jacqui stated that storytelling has gained a drum beat as a mantra reaching epic proportions in the social media circles.
Content has become richer, detail, brief with headlines and sub-headlines, but the words matter the most. Jacqui tries to draw out the who, what, when, why, and how to add texture for clients.
The visual is an enhancement to the content since words are the area of importance. Charts and graphs illustrate in a snapshot view of some of the content. It takes content and condenses it or takes condensed content and gives it a top for those skimming or reader that what the dashes of excitement.
Jacqui stated that a visual resume shouldn't be your primary resume, but there is an audience for "visual" as a part of your web portfolio
People need to slow down and think through the foundational stories behind visuals become more meaningful, and knowing that they have roots – understanding who you've become and why that matters
Linkedin has become a channel that can model value shown on a resume. Jacqui says that 90% of her clients will have Linkedin profile created in addition to a resume
Linkedin has expanded from being an acceptable static profile to a more dynamic. Job seekers must consider their audience and customize his or her participation
Social media can now be viewed or previewed of epilog of your resume. We should be expanding our view of what a resume is although it's an old term, and it says so much
Each person should know their story from the beginning to today and into the future
I asked Jacqui to share how the stories will differ between the resume and social mediums. In your process, you may end up in a different place in your career while enhancing the story elements.
I hope you enjoy this rare extra long conversation. I wrestled with edited it to be shorter, but  I felt this conversation and perspective is rarely published. Enjoy!
I am the "The Voice of Job Seekers!" I offer compassionate career and job search advice as I hack and re-imagine the job search process. You need to be "the prescription to an employer's job description." You must be solution-oriented and work in positions in companies where you are the remedy. Your job search must be a lifestyle, and your career must be in front of you constantly. You can no longer shed your aspirations at the change seasons. There are strengths you have that need constant use and development. Be sure you sign up to download my E-Book, "421 Modern Job Search Tips 2021!" You can find my career advice and work in media outlets such as Forbes, Inc., Fast Company, Harvard Business Review, Glassdoor, and many other outlets.