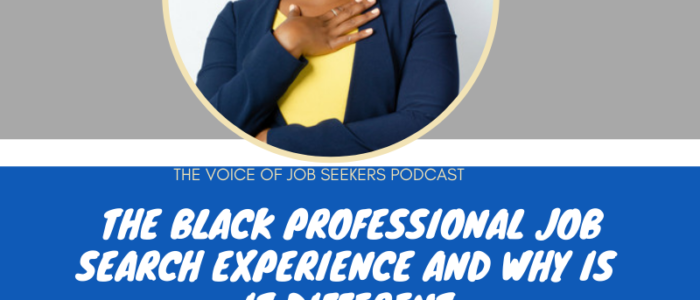 Podcast: Play in new window | Download | Embed
Subscribe: Apple Podcasts | RSS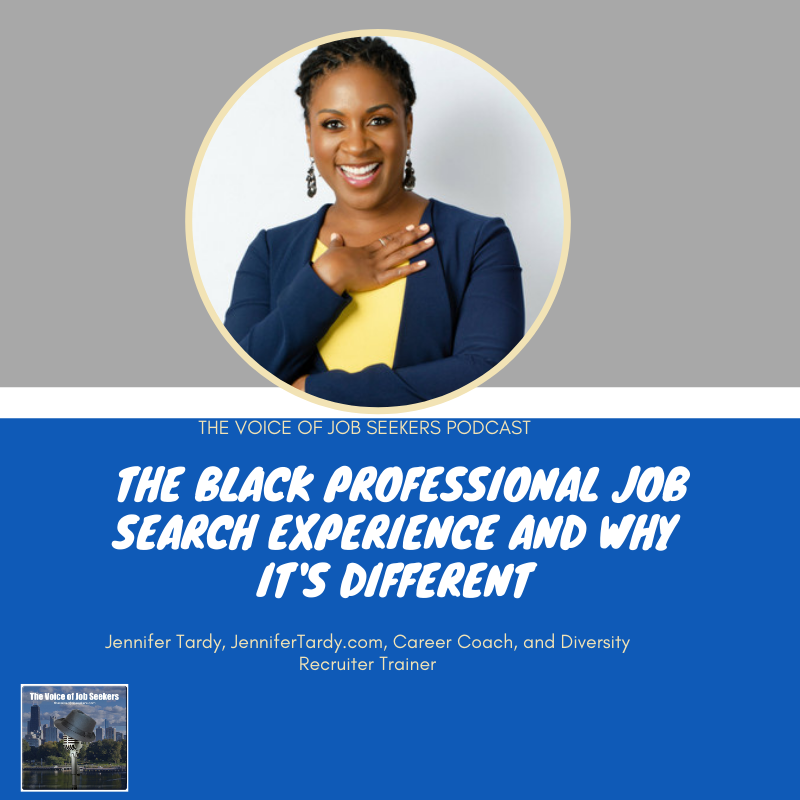 It is well documented Black names and culture are differentiating factors before the initial resume vetting process companies conduct is completed. More companies and organizations are focusing on diversifying their workforce. In today's conversation with Jennifer Tardy, we are dissecting what black professionals may have experienced in their job search and how they could best navigate it.
You are more than welcome to join the discussion. Here are three ways you can:
– Call and leave a voicemail at 708-365-9822, or text your comments to the same number
– Go to TheVoiceofJobSeekers.com, press the "Send Voicemail" button on the right side of your screen and leave a message
– Send email feedback to mark@thevoiceofjobseekers.com
Those on the mailing list are offered the chance to participate in the Job Lab. If you want to join us on October 24, the last Job Lab for the year, sign up at the blog.
Show flow:
About Jennifer Tardy:
Jennifer is a former full-time recruiter, a career coach, and a diversity recruiter trainer. She spends half of her time with one-on-one career coaching and the other half with companies that want her to train on diversity recruiting.
Discussion highlights:
Job seekers shouldn't be concerned about their ethnicity being revealed on their resume.
Jennifer says, "Don't be concerned, be strategic. Being strategic with anything you reveal in your resume goes beyond race and ethnicity. Every single thing you list in your resume should confirm that you have the knowledge, skills, and abilities to do the job."
Jennifer says she loves to wear bright colored earrings but will refrain from doing so in an interview because that could be distracting. She wants the interviewer to be focused on her words, not the brightly colored earrings. I have worn colorful color ties with a dark-colored suit. It's OK to bring yourself to work if it's not a distraction from your work.
Ask questions of the employer to find out how they are creating safe spaces for their Black employees to produce, learn, and grow. If you're asked a biased question or a question that most would deem offensive, it is best to assume positive intent.
Jennifer says when her client makes a comment that is inappropriate or asks an inappropriate question, she remains in control by "meeting people where they are by assuming positive intent. "This allows me to put emotion aside and look to call people in as opposed to calling them out."
I am updating my free e-book entitled, "421 Modern Job Search Tips for 2021." I plan to release it to my email list on October 30, before everyone else will be alerted on November 13. Want it early? Go to the blog to sign up.
My name is Mark Anthony Dyson, and I am the Founder of The Voice of Job Seekers. I am a career advice writer, but more importantly, I hack and re-imagine the job search process.. I've worked with hundreds of job seekers one-on-one helping them to construct a narrative and strategy that appeals to hiring managers and recruiters. I present at colleges and organizations, and facilitated many workshops including my volunteer effort through a Job Lab. I write and create useful job search content on this blog and write career and workplace advice for blogs such as Glassdoor, Payscale, Job-Hunt.org, Prezi and more. Media Feature highlights: Forbes, Business Insider, NBC News, Glassdoor, LinkedIn's #GetHired, and NPR Freelance writer and content contributor: Glassdoor, Payscale, job-hunt.org, The Financial Diet, RippleMatch.com and more. Contact me to contribute career, job search, or workplace advice for your site at markanthonydyson@gmail.com.