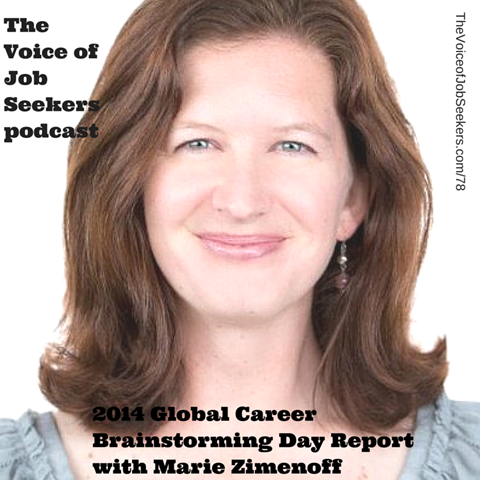 Podcast: Play in new window | Download | Embed
Subscribe: Apple Podcasts | RSS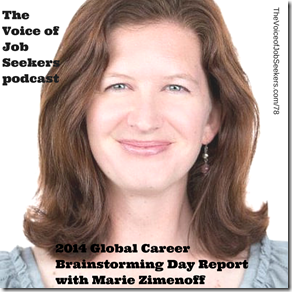 For the last five years, the Career Thought Leaders Consortium (CTL) has published a "Global Career Brainstorming Day" through hosting a worldwide brain dump of career trends current and anticipated. MarieZimenoff (@workwithpurpose), the new President of CTL, and I discuss a small part of the whitepaper produced as a result of the meeting. The whitepaper is a useful tool for job seekers and career professionals. The report is free and downloadable for anyone to access as well as other material produced by CTL members.
Marie is a former president of the National Resume Writing Association as well as a career practitioner. She hosts the podcast and radio show through Voice of America,  the "Career Confidante (Note that I erroneously announced during the show as 'Career Confidential')."
I would love to hear your thoughts about today's topice in one of the following ways:
Call and leave a message at either 708.365.9822 or go to TheVoiceofJobSeekers.com and press "Send Voicemail."
Leave a comment  on the blog
Here are some of the highlights of our conversation:
1. Marie said she pulled out three words that highlighted the resume section: branded, brief, and visual. Branded: If your resume is not telling your story, you're at a disadvantage. Brief: Pieces of the resume needs to be in bits and bites so that they are little snapshots. Visual: Not only pertaining to presenting an infographic, but also must be visually appealing as a marketing piece
2. Content is still king. Success stories, skills, and keywords are a must
3. Marie says that the challenge for job seekers is that there are no rules other than the best practices that presented before them. When it comes down to it, the writer must know the industry, the audience and what type of marketing material that is going to appeal to them
4.Job seekers need to be careful with emailing directly to hiring managers. Some companies create a blacklist of people who send unsolicited emails. It is important for them seek out the right person through referrals, other employees, or through social channels (Linkedin, Twitter, etc.)
5. Linkedin is an opportunity to tell more of the story, written in the first person, and easy to read through as well as showing more of your personality
6. Recruiters are more proactive than ever and with the social profile so accessible, and they are actively contacting potential candidates
7. Social media where you should expand your story  and leverage successes to add value versus advertising. It is an opportunity to make achievements more real and bigger
8. The pain point letter from a job seeker is a growing trend where the individual sends the hiring manager in a company a letter of why he or she has solutions to specific problems without the job being posted. Marie has seen a high rate of success when the person has conducted extensive research
9. To become more of a "branded product (I love this part)" you have to understand what your value is, your core value proposal, and adjust your message to your audience needs
10. Marie says that the confidence in your brand is important because it is likely that you will tell an employer what you want to make
If you are a career professional in any capacity you're invited to leave advice, or expand on a point made during the show, or disagree. If you leave permission to read your reply or replay your message on the show, I will include a link to your blog or website.
Have you subscribed to this show on iTunes? If you haven't, please do so. This is also a great place to write an honest review. Enjoy listening to the show. Let us know what you think.
Do you need help with resume writing or career direction? Do you need coaching or instruction? Then start here and can help.
My name is Mark Anthony Dyson, and I am the Founder of The Voice of Job Seekers. I am a career advice writer, but more importantly, I hack and re-imagine the job search process.. I've worked with hundreds of job seekers one-on-one helping them to construct a narrative and strategy that appeals to hiring managers and recruiters. I present at colleges and organizations, and facilitated many workshops including my volunteer effort through a Job Lab. I write and create useful job search content on this blog and write career and workplace advice for blogs such as Glassdoor, Payscale, Job-Hunt.org, Prezi and more. Media Feature highlights: Forbes, Business Insider, NBC News, Glassdoor, LinkedIn's #GetHired, and NPR Freelance writer and content contributor: Glassdoor, Payscale, job-hunt.org, The Financial Diet, RippleMatch.com and more. Contact me to contribute career, job search, or workplace advice for your site at markanthonydyson@gmail.com.