I'm Mark Anthony Dyson
I have written more than 700 job search and career-related articles, including bylines with Glassdoor, Business Insider, Payscale, Recruiter.com, FlexJobs, Fox Business, and The Financial Diet.
Career advice is quoted in major media outlets such as Forbes, Fast Company, Business Insider, LinkedIn News, NPR, and SiriusXM, and more.
My career advice is cited in and contributor to several careers and job search-centered books.
I've produced more than 200 podcast episodes and more than 80 live stream programs.
Throughout the years, my blog, podcast, and advice have garnered dozens of awards.
Presented to organizations such as Bradley University, Fort McPherson, Fort Eustis, North Georgia University, Career Thought Leaders, New York Urban League, Toronto Jobs, and Prairie State College.
My white papers appear in the resource libraries of Inc., Entrepreneur, Fast Company, and Harvard Business Review.
Contact Mark Now For Speaking
Email: markanthonydyson[at]gmail.com
Text or phone: 708.365.9822 (voicemail if you call)
How I deliver presentations: I can deliver in-person and virtual presentations in compliance with any state and province restrictions or standards.
Writing: Please contact me via email to discuss further.
Download Mark's Speaker 1-sheet
Organizations hire me because…
I offer ways for job seekers and from all walks of life to hack and re-imagine the job search for themselves.
Writing and speaking about hundreds of modern resources and tools as options brings hope and a thoughtful approach to your career advancement efforts.
Helping people be "the prescription to the employer's job description" promotes critical thinking customize strategies to find the right employer.
Creating a "consultant mindset" promotes a solution-oriented approach job seekers and professionals can offer each employer they meet.
I help career services professionals get "unstuck" in suggesting modern job search and career exploration tools and resources. My white papers have served hundreds of educators, career services leaders, and career professionals with new and relevant ideas in their approach to employment and internships.
What to expect
A thoughtful and practical response to your inquiry, whether by calls, texts, or email.
I have consulted through virtual calls, surveys, or conversations to find solutions suitable for you and your audience.
Promote your event through the 22,000+ on my social channels.
Quality and customized presentation for your group or audience delivered virtually or in-person as you deem appropriate.
Feedback (What can I do better?).
Topics to present
7 Reasons to Stay in Job Search Mode (Even if You Don't Need a Job)
Some points I'll cover: 
A crowded job field excludes you
Technology changes too fast to remain passive
You can't negotiate for the market rate you ignored
Your job references will change frequently (EVERYBODY is on the move)
Your skills have a short shelf life
You'll fear the unknown far less
Navigate seamless career changes
The New Job Search 2022 and Years to Come
Some points I'll cover: 
Remote Work
Mobile
The Myths of Termination/Layoffs
Personal and LinkedIn SEO
Diversity and Inclusion
Bringing the whole person to work
Networking
Professional Development
Salary Negotiation
Hiring Process
13 Salary Negotiation Strategies for the First-Time Negotiator
Some points I'll cover:
You'll benefit the most from negotiations when you:
Diffuse the bomb: Create an amicable conversation, not an inquisition
How can WE (job candidate and employer) win
Research before the job search
Thorough thoughtfulness (Can you get a raise during the pandemic?)
25 Modern Job Search Strategies and Tools Beyond the Resume 
Some points I'll cover:
Your name as an SEO and digital asset
CTA (Change, Turbulence, and Adapt)
Research, Target, and Reach Out to Companies
Essentials Skills Are The New "Soft Skills"
Professional development and how you're using it
7 False Narratives About Being Fired to Ignore Forever
Some points I'll cover:
"It's hard to find jobs"
"I fail too often"
"I did my best, yet, I still got fired"
"My family won't support me"
Top media features 2020-2021
Here's what clients said about my presentations and work: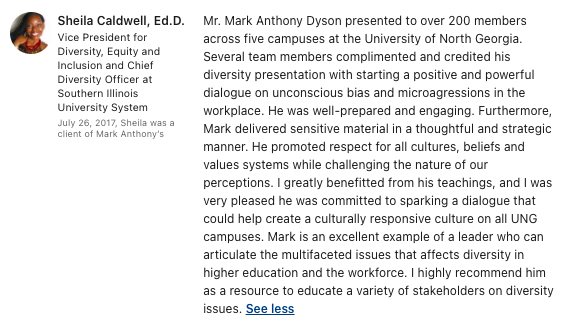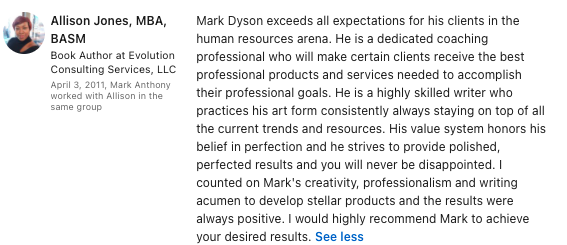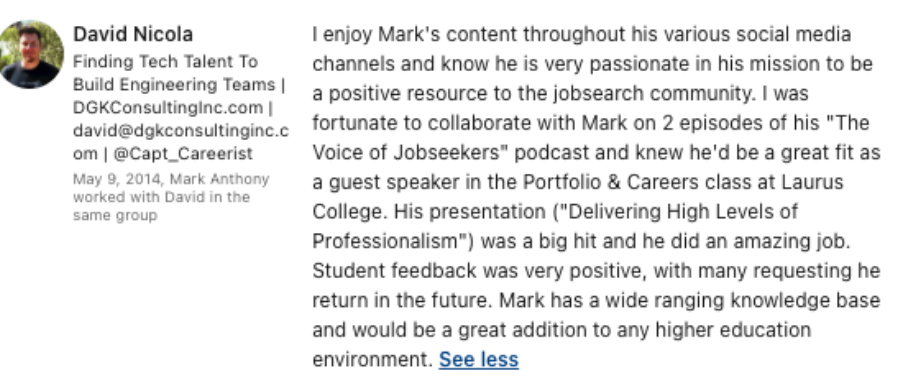 About me:
I know there isn't just one formula to hacking the job search process. Even in this pandemic, I am constantly reimaging the job market and how it will fit in the future of work. I admit it's hard for career practitioners and writers like me to offer advice that will work for now and the end.
When I first started a resume company after the great recession in 2008, I knew if I could help clients in the most challenging job market of my generation, I could help them navigate anything. Since then, I've helped hundreds to be "the prescription to the employer's job description." One recurring theme in my training and speaking is for them to have a consultant mindset. Present solutions first, then a resume.
The pandemic job search presents a new set of challenges yet, ushers in a new era. Every professional had a chance to reevaluate their careers and lives to the point of decision. Many are choosing themselves, their livelihood, and their family and desire to align their careers with their values, even if it means realigning years of training and experience to find fulfillment. Some are taking risks leaving lucrative jobs because their company or boss is not interested in nurturing or developing their worker's curiosity. Through the stories job seekers tell, I write, speak, and create narratives to help them hack their careers and lives.
I am a family man, married 30 years, and raised two young men. Through this blog in the last decade, I have a mission to help the unemployed, underemployed, and underappreciated professionals and job seekers.
I am the "The Voice of Job Seekers!" I offer compassionate career and job search advice as I hack and re-imagine the job search process. You need to be "the prescription to an employer's job description." You must be solution-oriented and work in positions in companies where you are the remedy. Your job search must be a lifestyle, and your career must be in front of you constantly. You can no longer shed your aspirations at the change seasons. There are strengths you have that need constant use and development. Be sure you sign up to download my E-Book, "421 Modern Job Search Tips 2021!" You can find my career advice and work in media outlets such as Forbes, Inc., Fast Company, Harvard Business Review, Glassdoor, and many other outlets.