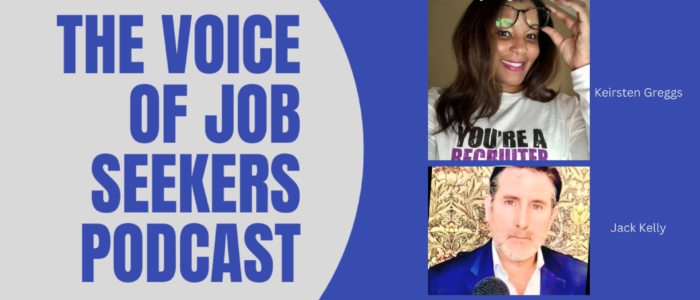 Podcast: Play in new window | Download | Embed
Subscribe: Apple Podcasts | RSS
In this episode, Keirsten Greggs, Jack Kelly, and I discuss the hiring challenges and what job seekers and hiring teams do to hurt the process. 
Omissions, lies, and deception during the hiring process.
It's a tight job market, and there's lots of angst on both sides of the hiring table.
"…recruiters who are desperate and got to get someone in there. So they tell a tall tale of how wonderful things are, and it doesn't turn out…"
Job seekers must ask in writing for promises stated during an interview so they can consider them seriously in their negotiation strategies.
There are so many addendums and so many clauses. Employers have specific legally compliant language that they have to use.
What part will AI play in the hiring process?
What kind of training do hiring managers, recruiters, and interviewers have come into the hiring process?
You are more than welcome to join the discussion. Here are three ways you can:
– Call and leave a voicemail at 708-365-9822, or text your comments to the same number
– Go to TheVoiceofJobSeekers.com, press the "Send Voicemail" button on the right side of your screen and leave a message
– Send email feedback to [email protected]
I am the "The Voice of Job Seekers!" I offer compassionate career and job search advice as I hack and re-imagine the job search process. You need to be "the prescription to an employer's job description." You must be solution-oriented and work in positions in companies where you are the remedy. Your job search must be a lifestyle, and your career must be in front of you constantly. You can no longer shed your aspirations at the change seasons. There are strengths you have that need constant use and development. Be sure you sign up to download my E-Book, "421 Modern Job Search Tips 2021!" You can find my career advice and work in media outlets such as Forbes, Inc., Fast Company, Harvard Business Review, Glassdoor, and many other outlets.