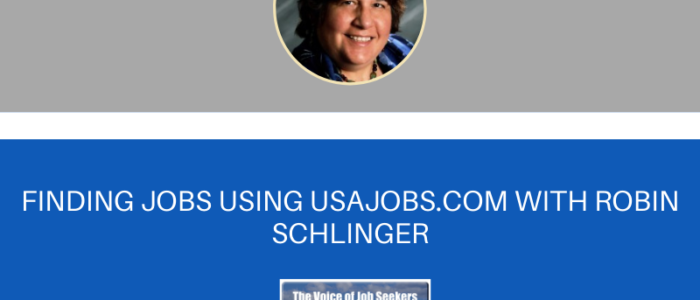 Podcast: Play in new window | Download | Embed
Subscribe: Apple Podcasts | RSS
A military follower asked me about federal resumes. I wrote federal resumes for a big client, but not recently. I asked colleagues in a Facebook group I'm a part of, and Robin Schlinger emerged as someone whose reputation and work proceeded her. I've known about Robin's work for years through other colleagues and resume writers in the space. She was so generous in offering a mini-workshop hybrid with a conversation to introduce USAJobs.com, the primary site to find federal jobs. I published the video version a couple of months ago on my YouTube page. Today's episode is the audio version of Robin's presentation.
You are more than welcome to join the discussion. Here are three ways you can:
– Call and leave a voicemail at 708-365-9822, or text your comments to the same number
– Go to TheVoiceofJobSeekers.com, press the "Send Voicemail" button on the right side of your screen and leave a message
– Send email feedback to mark@thevoiceofjobseekers.com
More about Robin:
Robin has been writing federal resumes for quite some time. She's worked with various branches of the federal government providing tutorials, workshops, and coaching. Robin regularly speaks to job seekers and industry professionals on Applicant Tracking Systems (ATS), Federal resumes, resume writing, LinkedIn profiles, and successful job search strategies.
Robin's presentation is nearly 1 hour and 40 minutes in this episode. And it's a fraction of the entire workshop she does for her corporate clients. We focus on applying through USAJobs.com, the main site to find published federal jobs. She also offers federal resume tips.
Presentation highlights:
Robin provides preliminary tips to do before starting the process.
It's essential on USAJobs.com to create a USA jobs profile–anyone can create their own.
We discuss your security clearance status on your resume, and your application is vital.
If you are disabled, you want to listen to the job advice Robin offers at 22:40
"If you apply for a job that doesn't match your experience and what you can do, you're not going to get that job."
It's not a place to change careers. It's a place to change job locations, doing what you've already done unless you're disabled.
I am the "The Voice of Job Seekers!" I offer compassionate career and job search advice as I hack and re-imagine the job search process. You need to be "the prescription to an employer's job description." You must be solution-oriented and work in positions in companies where you are the remedy. Your job search must be a lifestyle, and your career must be in front of you constantly. You can no longer shed your aspirations at the change seasons. There are strengths you have that need constant use and development. Be sure you sign up to download my E-Book, "421 Modern Job Search Tips 2021!" You can find my career advice and work in media outlets such as Forbes, Inc., Fast Company, Harvard Business Review, Glassdoor, and many other outlets.