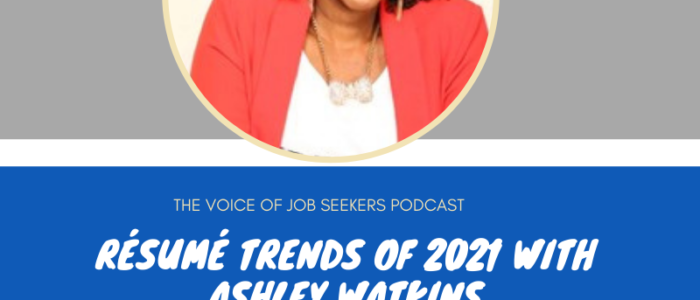 Podcast: Play in new window | Download | Embed
Subscribe: Apple Podcasts | RSS
The most downloaded show last year was my conversation with Ashley Watkins. I hope you don't mind me bringing her back. It's evident from our conversation (plus I see her LinkedIn content regularly) she knows what is trending upward, and understands what employers want in this remote work environment.
You are more than welcome to join the discussion. Here are three ways you can:
– Call and leave a voicemail at 708-365-9822, or text your comments to the same number
– Go to TheVoiceofJobSeekers.com, press the "Send Voicemail" button on the right side of your screen and leave a message
– Send email feedback to mark@thevoiceofjobseekers.com
More about Ashley:
She is a nationally certified résumé writer, job search and interview coach, and former recruiter. She is the founder of her company Write Step Resumes. Her services help clients craft high-quality career documents (résumé and cover letter) and LinkedIn profiles to highlight their unique value offerings and communicate the distinct benefit to the target employer during interviews.
Ashley is a 2019 LinkedIn Top Voice and has been quoted in many publications including The New York Times and the Wall Street Journal.
Some of the highlights of our discussion:
More people want their résumé to have a modern format
Video résumés and coaching on video interview has been on the rise
ATS allows for live links now to go to work on the web
"Cut the fat, get to the point!"
Ashley walks us through the differences between career levels and what employers want to see on a résumé.
Knowing the market and understanding who you're serving is essential.
Project management, leadership, collaboration, shift priorities, show proactive abilities are attractive to employers hiring for remote work.
Great stories told succinctly –continually document success.
No performance review? Then review yourself!
Learn to translate unique experiences into stories that resonate with employers.
I am the "The Voice of Job Seekers!" I offer compassionate career and job search advice as I hack and re-imagine the job search process. You need to be "the prescription to an employer's job description." You must be solution-oriented and work in positions in companies where you are the remedy. Your job search must be a lifestyle, and your career must be in front of you constantly. You can no longer shed your aspirations at the change seasons. There are strengths you have that need constant use and development. Be sure you sign up to download my E-Book, "421 Modern Job Search Tips 2021!" You can find my career advice and work in media outlets such as Forbes, Inc., Fast Company, Harvard Business Review, Glassdoor, and many other outlets.