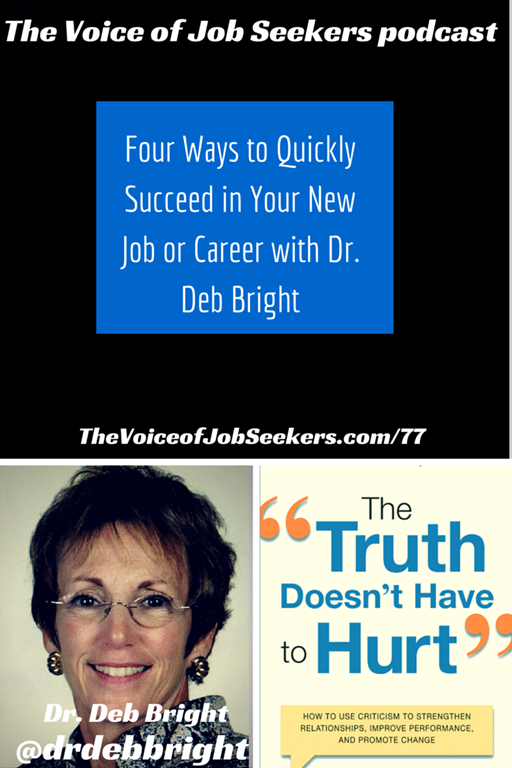 Podcast: Play in new window | Download | Embed
Subscribe: Apple Podcasts | RSS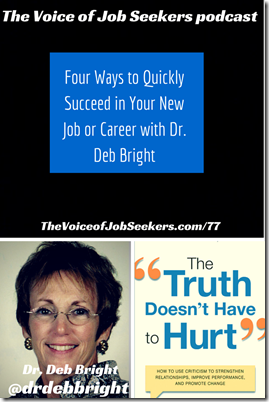 How you perform and manage your personal discipline of the first 90 days of a new workplace often sets the tone for your overall performance, right? The first 90 days is the primary window for many employers to decide to keep you or let you go. I like coming back to this subject again because it is a real struggle for many job seekers. Dr. Deb Bright is back to discuss in-depth her recent article on her blog, A New Position? Some Tips for Getting a Head Start Toward Success.
Dr. Deb Bright (@DrDebBright) is the author of the book, The Truth Doesn't Have to Hurt: How to Use Criticism to Strengthen Relationships, Improve Performance and Promote Change. She was on Episode 64 as we discussed performance evaluations.
What is your advice to get through the first 90 days of new employment? What is your philosophy starting at a new workplace?
I would love to hear your thoughts in one of the following ways:
Call and leave a message at either 708.365.9822 or go to TheVoiceofJobSeekers.com and press "Send Voicemail."
Email me at

[email protected]

Leave a comment  on the blog
If you are a career professional in any capacity you're invited to leave advice, or expand on a point made during the show, or disagree. If you leave permission to read your reply or replay your message on the show, I will include a link to your blog or website.
Deb offers insight in providing context and inspiration for the blog post. She explained that she works with executives on creating a positive organization persona. Reputation in an organization is not completely developed by the individual, but largely through perception of its employees. It is different than your brand in the new workplace.
Here are four points that we covered on the show:
1) Secure Some Quick Wins, You want people to feel that you are someone they can count on, who will make a valuable difference, pass along good information, and bring on the challenges. The quick win builds confidence with the people on your team and throughout the organization. You can find out their concerns and address issues that are within your control. They are the little things that can make a difference quickly. It is not all about doing your work only, but it's also making others feel good. People like when you're easy to work with, make timely replies to emails and phone calls,  polite to people, and look out to meet the needs of others.
2) Don't Be Too Quick to Draw Conclusions
Deb discussed her idea about keeping a diary at home, because you're writing personal observations of movers and shakers, people who may be on the outs, and leadership. People naturally assess their observations, but writing his or her daily reflection provides perspective. Most workplaces are fast-paced from orientation to training to implementation and that private time will help address questions and needs will increase performance effectiveness.
3) Be Aware of the Expectation You Set in the Eyes of Others
Don't do everything perfectly at first so that you set unrealistic expectations that put stress on you. Meet expectations and exceed them when it counts the most. Always exceed expectations can also produce resentment for the team because of one person's ability to exceed. Relationships within the team are more important as "the work speaking for itself."
4) Manage the Number of Hours You Work Each Week
The learning curve and the hours you work to get up to speed. Although this advice would apply more to managers, Deb advises paying attention to how many hours you're working weekly, and take advantage of resetting yourself in a positive way. The stress of working too much especially when starting a new position is unnecessary.
Have you subscribed to this show on iTunes? If you haven't, please do so. This is also a great place to write an honest review. Enjoy listening to the show. Let us know what you think.
I am the "The Voice of Job Seekers!" I offer compassionate career and job search advice as I hack and re-imagine the job search process. You need to be "the prescription to an employer's job description." You must be solution-oriented and work in positions in companies where you are the remedy. Your job search must be a lifestyle, and your career must be in front of you constantly. You can no longer shed your aspirations at the change seasons. There are strengths you have that need constant use and development. Be sure you sign up to download my E-Book, "421 Modern Job Search Tips 2021!" You can find my career advice and work in media outlets such as Forbes, Inc., Fast Company, Harvard Business Review, Glassdoor, and many other outlets.