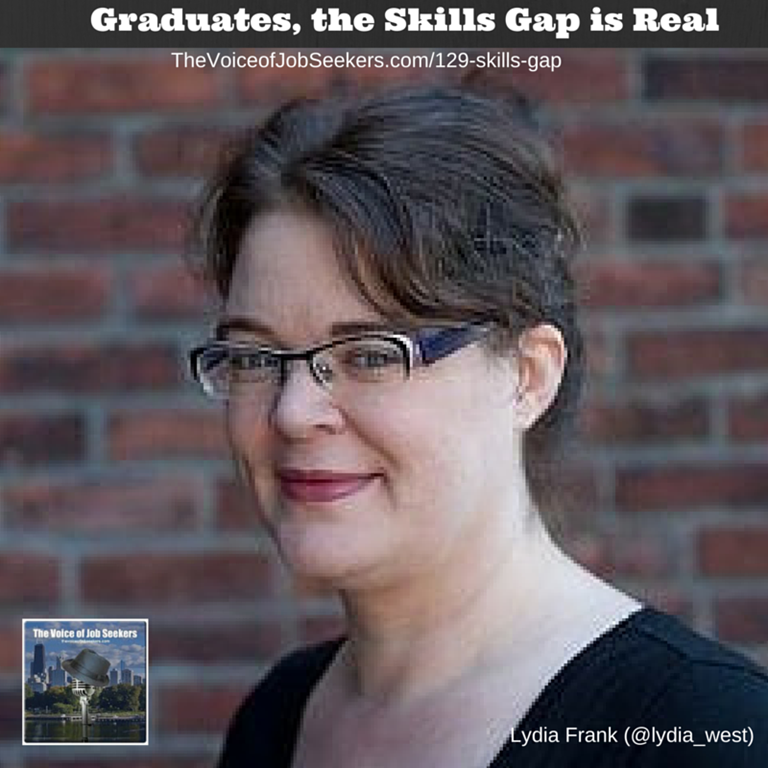 Podcast: Play in new window | Download | Embed
Subscribe: Apple Podcasts | RSS

We have been hearing about the skills gap for a long time and studies in the past address the lack of what employers want. Payscale released a skill gap study detailing the disconnect between managers and recent graduates regarding their preparedness for employment after entering the workforce, and which skills managers are most likely to consider absent or deficient. Please go to Payscale's website to view and download their report!
I discussed this two months ago with Rich Thompson, Adecco North America Chief Human Resource Officer. He also said one of the biggest challenges employers have is the skills gap. It is evident according to the study and organizations; graduates are not ready to present themselves as proficient in business oral and written communication. Lydia Frank from Payscale is with me to discuss their skills gap study specifically as it relates to college grads.
Have you been turned down for a position because you lacked skills? Talk to us. Here's how you can participate in the discussion:
Call and leave a voicemail at 708-365-9822, or text your thoughts to the same number
Go to TheVoiceofJobSeekers.com, press the "Send Voicemail" button on the right side of your screen and leave a message
Send email feedback to mark@thevoiceofjobseekers.com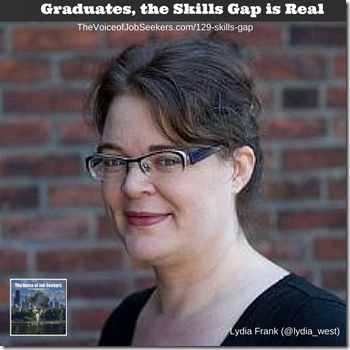 Lydia Frank was in episode 68 last year, and most recently on episode 111. I bought her back to discuss the latest study conducted byPayscale.com. Lydia is the Senior Director of Marketing for Payscale and salary negotiation columnist for Money.com. Her media contributions include TechCrunch, Havard Business Review, The Huffington Post, and CBS News.
The study focuses on the value of skills gap and identifies skills that affect pay in a positive way
Industry specific expertise will differ especially in the technical fields
The study focused even more of graduates
Writing proficiency and public skills are lacking–perhaps due to technology
Personal communication does not carry over to business communication
More proof and assessments. More frequently, the first two interactions with a company would be a telephone interview and a skills assessment
Great work by blogging is valid social proof and differentiate from the competition
We talk about how critical thinking affects the need to assess. Questions around critical thinking often evaluate how a job candidate thinks about solving a problem
Employers want to see the work and his or her process
Lydia discusses how a diversity of thinking and the background of the team is important–does he or she complement the team? Not just diversity of people
The study looks at the skills gap by U.S. region
Need help with your career goals, directions, or efforts? Do you need coaching or instruction? I am here for it!
Also, join our Linkedin community! You'll enjoy some of the insights shared by community members and other career pros!
I would still like to help self-published career professionals promote their books. If you're interested, find more info here.
My name is Mark Anthony Dyson, and I am the Founder of The Voice of Job Seekers. I am a career advice writer, but more importantly, I hack and re-imagine the job search process.. I've worked with hundreds of job seekers one-on-one helping them to construct a narrative and strategy that appeals to hiring managers and recruiters. I present at colleges and organizations, and facilitated many workshops including my volunteer effort through a Job Lab. I write and create useful job search content on this blog and write career and workplace advice for blogs such as Glassdoor, Payscale, Job-Hunt.org, Prezi and more. Media Feature highlights: Forbes, Business Insider, NBC News, Glassdoor, LinkedIn's #GetHired, and NPR Freelance writer and content contributor: Glassdoor, Payscale, job-hunt.org, The Financial Diet, RippleMatch.com and more. Contact me to contribute career, job search, or workplace advice for your site at markanthonydyson@gmail.com.