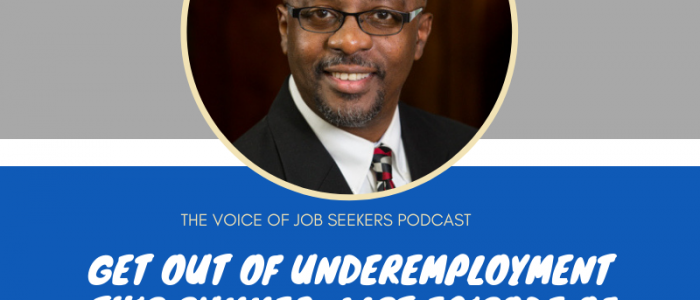 Podcast: Play in new window | Download | Embed
Subscribe: Apple Podcasts | RSS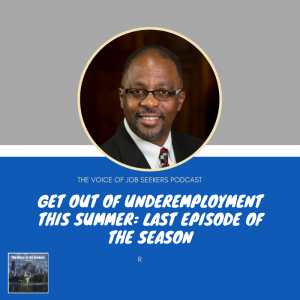 Underemployment can feel worse than unemployment because there are traps. Your mindset is more important than strategy. In this last episode, I discuss 5 ways to rethink your next moves out of underemployment. 
 Here's how you can join the conversation:
– Call and leave a voicemail at 708-365-9822, or text your comments to the same number
– Go to TheVoiceofJobSeekers.com, press the "Send Voicemail" button on the right side of your screen and leave a message
BLS reported May 3, "the unemployment rate declined to 3.6 percent, the U.S. Bureau of Labor Statistics reported today. Notable job gains occurred in professional and business services, construction, health care, and social assistance."
The only underemployment related stats are here:
"The number of persons employed part time for economic reasons (sometimes referred to as involuntary part-time workers) was little changed at 4.7 million in April. These individuals, who would have preferred full-time employment, were working part-time because reduced hours or because they were unable to find full-time jobs."
Find the April's Bureau of Labor and Statistics report here. 
Part-time workers who can't find full-time jobs in their field
People voluntarily work pt because they are in-between career decisions
People voluntarily pt because that is their decision – to work two or three pt jobs because they love those areas
 PayScale survey, 46 percent of respondents said they believed they were underemployed. Of those respondents, 76 percent said they felt underemployed because they were not using their education or training. While the Bureau of Labor Statistics does not measure underemployment because of "the difficulty of developing an objective set of criteria," it is safe to say that underemployment is a severe social challenge harming our economy.
If you don't want to be underemployed here are some tips:
Fight the urge to be complacent or settle even if the opportunity is a lousy ft job

As personal trials start to take up space, you can't ignore the impact

Embrace rejection, but it is not the verdict

Learn more to develop professional, and be an asset to others

It helps to prepare for a longer journey
Look for my summer content on the blog and don't forget to sign-up for the newsletter! 
My name is Mark Anthony Dyson, and I am the Founder of The Voice of Job Seekers. I am a career advice writer, but more importantly, I hack and re-imagine the job search process.. I've worked with hundreds of job seekers one-on-one helping them to construct a narrative and strategy that appeals to hiring managers and recruiters. I present at colleges and organizations, and facilitated many workshops including my volunteer effort through a Job Lab. I write and create useful job search content on this blog and write career and workplace advice for blogs such as Glassdoor, Payscale, Job-Hunt.org, Prezi and more. Media Feature highlights: Forbes, Business Insider, NBC News, Glassdoor, LinkedIn's #GetHired, and NPR Freelance writer and content contributor: Glassdoor, Payscale, job-hunt.org, The Financial Diet, RippleMatch.com and more. Contact me to contribute career, job search, or workplace advice for your site at markanthonydyson@gmail.com.