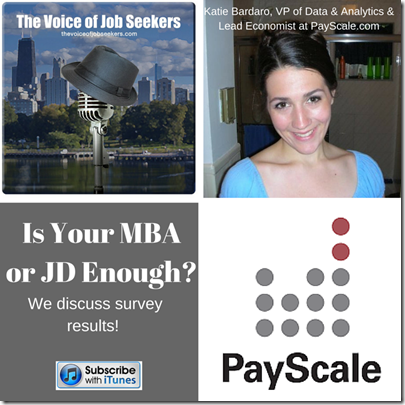 Podcast: Play in new window | Download | Embed
Subscribe: Apple Podcasts | RSS
Two weeks ago, Payscale.com released survey results on underemployment. They report 46% of Americans feel they're underemployed. I encourage you to go the site to read the survey for yourself as it breaks down the following:
most common job titles of the underemployed

most common job titles of the underemployed
percentage of underemployed by degree level (from high school GED to MD)
% of underemployed by gender
% of underemployed by degree level + major
% of underemployed workers and a break down by reason for underemployment
Let me if you're underemployed current and share some of your challenges. Here's how you can join the discussion:
Call and leave a voicemail at 708-365-9822, or text your thoughts to the same number
Go to TheVoiceofJobSeekers.com, press the "Send Voicemail" button on the right side of your screen and leave a message
Send email feedback to mark@thevoiceofjobseekers.com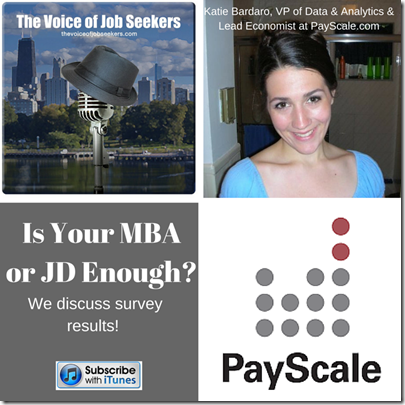 Katie Bardaro is the Vice President Data & Analytics and Lead Economist at Payscale.com.
Here are highlights from our discussion:
Underemployment as an epidemic in the U.S.
Underemployment is an important consideration when we look at the economic health of the country
MBA not having the expected ROI (Return on Investment)
Huge divergence in earning and job opportunities
The great recession affected graduate degrees made new grads shift in career possibilities (part-time or continue school)
The survey measure two catagories: Those who feel they are not utilizing their education and those with a part-time position wanting to work full-time
STEM careers have many ways to get the skills needed to change careers. Online certification and experience don't require the degree
Opportunity and underemployment gap exists, women are funneled into lower positions with lower pay and less movement
Need help with your career goals, directions, or efforts? Do you need coaching or instruction? I am here for it!
Also, join our Linkedin community! You'll enjoy some of the insights shared by community members and other career pros!
I would still like to help self-published career professionals promote their books. If you're interested, find more info here.
Don't forget the last show for the season is July 26, and the new one will begin on Sept. 6. I will be publishing new articles (up to 3x a week) on the blog. If you're a career pro and love giving career advice, let me know. I would love to have more guest writers during my hiatus and beyond.
My name is Mark Anthony Dyson, and I am the Founder of The Voice of Job Seekers. I am a career advice writer, but more importantly, I hack and re-imagine the job search process.. I've worked with hundreds of job seekers one-on-one helping them to construct a narrative and strategy that appeals to hiring managers and recruiters. I present at colleges and organizations, and facilitated many workshops including my volunteer effort through a Job Lab. I write and create useful job search content on this blog and write career and workplace advice for blogs such as Glassdoor, Payscale, Job-Hunt.org, Prezi and more. Media Feature highlights: Forbes, Business Insider, NBC News, Glassdoor, LinkedIn's #GetHired, and NPR Freelance writer and content contributor: Glassdoor, Payscale, job-hunt.org, The Financial Diet, RippleMatch.com and more. Contact me to contribute career, job search, or workplace advice for your site at markanthonydyson@gmail.com.