Podcast: Play in new window | Download | Embed
Subscribe: Apple Podcasts | RSS

I invite you to learn and participate in today's show today. The gender pay gap struggle is real and the disparity is wide-spread. This show is packed with practical and powerful advice to help women to level the salary playing field. Lydia Frank (@lydia_west)and Katie Donovan (@KDSalaryCoach,@Negoti8Pay) are experts in this field and two of the best. The data geeks at PayScale have just released their 2016 Salary Negotiation Guide. .I would love to hear what  you think? Here's how you can let me know:
Call and leave a voicemail at 708-365-9822
Go to TheVoiceofJobSeekers.com, press the "Send Voicemail" button on the right side of your screen and leave a message
Send email feedback to mark@thevoiceofjobseekers.com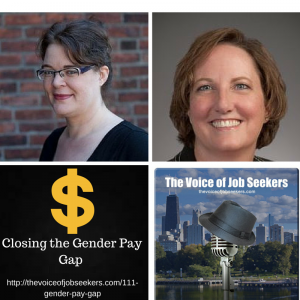 Lydia Frank was on episode 68 last year. I bought her back to discuss the latest study conducted by Payscale.com. Lydia is the Senior Director of Marketing for Payscale and salary negotiation columnist for Money.com. Her media contributions include TechCrunch, Havard Business Review, The Huffington Post, and CBS News.
here are a few highlights from our discussion:
Payscale's latest study shows that women are make 74 to 78 cents on the dollar compared to men. Some of the nuances overlooked are the types of positions men are able to obtain such as leadership, S&P, and Fortune 500.
The pay level gap grows (showing the disparity between men vs. women) at each level  of career advancement
To help close the gap more women need to advance in men dominant fields such as STEM and promoted at the same rate as men
When you drill into industry, marital status, or when women opt out of work to raise children, in comparison to men when returning to work, the pay gap is significant
Lydia stated that we need to consider the message we send to kids with the unbalanced gender pay
The Payscale study also considered if there were differences in men and women who are chosen for additional training (special skills or leadership).  They found that men still received a more significant bump in opportunities and salary.
More companies are examining the pay gap issue, increase training opportunities
Despite conscience effort the disparity in the gender pay gap remains an issue
Men ask for four times as much as women for 30% more money
Women should not offer salary history. The past has no bearing on your present job opportunity
Katie Donovan is the founder of EqualPayNegotiations.com. She frequently consults with employers, employees, and policy makers. She has been seen in major media outlets such as CNBC, Forbes, NPR, and Mashable. Katie Donovan's 360-degree background in employment, which includes working for a staffing firm, an applicant-tracking developer, and a trade association, brings a unique and pragmatic perspective to the work.
Here are a few highlights from our discussion:
The notion of "work hard and keep your head down" is wrong in expecting results in the increase of pay
Learn to be a marketer for yourself in letting people know what you're doing. Women tend to follow rules in hopes people will see
Understand what the "first offer" means during the hiring process
Negotiating may mean a million dollars more in the duration of a career
Career centers in high school and college focus more on resumes and cover letters. Students must educate herself
In your research, find out what the men are making, not just the median between men AND women
Katie states to always to take the time to think about the first offer. Have the HR person walk you through their compensation package
We discuss if the negotiation strategy is any different in government jobs. Katie offers a great perspective here
Trade organizations and associations are under-utilized while researching salary. It's worth spending a few minutes to see what they have
Call staffing firms and headhunters to find job openings that pay higher as an additional data point. No one source is completely accurate. Find forums and LinkedIn groups for more help
Resist to answer salary questions on applications. Employers are looking to exclude as many as possible if your salary expectation is too high
Don't bring up anything until they make the first offer. Katie says it doesn't have to be in writing if companies want to put the final offer in writing
Need help with your career goals, directions, or efforts? Do you need coaching or instruction? I am here for it!
Also, join our Linkedin community! You'll enjoy some of the insights shared by community members and other career pros!
I would still like to help self-published career professionals promote their books. If you're interested, find more info here.
My name is Mark Anthony Dyson, and I am the Founder of The Voice of Job Seekers. I am a career advice writer, but more importantly, I hack and re-imagine the job search process.. I've worked with hundreds of job seekers one-on-one helping them to construct a narrative and strategy that appeals to hiring managers and recruiters. I present at colleges and organizations, and facilitated many workshops including my volunteer effort through a Job Lab. I write and create useful job search content on this blog and write career and workplace advice for blogs such as Glassdoor, Payscale, Job-Hunt.org, Prezi and more. Media Feature highlights: Forbes, Business Insider, NBC News, Glassdoor, LinkedIn's #GetHired, and NPR Freelance writer and content contributor: Glassdoor, Payscale, job-hunt.org, The Financial Diet, RippleMatch.com and more. Contact me to contribute career, job search, or workplace advice for your site at markanthonydyson@gmail.com.