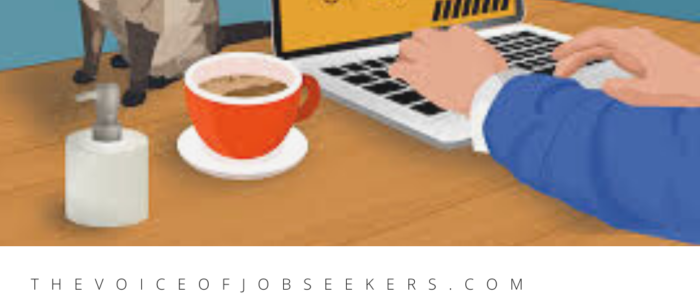 As the great recession and social media have defined a chapter in the new economy, COVID-19 and the incessant use of technology marks the midst of "Job Search 3.0!" Successful career advancement means your job search becomes a lifestyle. To disengage from any career advancement efforts for more than four to six months creates a career chasm. It puts you light years behind your competition, who are always ready to move, shift, or find an additional job. It's lethal to your livelihood and you want to avoid it like the Corona Virus.
The 
merge of technology
, business, and reliance on resumes and job sites in short, but not entirely, describes "Job Search 1.0." The defining moments of "Job Search 2.0," in my view, coincides with 
Web 2.0 
where web traffic is generated by content and social media. Job seekers had a new way to stand out if they adapted to these social tools and generated content to show their value in order to get hired.
COVID-19 has disrupted every industry in one way or another. But it shouldn't disrupt your focus to find a new job, change a career, or bounce back from a forced separation (being fired).
The time to advance career your career is NOW! 
What you need to know, if you don't know already, is that your job search needs to be a lifestyle. Perhaps we should call it "Job Search 3.0." This is not just something you say you're starting to do, it's a perpetual engagement in the war against mindless meme posting and incessant entertaining videos.
You're already swiping up, down, left or right a dozen times a day. It's the shift from a technology novice to an intentional job seeker. You're always connected, even if you're just using text. You're communicating with others outside of your work meetings, church services, and fellow travelers. "Job Search 3.0" simply means you're always in a job transition, transformation, and career advancement mode. You're one decision away from a job move or career change.
The role needs to change to adapt to the mindset of a consultant:
Always listening for industry pain points to solve

Assembling a portfolio of your work demonstrating a range of results, solutions, and innovation

Knowing which companies would benefit from your value
Even passively looking and entertaining advancement opportunities is part of "Job Search 3.0." I had a mentor who practiced interviewing once a year just to remain on the cusp of her career. You may want to adopt this spirit by grasping your current or new industry's innovation trends moving towards new or away from old technology, delivering results, and new positioning.
Here are 16 actions and strategies for your immediate consideration:
Exchange value with your network and give more than you get.

An active and engaged network will bring you opportunities and visibility to employers/recruiters.

Stay on top of the changing technology trends.

Sharpen your negotiating skills (compensation packages).

Promote yourself on social media, and keep those who boast about you in the front view of you and your followers.

Maintain quick access to relevant references, mentors, and sponsors in your industry.

Understand the short life of your skills.

Do not fear job separation nor allow the myths associated with it to penetrate your goals.

Career transformation is a necessity, preferably to have it occur seamlessly but that might not always be an option.

Young careerists (30 and under) should have a wealth of informational interviews under their belt.

Who is on your team?

Engage in industry organizations, online groups, and committees.

Create a robust LinkedIn presence with a convincing profile.

"No" is a valuable asset, but also the drive behind motivated discontent.

Building a personal brand that creates a demand for your work.

Choosing your employer is more important than who is your employer.

The best career tool for high school, college, trade, apprentice students are informational interviews.
Serving is the new networking.
Some of you are thinking (but you're really resisting) about the challenge of changing from your comfort zone:
Is this going to be more to add to my to-do list for each day?
We already do this. 
According to a 
recent Vox article
, the average American smartphone user had an average of three hours and thirty minutes a day on their phone.  If you have more than two hours of screen time, I'm sure there are 45 minutes a week for you to comment on LinkedIn a couple of times, watch a free YouTube DIY (Do-It-Yourself), or participate in an industry organization call or video conference.
How are we supposed to remain in "job search mode"?
Your mobile apps are tools. 
I've written several articles over the last three years that the apps we can download allow 
our phone
to be a job search hub and a lifeline. Our mobile phones empower our ability to learn, connect, research, and apply. The right mobile apps are the power supply to engage in a continual job search without extra equipment or expenses.
Why can't I focus on my job now and look when I don't have one like I always have?
It takes too long to gear up. 
The Bureau of Labor Statistics (BLS) reported in fall of 2019 that the average time of 
unemployment is nine weeks
. Since the BLS does not report underemployment numbers, the true extent of an effective job search is immeasurable. Nine weeks is not an eternity, even in a 
job seekers market
 where it's assumed jobs are plentiful. Another report from the BLS shows the amount of people quitting are twice as high as 
separations
 (layoffs and terminations). Conclusion: no one wants to be without a job in any economy, recession, or even in a job seeker's market.
Why are some many people emphasizing the use of LinkedIn?
You'll be more attractive as a job candidate to recruiters. 
Job seekers making the best use of LinkedIn are treating it as a living and breathing, online document. They are updating their status, engaging in conversations, and offering original thoughts. If you're not active on LinkedIn, recruiters will not find you. 
Recruiters have explained
 to me that they're checking out a target candidate's activity more than once before engaging them with a potential opportunity. Treating your activity as a passive tool doesn't serve your job search as an asset.
There is so much to unfold in the upcoming months as we find out the industries that will take hits from COVID-19. We can also expect technology will disrupt our lives in a major way because our lives will be changed forever. Will the healthcare and insurance industries experience another crippling blow? How will small businesses survive the challenges of working remotely or brick and mortar businesses completely closing? If you haven't already built your own expertise in an industry that will drive your career, you'll probably need to take the time to decide where your current skills are most needed. If you're deciding to take any job that crosses your path, you may be waiting a long time.
I am the "The Voice of Job Seekers!" I offer compassionate career and job search advice as I hack and re-imagine the job search process. You need to be "the prescription to an employer's job description." You must be solution-oriented and work in positions in companies where you are the remedy. Your job search must be a lifestyle, and your career must be in front of you constantly. You can no longer shed your aspirations at the change seasons. There are strengths you have that need constant use and development. Be sure you sign up to download my E-Book, "421 Modern Job Search Tips 2021!" You can find my career advice and work in media outlets such as Forbes, Inc., Fast Company, Harvard Business Review, Glassdoor, and many other outlets.