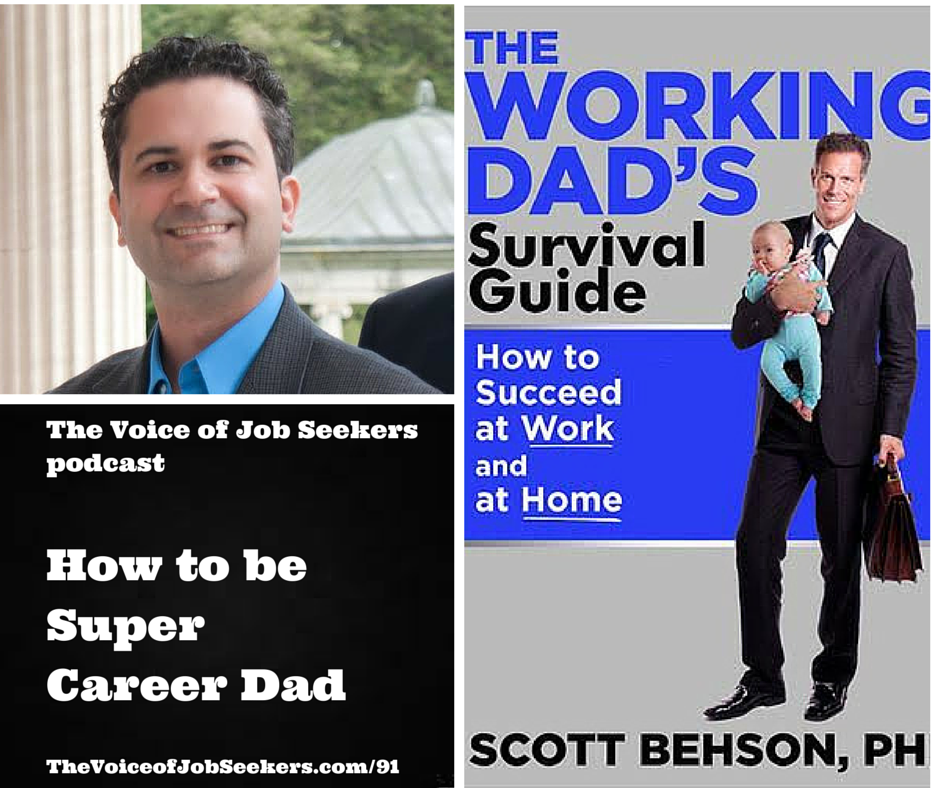 Podcast: Play in new window | Download | Embed
Subscribe: Apple Podcasts | RSS
This Sunday is Father's Day! We will discuss how working Dads can make progress in creating  career and family balance allowing more time to be with his children.  My guest, Scott Behson, is The author of The Working Dad's Survival Guide: How to Succeed at Work and at Home.
He is a work-life balance advocate and zealous forging discussions about Dads having work flexibility options for more face time with their families. I comment on the show that I wish this book were around ten years ago when my sons were younger. But more now than ever it is needed discussion as this book is first of it's kind.
Scott Behson's day job is as an Associate Professor of Management at Farleigh Dickinson University. He has a doctorate in Organizational Studies, and blogs at Fathers Work and Family. He is a regular contributor to the Harvard Business Review, Time, Wall Street Journal, Huffington Post, Good Men Project, and Salary.com.
As a Dad, do you struggle with a lack of time for your family? What is one of your challenges in creating career and family balance for your life? We'd love for you to share your thoughts.
Here are three ways you can add value to our conversation:
1) Leave a voice mail or text message at 708-365-9822. Let me know if I can share it on future shows
2) Email me: [email protected]
3) Go to TheVoiceofJobSeekers.com and press the "Send Voicemail" button to leave a message online
Those of you who are career professionals can receive the additional bonus by leaving your blog and I will link to it.
Chandra says that in her business, you have to be an avid user of the product to garner serious consideration
Here some of the highlights of our conversation:
Scott said that after reading many career books and parenting books that there weren't many that included both in the same books
Work and family are treated separately when they interact with each other
Love the quote and the context of Dads are parents too
No matter the family relationship, the communication dynamic needs a team approach
Scott included a chapter of how to negotiate more flexible hours
He also discussed how to affect the dialogue to where remote work is good for the long term
Build up a good reputation at work and it's probable to receive an opportunity for work flexibility
Dads can offer ways to measure performance and produce trial run proposals and progress reports
It's better to look for the win-win rather than to your benefit
Around 28:15, listen in as I tell you how to receive a free copy of the book. I'll announce the winner on Monday, June 22 on Facebook and Twitter.
Have you subscribed to this show on 
iTunes
? If you haven't, please do so. iTunes is a great place to write an honest review and increase the show's visibility. Enjoy listening to the show. Let us know what you think.
Do you need help with resume writing or career direction? Do you need coaching or instruction?
I can help
.
Also, join our 
Linkedin
 community! You'll enjoy some of the insights shared by community members and other career pros!
I am the "The Voice of Job Seekers!" I offer compassionate career and job search advice as I hack and re-imagine the job search process. You need to be "the prescription to an employer's job description." You must be solution-oriented and work in positions in companies where you are the remedy. Your job search must be a lifestyle, and your career must be in front of you constantly. You can no longer shed your aspirations at the change seasons. There are strengths you have that need constant use and development. Be sure you sign up to download my E-Book, "421 Modern Job Search Tips 2021!" You can find my career advice and work in media outlets such as Forbes, Inc., Fast Company, Harvard Business Review, Glassdoor, and many other outlets.