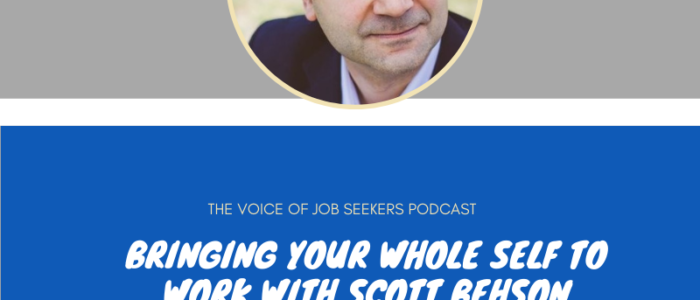 Podcast: Play in new window | Download | Embed
Subscribe: Apple Podcasts | RSS
Welcome to the ninth year of "The Voice of Job Seekers." Thank you for making this podcast a staple in your career and life, and many career professionals use it as a resource for their clients and students.
What company matches your values? What company show they care about their employees? How did your company pivot to ensure your employees' success during the pandemic? Job candidates care about being accepted wholly at work. Are employers creating a workplace where everyone is accepted?
Scott Behson has been on my podcast several times since 2016. On Amazon, his book, "The Whole-Person Workplace: Building Better Workplaces Through Work-Life, Wellness, and Employee Support," will be out on Aug. 17, 2021. He wrote the book to suggest to employers how they can adjust to the new world of work. You can also read the entire show transcript here.
You are more than welcome to join the discussion. Here are three ways you can:
– Call and leave a voicemail at 708-365-9822, or text your comments to the same number
– Go to TheVoiceofJobSeekers.com, press the "Send Voicemail" button on the right side of your screen and leave a message
– Send email feedback to mark@thevoiceofjobseekers.com
About Scott: 
Scott Behson is a professor of management at Fairleigh Dickinson University. He has a doctorate in Organizational Studies and blogs at Fathers, Work, and Family. He is a regular contributor to the Harvard Business Review, Time, Wall Street Journal.
Discussion highlights:
He says the book addresses the question, "…how can employers managers, HR types build better workplaces that work for everybody and help employees in their whole lives? Like recognizing that they're not just like, they don't just exist from nine to five. And they don't have a piece of themselves at work. Like they're a whole person."
Since this is the era of #TheGreatResignation, people realize their dissatisfaction is with their workplace conditions affecting how life is lived.
 We can no longer treat our careers as a separate part of our lives.
We must manage and control how our careers influence our lives and how our lives interact with our careers.
Scott also asks, "How do we make sure that this whole person who works for me is, is okay, is well, is not stressed and anxious?
And we can maybe help them with some of their responsibilities, priorities stressors, challenges they face in their lives."
My name is Mark Anthony Dyson, and I am the Founder of The Voice of Job Seekers. I am a career advice writer, but more importantly, I hack and re-imagine the job search process.. I've worked with hundreds of job seekers one-on-one helping them to construct a narrative and strategy that appeals to hiring managers and recruiters. I present at colleges and organizations, and facilitated many workshops including my volunteer effort through a Job Lab. I write and create useful job search content on this blog and write career and workplace advice for blogs such as Glassdoor, Payscale, Job-Hunt.org, Prezi and more. Media Feature highlights: Forbes, Business Insider, NBC News, Glassdoor, LinkedIn's #GetHired, and NPR Freelance writer and content contributor: Glassdoor, Payscale, job-hunt.org, The Financial Diet, RippleMatch.com and more. Contact me to contribute career, job search, or workplace advice for your site at markanthonydyson@gmail.com.