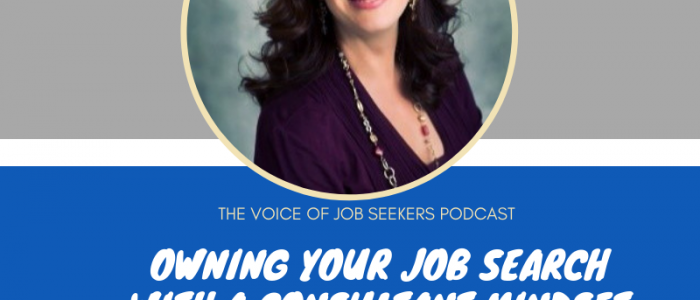 Podcast: Play in new window | Download | Embed
Subscribe: Apple Podcasts | Android | RSS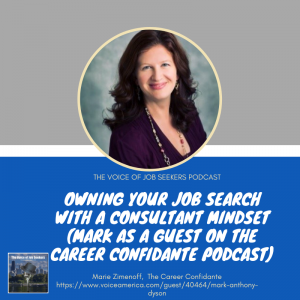 Do you have a consultant mindset in your approach to your career? If not, you should. Listen to the show and find out why.
Thanks for joining me for this final fall finale on TVOJS. If you are joining me for the first time, welcome. You can learn more about the podcast, the blog, and me at The Voice of Job Seekers.com. If you wish to contribute to the conversations we have on the podcast, you can do it in one of three ways:
I would love to hear from you. 
– Call and leave a voicemail at 708-365-9822, or text your comments to the same number
– Go to 
TheVoiceofJobSeekers.com
, press the "Send Voicemail" button on the right side of your screen and leave a message
I appeared on some podcasts this year, and for the last episode, I wanted to share a show
I was interviewed on last June
. The podcast, The Career Confidante, is hosted by Marie Zimenoff. If you have been listening to the TVOJS podcast since 2013, she was my guest on an episode about job search trends back in 2015.
In this episode, I talk about how job seekers should approach their job search like a consultant.
Highlights include:
Job board hunting is 98% useless. Showing clear and value, you can prove
Your approach as a consultant holds a holistic view, not just solving a problem
With a consultant mindset, you are looking to create opportunities, not waiting for them to happen
Your original ideas, your outcomes good and bad from projects are a part of your presentation to employers
Interviews are business conversations with this mindset, actively engaging with questions of your own about the company and managers
Finally…
Again, this is the final show until, January 15, 2019. Subscribers will receive the episode first thing in the morning. The show will be my annual episode on Resume Trends, so look forward to it.
 I want to wish you Merry Christmas, Happy New Year, Happy Kwanza, and Happy Hanukka! It's been a great year in many ways. Enjoy the episode with Marie and me, and I will see you in January.
If you're on the email list, I will be sending you a survey. I would love to know what you like to see on the blog and podcast.
I am the "The Voice of Job Seekers," career consultant, job seeker advocate, career writer, and founder of this award-winning blog. I help the employed, unemployed, underemployed, and under-appreciated find jobs using job search strategies to navigate the new job market. I aim to give a safe place online to those with different needs, cultures, and ethnicities to find their voice in the job market. Thousands have read my career advice throughout the web as I write about everything from job search strategies to the mobile job search. I have published more than 400 articles on this blog and some of the largest career sites such as Recruiter.com, YouTern, and Come Recommended. I've been quoted in major online publications such as Monster, TIME/Money, Fortune, Business Insider and MSN. FlexJobs, JobMonkey, Aerotek, Career Pivot, and CareerSherpa listed my podcast as one of the top podcasts to help your job search. Love for you to sign up for the weekly newsletter. I share the latest articles I've written, new podcast episodes, and answer any questions you may have. The new job search is scary and if you need help, I am here for it!