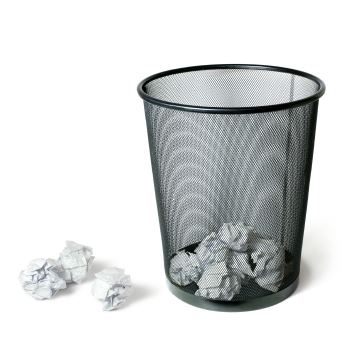 The resume objective section is useless unless your practicing to write one for a grade in your freshman year in college. A reader recently pointed to me an article that they read on NBC Universal Life Goes Strong blog on how we should blow up the objective statement on résumés. When you read the article, it aligns closely with what I believe:
Leslie Ayres (@JobSearchGuru), The Real Job Guru, wrote the article, "The Resume Objective is Dead, So Why Are You Still Using It?" makes 3 points that are very true:
1) Objective statements are completely about the candidate
2) Companies also ditched the candidate because of it was all about the candidate
3) The competitiveness of candidates who say much more than, "… hire me and I'll be more focused!"
Three more articles Several more articles on résumé from respectable and knowledgeable career pros:
Resume Objective Statements That Kill Your Hiring Prospects by Jacob Share (@JacobShare)
Why Your Resume's Objective Statement Doesn't Work by Phil Rosenberg (@philreCareered)

IS YOUR RÉSUMÉ A CLUNKER? by Melissa Cooley (@TheJobQuest)
Simply, objective statements don't compete anymore. They don't say enough about the candidate, nor doesn't grab the reviewer's attention. So what should we do?
One suggestion is using the position headline:
(SEEKING PROFESSIONAL POSITION) SOFTWARE ENGINEER
A discussion that I had recently with another career pro is that the head is not appropriate when uploading to a site that the résumé will not scan. The headlines that are suggested:
PROFESSIONAL SUMMARY
SUMMARY
These are two different approaches contingent on whether if the first set of eyes will be human or not. Mind you, that there are college career centers that are still advising their students to write an objective statement.
Traditionally, an objective statement stated,
Objective: To use my excellent organization and discipline to advance my career in finance.
Yes, at one time it was OK to impress an employer with this statement. Now, a career summary or branding statement will compete against the vague "Objective" statement. My current client who gets it and although we are working on the length, she understands the gist:
Enthused developmental Math Subject Matter Expert actively engaged in instructional design programs geared towards diverse student learners. Offer and assert skills and experience as an instructor and a project manager obtained from seven years of teaching, and more than 12 years in Fortune 500 companies. Implement strategies for evaluation and assessment results of classroom instruction to address the needs of learners with a diversity of learning styles resulting in 100% participation and 80-90% passing compliance. Thrive and excel as a project manager who understands the breadth of challenges that require strategic tasking between planning, change management, coaching, mentoring, tutoring, and teaching.
Yes, it is too long, but once a vague summary is now a contribution statement. Once we edit, this branding statement will be lean and mean. Notice how the results are integrated into the statement. Numbers always catches the eye of a potential employer. The lesson here as well is to overwrite at first, then it is easier to truncate as a whole.
By now, the objective statement on your résumé is USELESS. Whether it's called an "Objective" or "Summary," think contribution when you write this statement. Even a little attitude would help in writing this statement when based on FACT.
Do you have an objective statement that says nothing? Are you guiltyof a vagueness on your résumé? Please, confess your crime below?
I am the "The Voice of Job Seekers!" I offer compassionate career and job search advice as I hack and re-imagine the job search process. You need to be "the prescription to an employer's job description." You must be solution-oriented and work in positions in companies where you are the remedy. Your job search must be a lifestyle, and your career must be in front of you constantly. You can no longer shed your aspirations at the change seasons. There are strengths you have that need constant use and development. Be sure you sign up to download my E-Book, "421 Modern Job Search Tips 2021!" You can find my career advice and work in media outlets such as Forbes, Inc., Fast Company, Harvard Business Review, Glassdoor, and many other outlets.