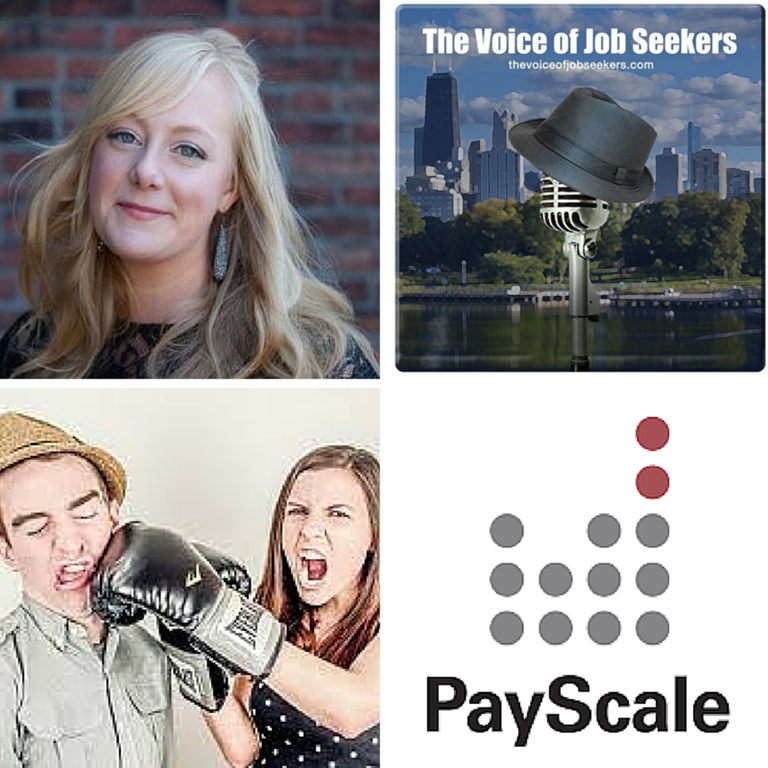 Podcast: Play in new window | Download | Embed
Subscribe: Apple Podcasts | RSS
I am happy to continue this dialogue on the gender pay gap to empower women to be informed and inspired to seek better salary and compensation. Whether you are a woman mustering the courage to ask for a raise or looking to negotiation for better pay this episode. I encourage both men and women to listen to this episode to universally make the most out of your career trajectory.
Have you ever asked an employer for more money?
Here's how you can participate in the discussion:
Call and leave a voicemail or text me at 708-365-9822
Go to TheVoiceofJobSeekers.com, press the "Send Voicemail" button on the right side of your screen and leave a message
Send email feedback to mark@thevoiceofjobseekers.com
Aubrey Bach (@aubreybach) is the Senior Manager, Editorial and Marketing at PayScale and we are going to dive deep into Payscale's 2016 Salary Negotiation Report. Although we discussed a few points with Lydia Frank two three episodes ago, we will attempt to parse parts of the report to provide help women particularly make gains in their salary negotiation strategy.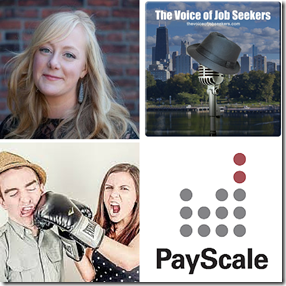 Here are some highlights from our discussion:
43 percent of PayScale users say they have ever asked for a raise or promotion during their career
Payscale surveyed 31,000 to benchmark their pay to help you ask for a raise
Aubrey cited the site She Negotiates stating that men are four times as likely to negotiate than women
Men and women are split on researching to negotiate. Women are likely not to
Millenial women express being uncomfortable in talking about money
Aubrey refers to an article she wrote about a Kate Winslet stating being uncomfortable about discussing salary
We talked about the negative stigma given to women when they negotiate. Or managers feeling OK when men negotiate and feel different when asks for more money
Aubrey mentioned the Seattle company Textio CEO Kieran Synder, who put statistical data around "aggressive" on a woman's performance review would lead to more negative readings compared to men
Perception of "unconscious bias" is affecting men and women's behavior
Women statistically initiate negotiations less often than their male counterparts and ask for about 30% less
When men see that they meet 50% of the job requirements they will apply vs. women needing to see 100% to think about it
75% of people who ask will likely get a raise
One million dollars is what many job seekers leave on the table in a lifetime because he or  she never asked for a better salary and compensation package
Negotiate paid time off, education, and flexible work—not just salary. Consider time to relax and consider your  career trajectory. Consider your lifestyle desires
Need help with your career goals, directions, or efforts? Do you need coaching or instruction? I am here for it!Also, join our Linkedin community! You'll enjoy some of the insights shared by community members and other career pros!
I would still like to help self-published career professionals promote their books. If you're interested, find more info here.
My name is Mark Anthony Dyson, and I am the Founder of The Voice of Job Seekers. I am a career advice writer, but more importantly, I hack and re-imagine the job search process.. I've worked with hundreds of job seekers one-on-one helping them to construct a narrative and strategy that appeals to hiring managers and recruiters. I present at colleges and organizations, and facilitated many workshops including my volunteer effort through a Job Lab. I write and create useful job search content on this blog and write career and workplace advice for blogs such as Glassdoor, Payscale, Job-Hunt.org, Prezi and more. Media Feature highlights: Forbes, Business Insider, NBC News, Glassdoor, LinkedIn's #GetHired, and NPR Freelance writer and content contributor: Glassdoor, Payscale, job-hunt.org, The Financial Diet, RippleMatch.com and more. Contact me to contribute career, job search, or workplace advice for your site at markanthonydyson@gmail.com.