Podcast: Play in new window | Download | Embed
Subscribe: Apple Podcasts | RSS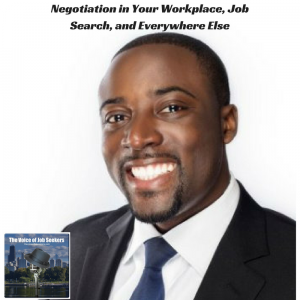 Negotiation is a must have this skill for your job search, workplace, and life. As we dive deeper into the gig economy, each job seeker will accept several roles. Our roles as contractors and entrepreneurs, we must embrace our roles as negotiators. We will need to remain in negotiating mode for the longevity of our careers. To help us embrace this role, Kwame Christian, an attorney will help. He is the host of the American Negotiation Institute and negotiation expert.
If you find negotiating hard, don't worry, I got you. Feel free to share your negotiating story. You can also share your thoughts about this episode in one of three ways:
I would love to hear your thoughts in one of three ways:
Call and leave a voicemail at 708-365-9822, or text your comments to the same number
Go to TheVoiceofJobSeekers.com, press the "Send Voicemail" button on the right side of your screen and leave a message
Send email feedback to mark@thevoiceofjobseekers.com
Kwame Christian Esq., M.A. is a business attorney with his practice. He also is the host of the American Negotiation Institute podcast. You should listen to this interesting episode where he negotiates for a car. He has won several awards and competitions including the American Bar Association National Competition. He placed as a semifinalist in the competition.
Here are some of the highlights of our discussion:
While contemplating finding a new job, maximize your value at your current job
View each negotiation success as a new floor
Even in a job where you don't plan to stay long, it is valuable to negotiate for more
Find your unique value proposition
He says, "We don't get what we deserve, we get what we ask for."
Kwame mentioned the book Presuasion as a resource
Quote from the book, "People don't focus on things that are important. People focus on things because they think it's important."
Need help with your career goals, directions, or efforts?
Do you need coaching or instruction?
I am here for it! Use my contact information above to inquire about individual or group coaching. You can also sign up for my weekly newsletter at the top of my page.
I am the "The Voice of Job Seekers!" I offer compassionate career and job search advice as I hack and re-imagine the job search process. You need to be "the prescription to an employer's job description." You must be solution-oriented and work in positions in companies where you are the remedy. Your job search must be a lifestyle, and your career must be in front of you constantly. You can no longer shed your aspirations at the change seasons. There are strengths you have that need constant use and development. Be sure you sign up to download my E-Book, "421 Modern Job Search Tips 2021!" You can find my career advice and work in media outlets such as Forbes, Inc., Fast Company, Harvard Business Review, Glassdoor, and many other outlets.