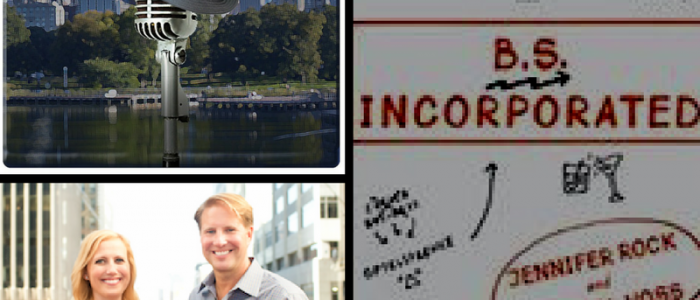 Podcast: Play in new window | Download | Embed
Subscribe: Apple Podcasts | RSS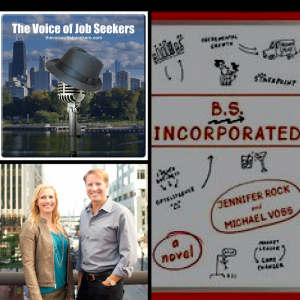 Finally, I read a job search and career book with the mission to entertain while making serious points. Much of what NOT to do in your job search and workplace is in the book, B.S. Incorporated. The authors, Jennifer Rock and Michael Voss mix parody and non-fiction to bring us chaos.I would love to know some of your worse work experiences.
Here are three ways to join in on the conversation:
Call and leave a voicemail at 708-365-9822, or text your comments to the same number
Go to TheVoiceofJobSeekers.com, press the "Send Voicemail" button on the right side of your screen and leave a message
Send email feedback to mark@thevoiceofjobseekers.com
BS Incorporated is a satire from the experiences of Jennifer Rock and Micheal Voss. They use fictional characters and company to bring home real flaws in the job search and workplace. Both are authors and consultants (in real life). They have both worked as company journalists, speechwriters, and communication directors.
Here are a few highlights of our conversation:
BS Incorporated is a fictional company spiraling out of control
What is it like to join a company when you don't know what it's like on the inside
Jargon and acronyms are often a foreign language
Jennifer shared an onboarding experience where it was completely difference than imagined
Managers will use employees as "life preservers."
Michael shared how people have responded with more stories for the authors to write part 2
Jennifer shared a story of a job candidate who hurt his/her chances of getting hired
Hiring managers are as unprepared as job candidates
We discussed how biases are a part of the candidate's and hiring manager's perception
We discussed the importance of having a conversation during an interview
Do you need job search coaching or instruction?
I am here for it! Use my contact information above to inquire about individual or group coaching. You can also sign up for my weekly newsletter at the top of my page.
My name is Mark Anthony Dyson, and I am the Founder of The Voice of Job Seekers. I am a career advice writer, but more importantly, I hack and re-imagine the job search process.. I've worked with hundreds of job seekers one-on-one helping them to construct a narrative and strategy that appeals to hiring managers and recruiters. I present at colleges and organizations, and facilitated many workshops including my volunteer effort through a Job Lab. I write and create useful job search content on this blog and write career and workplace advice for blogs such as Glassdoor, Payscale, Job-Hunt.org, Prezi and more. Media Feature highlights: Forbes, Business Insider, NBC News, Glassdoor, LinkedIn's #GetHired, and NPR Freelance writer and content contributor: Glassdoor, Payscale, job-hunt.org, The Financial Diet, RippleMatch.com and more. Contact me to contribute career, job search, or workplace advice for your site at markanthonydyson@gmail.com.