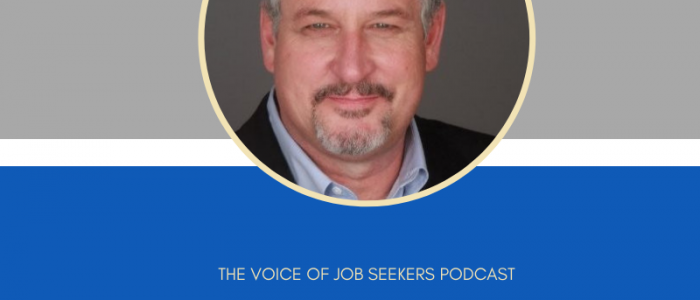 Podcast: Play in new window | Download | Embed
Subscribe: Apple Podcasts | RSS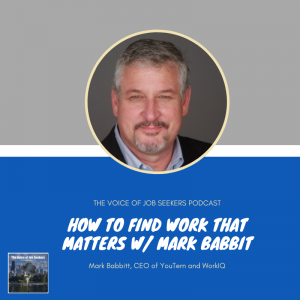 Welcome back to the fifth season of the podcast.
We are in an economy that has a four percent unemployment rate, and now many people are looking and leaping to new work opportunities. Are you looking for what you consider the best "fit" or are you taking the first job offer you get?
Mark Babbit, CEO of 
YouTern 
and President of 
WorkIQ 
says you have an opportunity to find work you care about.
Is work culture important to you? Here are three ways you can let us know:
Call and leave a voicemail at 708-365-9822, or text your comments to the same number
Go to TheVoiceofJobSeekers.com, press the "Send Voicemail" button on the right side of your screen and leave a message
Send email feedback to mark@thevoiceofjobseekers.com
More about Mark Babbitt:
Mark has been on the podcast four times over the five years. He is constantly working on making the workplace a better environment for everyone. He has been featured in Forbes and The Wall Steet Journal.
Here are some highlights from our discussion:
We're learning now After years of taking the first job that came along how important it is to feel fulfilled from our work and to feel like our work matters.
Culture has become important, happiness is becoming more important when they're being compensated well.
"Fit" isn't the important thing – companies should "hire to shake things up a little bit – feel apart of the culture, but help improve the culture."
Shouldn't companies hire for three to five years from now – hire for the culture you want in the future.
Have conversations with the manager before you sign on (78% leave the company because of their manager). Research the job seeker does go way beyond the about page. Is there an alignment of company values?
Verify what the company says about themselves by asking the interviewer, "What is it really like here? What is keeping you here?" Look for radical candor from the interviewer. If you don't get real answers, perhaps it's not the right fit for you.
Don't ever assume you won't find the right fit.
What is "workplace intelligence" and what job seekers can do to leverage it. Here are the seven:
Culture & Workplace Climate Change
Transformational Leadership
Employee Engagement reimagined
Optimistic Workplace
Community Building
Purpose Driven Performance
Social Intelligence
Use my contact information above to inquire about individual or group coaching. Or leave a message anytime on the "send voicemail" button on the side of any page of my blog.
You can also sign up for my weekly newsletter at the top right of my page in order to be on the early list of my free e-Guide, "219 Modern Job Search Tips for 2019" to be sent to subscribers the third week of October!
My name is Mark Anthony Dyson, and I am the Founder of The Voice of Job Seekers. I am a career advice writer, but more importantly, I hack and re-imagine the job search process.. I've worked with hundreds of job seekers one-on-one helping them to construct a narrative and strategy that appeals to hiring managers and recruiters. I present at colleges and organizations, and facilitated many workshops including my volunteer effort through a Job Lab. I write and create useful job search content on this blog and write career and workplace advice for blogs such as Glassdoor, Payscale, Job-Hunt.org, Prezi and more. Media Feature highlights: Forbes, Business Insider, NBC News, Glassdoor, LinkedIn's #GetHired, and NPR Freelance writer and content contributor: Glassdoor, Payscale, job-hunt.org, The Financial Diet, RippleMatch.com and more. Contact me to contribute career, job search, or workplace advice for your site at markanthonydyson@gmail.com.