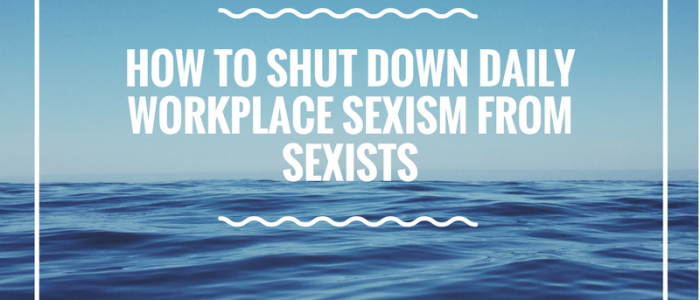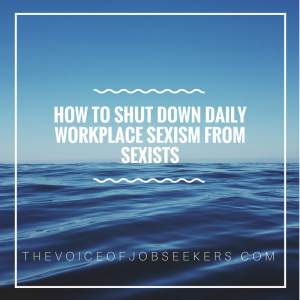 Editor's note: Beth Leslie is the editor of the Inspiring Interns blog. Her bio is at the end of this article.
In the West, women have won the right to enter the workforce en masse. They have won the right to work in industries once assumed to be the exclusive domain of men. They have won the right to set up businesses, manage conglomerates, and govern countries.
These examples from The Everyday Sexism Project illustrate the battle against workplace sexism is very much still ongoing. It is the job of all feminists – male and female – to eliminate it. The problem is that speaking out against "harmless banter" can mark you out as a killjoy or a bad team player, so people stay schtum to avoid risking their professional reputation.
It doesn't have to be this way.
Listen to Giving Women Courage in their Career Development
Here's how to shut down sexism professionally:
Sexist Comments
Sexist comments – remarks which implicitly or explicitly demean women – are often explained away by perpetrators as "banter" or "throwaway remarks," but help entrench offensive and damaging attitudes towards women in the workplace.
How you deal with sexist comments depends on your relationship with the offending party, you're standing in your organization and your confrontation level. As an absolute minimum, you should refrain from positively engaging with the comment. Do not laugh at sexist jokes, or just carry on the conversation with no rebuttal. Both of these things signal that you find sexist comments inoffensive, and encourage their continuation.
Instead, look quizzical, and ask the perpetrator to repeat themselves. Keep your voice neutral – often, simply having to repeat their sexist statement will shock people into realizing how inappropriate it is. The same effect can be gained by calmly asking them why they said that or why that joke was funny.
With an unabashed perpetrator, you can point out the problematic connotations of their remark. Again, maintaining a calm demeanor is key: it makes you look reasonable and encourages them to engage with you, rather than dismissing your objections as over-sensitive.
If you have influence, pull them aside and discuss the inappropriateness of their remark. If not, ask their manager to do the same. Handle comments like any other performance issue: something they need to work on, but which they will not be harangued about if they show improvement.
Sexual Harassment
Workplace sexual harassment happens when an employee or employer directs frequent, unwelcome sexualized behavior towards one or more of their co-workers. It is one of the most serious types of workplace sexism, and it is also depressingly common: half of UK women have experienced it.
However, workplace sexual harassment is illegal in both the United States and Britain, which means businesses have a strong incentive to stop it. Consequently, if you experience or witness sexual harassment, you should go straight to HR. Make sure you document everything!  Write down your recollections of events, to ensure they have the evidence they need to investigate.
When HR is unresponsive, escalate the situation externally. Lawyers, trade unions, employee support groups and employment tribunals are all suitable places to turn. With sexual harassment, the law protects you from repercussions from your employer.
Listen to How to Get a Great Career Start with Janine Truitt and Chris Fields
Gender Stereotyping
Every employee is sometimes asked to do odd job duties that aren't related to their job title. But if you notice that only women are ever requested to fulfill 'domestic' duties like making coffee, tidying up and running errands, then that's a problem. (Before you act, be sure that these women aren't simply the only admins/assistants/junior staff present. It makes sense people with these job roles would be tasked with the most menial work, regardless of their gender.)
Optics are important, which means female staff should avoid doing anything that will reinforce existing biases. Senior female employees shouldn't volunteer for gendered tasks. Deliver frequent requests from peers to perform gendered tasks with polite but firm excuses. If you can't duck out of the responsibility – say your boss or a client asks you – ask a peer of the opposite gender to help you with it.
Calling out one-off requests as sexist is hard to prove, and should be avoided. Patterns, however, are easier to confront. When a task is repeatedly split by gender alone, calmly question it: "I notice that you always ask Jane and Prisha, and never Tom or Ahmed, to fetch the coffee. Is there a reason for that?"
The perpetrator may not even realize the implicit sexism of what they're doing. Giving them a chance to backtrack gracefully prevents them from going on the defensive.
Gendered Assumptions
Women are more likely than ever to hold senior roles, yet being mistaken for a secretary or assistant is still a common experience. Luckily, it's easy to confront a sexist assumption that a woman is less qualified or senior than she is: simply correct the mistaken party.
As always, the tone is important here: you shouldn't be aggressive, but you should be firm. Laughing or forgiving the mistake suggests it's not egregious. The person who made the assumption will undoubtedly be embarrassed, but by refusing to brush off the mistake, you'll reduce the likelihood of them doing it again.
Sometimes, if the assumption implies aggression (e.g. you answer your male colleague's phone, and they ask you to make an appointment in his diary) then your challenge needs to be a little softer, to give the asker the benefit of the doubt. Think: "That sounds like something you'd need to talk to his secretary about, so I'm afraid I can't help you."
Men who are assigned clients who refuse to work with qualified female employees can also do their part. If asked, pretend that you're not sure and you need to check with your better-qualified female colleague. You'll combat the client's prejudices without being rude to them – and show your female counterparts that you value their contribution.
Bio:
Beth Leslie is a career and lifestyle writer. She is also the editor of the Inspiring Interns blog, which provides graduate careers advice to young people looking to excel in the workplace. Inspiring Interns is a recruitment agency which specializes in matching candidates to their dream graduate job.
I am the "The Voice of Job Seekers!" I offer compassionate career and job search advice as I hack and re-imagine the job search process. You need to be "the prescription to an employer's job description." You must be solution-oriented and work in positions in companies where you are the remedy. Your job search must be a lifestyle, and your career must be in front of you constantly. You can no longer shed your aspirations at the change seasons. There are strengths you have that need constant use and development. Be sure you sign up to download my E-Book, "421 Modern Job Search Tips 2021!" You can find my career advice and work in media outlets such as Forbes, Inc., Fast Company, Harvard Business Review, Glassdoor, and many other outlets.