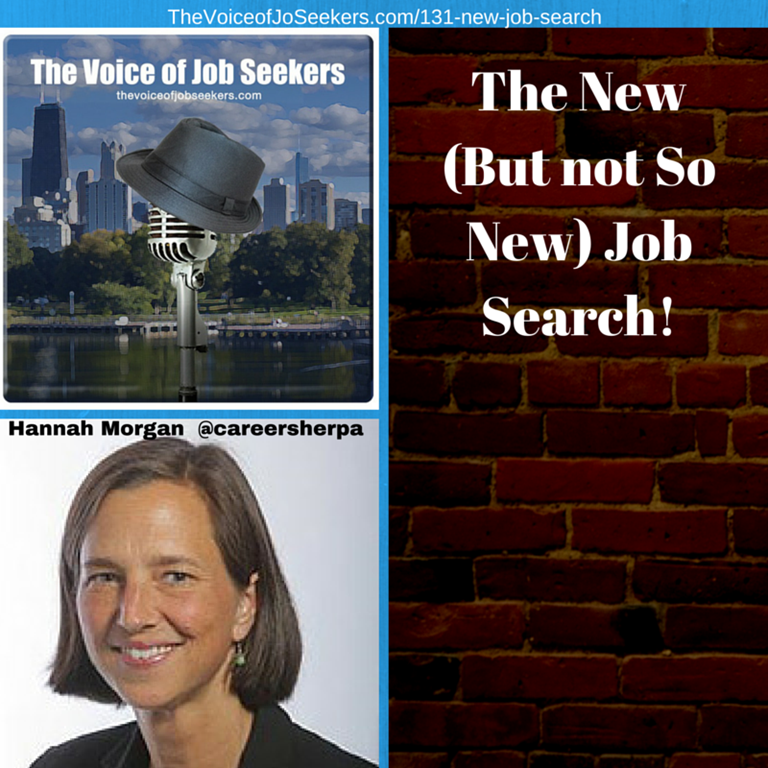 Podcast: Play in new window | Download | Embed
Subscribe: Apple Podcasts | RSS
Both Hannah and I agree today's job search is more than obsessively tweaking your resume. The new job search is about disruption and agility.  I have had Hannah Morgan on the show twice, but we talk periodically via email. She was my guest on episode 23 and episode 57.
During a recent email conversation she asked me to be on her Blab show. I gladly accepted her invite to talk about what's new in job search.
Let me know if you are using some of the new platforms such as Blab, Periscope, or Snapchat. You can let me know in one of three ways:
Call and leave a voicemail at 708-365-9822, or text your thoughts to the same number
Go to TheVoiceofJobSeekers.com, press the "Send Voicemail" button on the right side of your screen and leave a message
Send email feedback to mark@thevoiceofjobseekers.com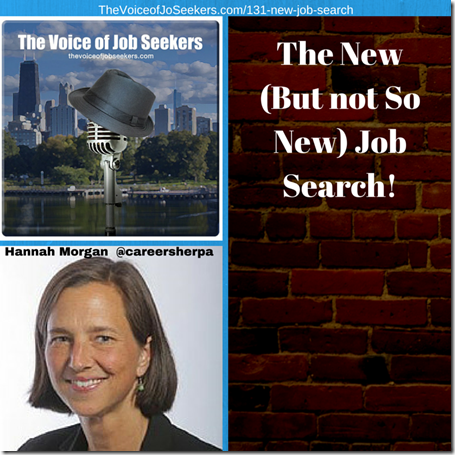 Hannah Morgan is the Career Sherpa, a weekly contributor to U.S. News and World Report, and author of two books. Her very popular blog  is mentioned among every top career site list, not to mention one of my favorite career blogs. To me, she is the voice of reason and balance when it comes to sage and useful strategies for those following her advice. I was quite honored to be asked to be on her show, and quite honestly, one of my career highlights since I started in 2008.
Here is some of what Hannah and I discussed:
Resumes are not everything, in fact, they're more the  rudder of a boat or ship
Skills gap needs to be closed by more conversations and networking
Mobile recruitment and being found through mobile platforms will differentiate you
Social networking is more than just updates—websites, LinkedIn blogging
Being disruptive and not just using traditional methods
Relying on job boards, and even email resumes are noisy and expected
Blab, Periscope, and Snapchat are where people's personalities are, recruiters are looking
Interact with employers and recruiters. Create a show on new platforms and interview them about what they want
Need help with your career goals, directions, or efforts? Do you need coaching or instruction? I am here for it!
Also, join our Linkedin community! You'll enjoy some of the insights shared by community members and other career pros!
I would still like to help self-published career professionals promote their books. If you're interested, find more info here.
I will not publish a show on the week of July 4. Please enjoy the catalog available in iTunes and many other podcast directories.
Don't forget the last show for the season is July 26, and the new one will begin on Sept. 6. I will be publishing new articles (up to 3x a week) on the blog. If you're a career pro and love giving career advice, let me know. I would love to have more guest writers during my hiatus and beyond.
My name is Mark Anthony Dyson, and I am the Founder of The Voice of Job Seekers. I am a career advice writer, but more importantly, I hack and re-imagine the job search process.. I've worked with hundreds of job seekers one-on-one helping them to construct a narrative and strategy that appeals to hiring managers and recruiters. I present at colleges and organizations, and facilitated many workshops including my volunteer effort through a Job Lab. I write and create useful job search content on this blog and write career and workplace advice for blogs such as Glassdoor, Payscale, Job-Hunt.org, Prezi and more. Media Feature highlights: Forbes, Business Insider, NBC News, Glassdoor, LinkedIn's #GetHired, and NPR Freelance writer and content contributor: Glassdoor, Payscale, job-hunt.org, The Financial Diet, RippleMatch.com and more. Contact me to contribute career, job search, or workplace advice for your site at markanthonydyson@gmail.com.