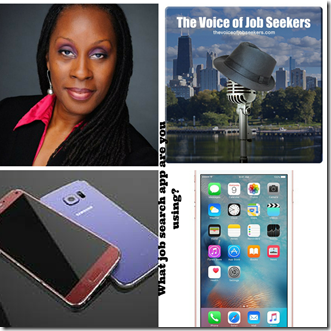 Podcast: Play in new window | Download | Embed
Subscribe: Apple Podcasts | Android | RSS
For this show, we have looked at a job search app and decided to give an overview of what to expect using it, and give some thoughts to consider it as part of your job search. Staci Parker (@StaciParker2) is a friend, a certified resume writer with a lot of experience helping job seekers. Her perspective is very valuable in this role.
Have you used a job search app yet? You can tell me about your experience in one of three ways:
Call and leave a voicemail at 708-365-9822
Go to TheVoiceofJobSeekers.com, press the "Send Voicemail" button on the right side of your screen and leave a message
Send email feedback to mark@thevoiceofjobseekers.com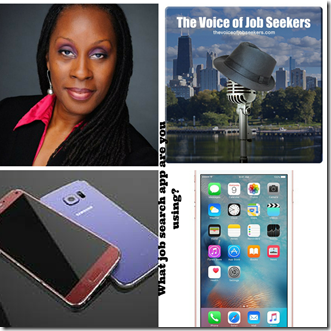 Let me tell you a little about Stacie Parker. She is a CPRW, Global Career Development Facilitator (GCDF) and a Certified Coach. She is currently working on her Doctorate in Philosophy in Organization Development Psychology.
All job search apps require complete profile before use. There's no way to skip that process to search
Identity theft is a concern so the user must be careful. Research must be done so the app can be trusted
Gmail may be a good choice to use for the profile in case you disengage from the app you can use the privacy filters for non-contact
Mobile job search apps will use data and potentially hijack the phone's operating system such as an Android or an iOS
A job search app is likely to have a job board feel such as the Switch App
Good question would be is the job availability matches the Department of Labor studies showing the careers with the most opportunities
Switch app did not allow access to the phone's web browser, nor was there a web browser version. The popular ones do have a browser and mobile version
Everyone should have a resume that is mobile ready to upload or email someone
Google Drive and Dropbox are excellent tools to have. Dropbox will provide a link if you want to sent someone a resume
Usage of mobile for job search apps will depend on age. A job search app are likely to find a larger audience under forty
Need help with your career goals, directions, or efforts? Do you need coaching or instruction? I am here for it!Also, join our Linkedin community! You'll enjoy some of the insights shared by community members and other career pros!
I would still like to help self-published career professionals promote their books. If you're interested, find more info here.
For the first time in 1 1/2 years, I am opening to career professionals to write guest articles. If you're interested, you can go here for further topics and directions to submit.
I am the "The Voice of Job Seekers," career consultant, job seeker advocate, career writer, and founder of this award-winning blog. I help the employed, unemployed, underemployed, and under-appreciated find jobs using job search strategies to navigate the new job market. I aim to give a safe place online to those with different needs, cultures, and ethnicities to find their voice in the job market. Thousands have read my career advice throughout the web as I write about everything from job search strategies to the mobile job search. I have published more than 400 articles on this blog and some of the largest career sites such as Recruiter.com, YouTern, and Come Recommended. I've been quoted in major online publications such as Monster, TIME/Money, Fortune, Business Insider and MSN. FlexJobs, JobMonkey, Aerotek, Career Pivot, and CareerSherpa listed my podcast as one of the top podcasts to help your job search. Love for you to sign up for the weekly newsletter. I share the latest articles I've written, new podcast episodes, and answer any questions you may have. The new job search is scary and if you need help, I am here for it!