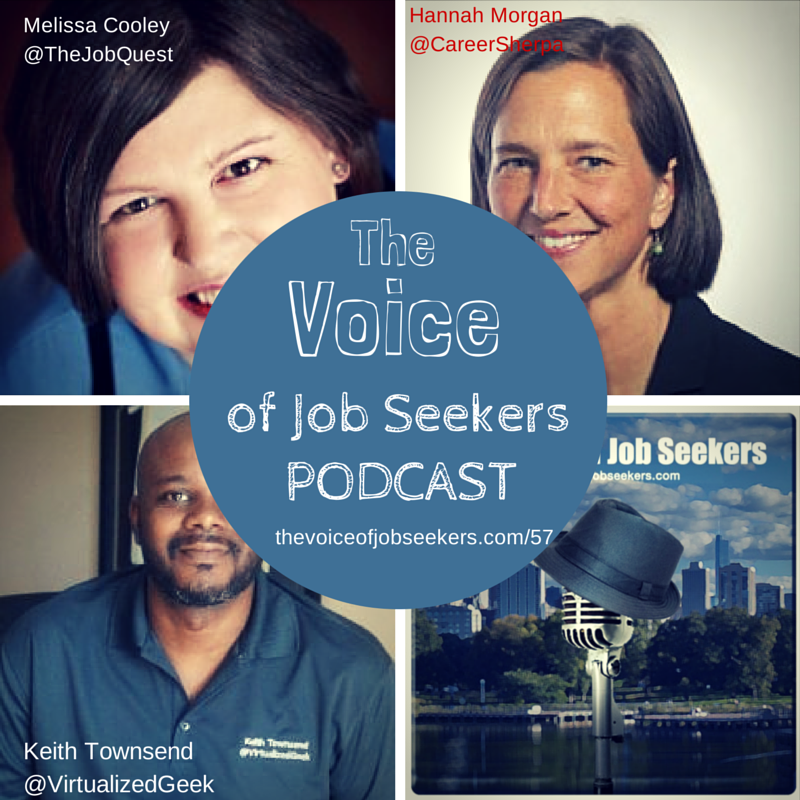 Podcast: Play in new window | Download | Embed
Subscribe: Apple Podcasts | Android | RSS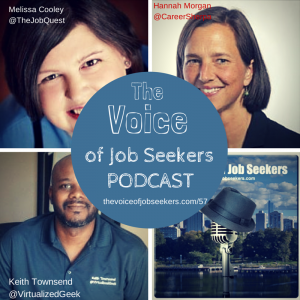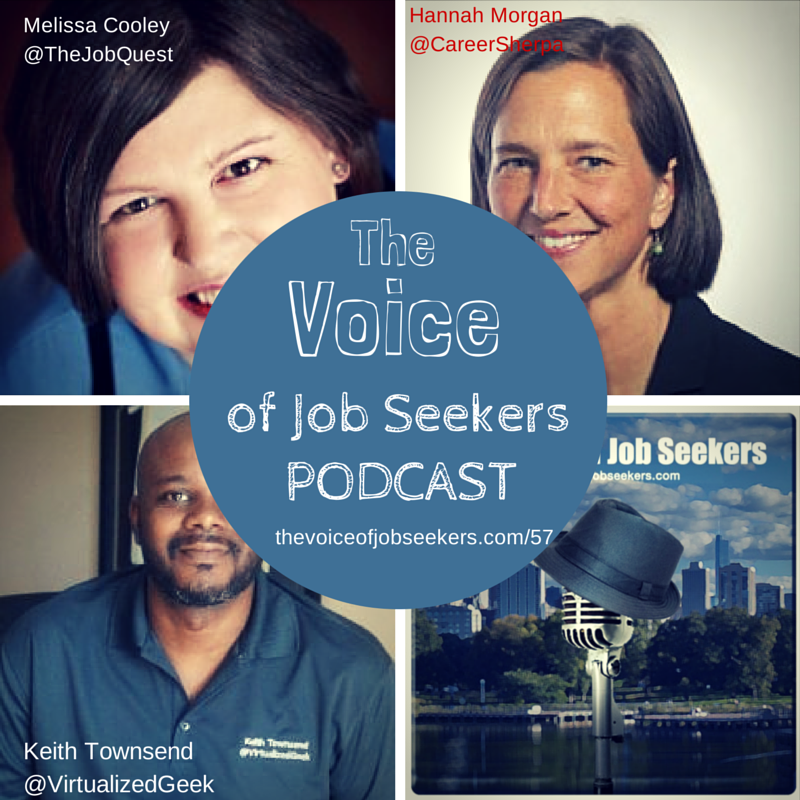 My colleagues and I advise you (in most cases) to stay at your current job until you find a desired career. Well, my friend and sometimes co-host Keith Townsend (@VirtualizedGeek) broke the social rules. He announced his departure from his job at a Big four company for an unknown destiny.
Hannah Morgan (@careersherpa) is back to talk about her new book, "The Infographic Resume: How to Create a Visual Portfolio that Showcases Your Skills and Lands the Job." 
Welcome back to the podcast. I'd love to hear what you think about leaving a job before having another. Is that too big of a risk? Would you take the chance? Why or why not?
How about using an resume infographic? Have you tried it? Let me know if you do.
I'd love your feedback in these three ways:
Blog: TheVoiceofJobSeekers.com (Use the send voicemail feature)
Email: mark@thevoiceofjobseekers.com
Voicemail: 708.365.9822
Hannah is founder of CareerSherpa.net and a career contributor to U.S. News & World Report. Her as mentioned discusses in detail the value of creating and sharing an infographic resume, how to create it, and where you can create one today. Her book is available at bookstores near you, and on Amazon.
Here are the highlights from our conversation:
She interviewed people from different backgrounds such as IT, doctors, educators, and librarians that used the infographic resume and were offered opportunities
These tools will automatically generate an infographic resume based on your LinkedIn profile or entered work history and data:
Since the eye processes images faster than words, so it appeals to the short attention span
Places where an infographic can stand out is your blog, Pinterest, and LinkedIn as well as most social networks
It will have more impact to share it after creating it as well as tagging it with the right keys words for you to be found and indexed by Google
Keith has been writing and tweeting about his leaving his Big 4 job before obtaining another job. Keith has successfully leveraged his blog and social activities to display his knowledge and strengthen his personal brand. So far, the article has been read more than 2,00o times with more than 40 comments.
Here are some of the highlights of our discussion:
Keith is receiving interviews, which is hard to get for anyone, especially for a short period since resigning
Keith stated that influencers are retweeting his content because of the relationships he has nurtured throughout time
He said that he didn't interview with anyone who doesn't share the social values as a result of activities
Keith emphasized social networking allows the conversation to get to the point quicker
Melissa Cooley (@thejobquest) and I created a YouTube video on interviewing that I think many will find valuable. This is Melissa's third appearance on the show. The two shows that we've done together are the most downloaded shows thus far. I would encourage you to go listen to both.
In this short segment (we have a full 23-minute conversation on YouTube), we banter about what you shouldn't say in an interview. Many of them are obvious such as, cursing, bad grammar, or using big words that seem awkward and out of place. There is insight that Melissa provides in how it comes across when or if you do.
Please subscribe to the podcast through any podcast directory, but I'd love for you to leave an iTunes review. That is the largest directory and hopefully I have served you well for you to leave positive feedback.
My name is Mark Anthony Dyson, and I am the Founder of The Voice of Job Seekers. I am a career advice writer, but more importantly, I hack and re-imagine the job search process.. I've worked with hundreds of job seekers one-on-one helping them to construct a narrative and strategy that appeals to hiring managers and recruiters. I present at colleges and organizations, and facilitated many workshops including my volunteer effort through a Job Lab. I write and create useful job search content on this blog and write career and workplace advice for blogs such as Glassdoor, Payscale, Job-Hunt.org, Prezi and more. Media Feature highlights: Forbes, Business Insider, NBC News, Glassdoor, LinkedIn's #GetHired, and NPR Freelance writer and content contributor: Glassdoor, Payscale, job-hunt.org, The Financial Diet, RippleMatch.com and more. Contact me to contribute career, job search, or workplace advice for your site at markanthonydyson@gmail.com.