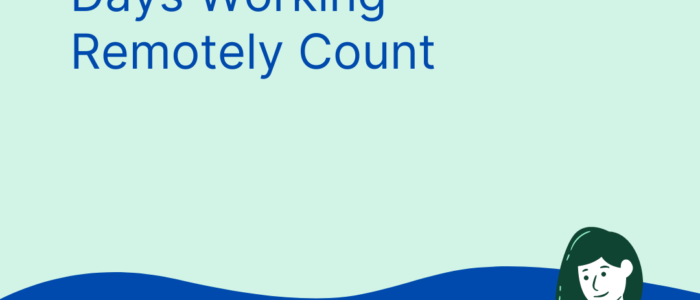 Editor's note: I wrote this article originally for job-hunt.org.
Congratulations! After several years of re-imagining your life and work, you are now working from home! No more transit fares and long time spent in transition between work and home. Yea!
However, joining a new employer and new environment without our boss and colleagues present is a new experience for most of us.
Be aware. As COVID-19 has changed many things in our lives, the way companies operate and communicate work and expectations has also changed. And, we do not always know what we are doing when we try to adapt to those changes.
Remote work varies for different professions and for different employers. The pandemic has changed the world for us, sometimes dramatically.
I first provided some thoughts on your first 90 days here. This version is more robust.
Before You Start Your New Job
Hopefully, you have continued some research on the company to get more specific information about its remote-work culture.
Maybe your new employer has provided a list of things you should have to be well-prepared for your first day of work. If not, I have suggestions for things you should know and do before your start date:
  1. Understand the logistics expectation.  
In the past, you would have had a dedicated home phone line for your work when working from home. Today, you will likely need to have much more for your home office.
The equipment, phone line, Internet connection, and other accessories may be provided by the employer or you may be expected to provide these yourself.
  2. Check your home's Internet connection and support.  
You likely already have a connection to the Internet with Wi-Fi connecting the TV, computer, and other devices in your residence. However, you may need to increase the speed, upgrade your Internet connection plan, or connect your computer directly to the Internet. You may also need a separate IP address dedicated to your workspace in your home.
Your employer may or may not cover added costs.
  3. Understand how to use video.  
You were introduced to the company's chosen video platform when you interviewed for the job. Less is more applies to video appearance and especially your background. Sure, you can use the platform's virtual background, but it's easier to use an organic background. By creating your background, you control what people see.
Marc Miller, the founder of Career Pivot, says, "Watch what's behind you and the Zoom backgrounds. And I tell people not to use them because I want the focus on you. What's behind you, brands you."
  4. Know what communication tools (other than video) you need.  
Onboard communication should provide the tools you need to participate in any department or company-related engagement. Ask for the software specifications to match your computer's capabilities and clarify who will facilitate the process.
You will also need to be clear about the security software you will need to use and whether the company supplies it and is responsible for installing it. Your team might use some of the mainstream apps, and you will need to familiarize yourself with them.
Success Strategies in the First 30 to 90 Days
The first few days and weeks in a job introduce you to your manager and co-workers. Succeed by paying careful attention to your interactions with them.
  1. Establish your brand early.  
When you are new to the company, you need excellent communication to establish a solid reputation with your boss and other employees and team members. Although you primarily determine how you communicate it, you will need to, as Miller says, "…decide how you want to be perceived, and that's your personal brand."
  2. Optimize the way you learn best.  
Not everyone can sit in a classroom, read all day, and learn the job basics. Neither can everyone watch, relax, listen, and comprehend information from a video recording.
Find out how the data is being delivered, and choose the method that best fits your learning abilities.
  3. Learn the map(s) to success.  
How have your coworkers succeeded at learning and adjusting to the team, company, and work environment? They all have likely worked together for some time. No one has the same learning style, but know what techniques are useful for you.
Whenever possible, ask your boss and new colleagues about their work experiences, especially with this employer. What were their big successes? What are the potential problems you might be facing?
  4. Right questions are the best tools for quality co-worker connections.  
One of the few barometers your co-workers have is your questions to them. They can gauge the quality of your understanding by the questions you ask.
Try to ask questions to more than one person to help you understand the culture and the team's MO (modus operandi). Questions such as, "What are the current challenges the team is facing right now?" and "What are the current priorities?" are useful gauges to team communication, get up to speed, and learn how and where you can contribute.
  5. Network frequently outside your department.  
Although you will not attend inter-departmental meetings in person, make the best of virtual meetings. Look for opportunities to collaborate, inquire, and engage. Getting a broader vision of the company may bring future career advancement opportunities.
Understanding how other departments work helps you understand how the organization works, especially if your work complements others within the organization. There may be an opportunity to solve existing problems and that can serve as a feather in your cap. You also get a sense of your department's brand throughout the company and opportunities to contribute can come directly from those conversations.
  6. Connect with your boss often.  
Good bosses respond when employees are transparent, open to correction, and clearly understand where you are. What's great about using video is they can also read your body language and use it as intel to address concerns. As a new person, you'll benefit the most if you're easy to correct and reset. It's up to you to make it easy for your boss to do. You may feel it's your responsibility to succeed, but a good boss will set you up for success.
  7. Add value quickly.  
The right questions can add value quickly, but solutions are why they hired you. If you can make your solutions a collaboration with your team, you can win early and often.
Making your suggestions about solutions and how to solve past problems will make you a part of the team quickly. Fresh eyes and ears often bring an unseen perspective and invite more partnerships and opportunities to shine.
  8. Don't forget professional development.  
What are the skills the company or department does not train you for that you will need for the future? You are responsible for the future of your career and preparing for the next steps. If a promotion does not happen with this company, you may decide to go elsewhere.
Strategize for your next potential career move constantly, including when you start a new job. If we have learned from all economic downturns, we should know there are no announcements to warn of the next downturn.
It Is OK to Cry, "UNCLE!"
Not every job will fit before the 90 days are up, and this inevitably builds anxiety. Perhaps the job is a good fit, or perhaps it is not.
However, there's nothing wrong with powering through until you find something else. If your performance is not meeting expectations, then you do not have much time. Try to be at peace no matter the outcome. You will find another remote position, and you can learn from the one that got away.
The Bottom Line
For many people, working from home will be a career highlight and a powerful experience. People who succeed put a lot of thought into making it productive for the sake of their livelihood. Undoubtedly, successful transition to your new job will likely not be seamless. A new employer, new co-workers and boss, new expectations, and likely new technology will take a period of adjustment. You will need to be present and responsive throughout every part of onboarding and the months ahead. The results should allow you to increase your production, value, and positively impact your new company.
I am the "The Voice of Job Seekers!" I offer compassionate career and job search advice as I hack and re-imagine the job search process. You need to be "the prescription to an employer's job description." You must be solution-oriented and work in positions in companies where you are the remedy. Your job search must be a lifestyle, and your career must be in front of you constantly. You can no longer shed your aspirations at the change seasons. There are strengths you have that need constant use and development. Be sure you sign up to download my E-Book, "421 Modern Job Search Tips 2021!" You can find my career advice and work in media outlets such as Forbes, Inc., Fast Company, Harvard Business Review, Glassdoor, and many other outlets.