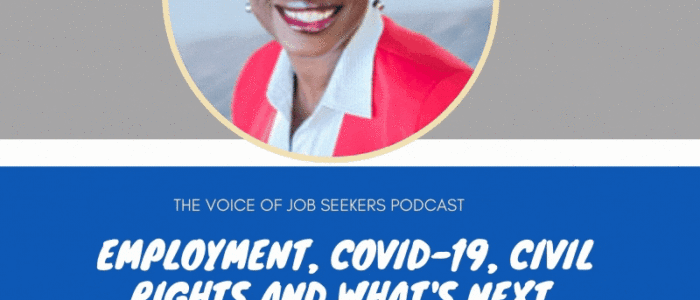 Podcast: Play in new window | Download | Embed
Subscribe: Apple Podcasts | RSS
Phillis Rambsy of Rambsy Law comes on the show to discuss how the law may factor in remote work and COVID-19.
You are more than welcome to join the discussion. Here are three ways you can:
– Call and leave a voicemail at 708-365-9822, or text your comments to the same number
– Go to TheVoiceofJobSeekers.com, press the "Send Voicemail" button on the right side of your screen and leave a message
– Send email feedback to [email protected]
More about Phillis:
Phillis is the founder and owner of RAMBSY LAW PC—a law firm based in Nashville, Tennessee and serves clients in Tennessee, Kentucky, and the Washington, DC, Maryland, and Virginia metropolitan areas.
Highlights from our conversation: 
Employers can lower your salary should you move to a smaller market. Long as the employer give you notice and cannot do it retro to cut your salary because you move to a smaller market.

We discussed whether or not Phillis thought it would be employer liability for someone catching a virus from work.

She does feel likely there will be cases of employees suing employers because of their knowledge of exposure.

Whether or not virus victims taking 6+ weeks to be considered as disability, possible shifts in-laws.

Phillis says if certain conditions are eligible for a reasonable request for protection in the workplace.

Although COVID affects Black and Brown communities at a higher rate, employers cannot ignore employment discrimination laws.

Phillis says you cannot ignore the race angle to the impact of the virus.
Look for one more episode to be published this month and one more December before my holiday hiatus.
I am the "The Voice of Job Seekers!" I offer compassionate career and job search advice as I hack and re-imagine the job search process. You need to be "the prescription to an employer's job description." You must be solution-oriented and work in positions in companies where you are the remedy. Your job search must be a lifestyle, and your career must be in front of you constantly. You can no longer shed your aspirations at the change seasons. There are strengths you have that need constant use and development. Be sure you sign up to download my E-Book, "421 Modern Job Search Tips 2021!" You can find my career advice and work in media outlets such as Forbes, Inc., Fast Company, Harvard Business Review, Glassdoor, and many other outlets.