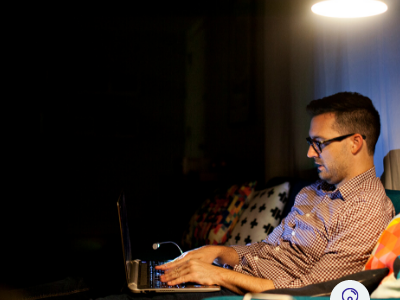 Working a remote job from home sounds ideal, but preparing your life for remote work is not easy. Finding the perfect remote job through a remote job board seems romantic at first. You can't believe how many jobs are "a fit" for you. But no one tells you how heavy the lifting is by the simple things you take for granted such as Internet access, data security, and video chats glitches. But for the sake of the romance, you will work it out because you've asked for the last year to work from home. You face burnout and loneliness and jeopardize the opportunity to work from home if you don't adapt quickly.
Studies say you'll be more productive, less stressed, and more appreciative of your company when you've successfully transitioned. Money savings by working at home because of the cut in travel, you can eat at home, not at restaurants, and tax write-offs are significant.
What will you learn? Remote work preparation is a rigorous process.
There are several things to work from home easier:
Understand the rules of engagement.
Seamless virtual team engagement is critical to every business. Each person on the team has a virtual space, and if it's invaded, it's a problem. Not everyone will have their virtual doors open for any time visits especially if the team doesn't meet regularly. Let each person, including your bosses boundaries, and it will make a difference.
Know the resources you can immediately access.
Not every remote position has an IT desk to refer to when there are broadband issues. Very often, the sole remote worker on a team has to be their computer person. It's frightening for the remote worker who knows what kind of drink each IT person likes.
Schedule everything you can.
The hardest part of autonomy is managing the intangible things taken for granted, such as lunch, family, and potential broadband interruptions. It's best to schedule everything you do know, and reschedule when work stops.
Keep your new hire packets close.
Many companies already have a remote workers policy in place since it's much more common. If the company doesn't, you'll need to get clarity on it as soon as possible. You can collaborate with your boss to come up with specifics such as expectations of work times, meetings, if scheduled in-office days, or if there are workspaces where you expected to participate.
Don't forget professional development.
I will happily disagree with others who say, "concentrate solely on onboarding with your new company." In many industries, ignoring three months of industry trends is a light-year. You want to ask about the part professional development plays with your team or company. I offer 12 suggestions for professional development in this article here.
 Little things matter.
As you're getting into a routine and learning what works for years, you'll feel you're a business of one. Your success is contingent on your efforts. How quick can you access Skype, your laptop, your phone, job information, your new hire packet or anything else matters. Having physical comfort matters, too? Are you working in a home office where your back, shoulders, and neck hurts? Resolve these issues as soon as possible.
Pay attention to health irregularities.
You must sustain quality physical and mental health unless it's the reason for working remote. When faced with a health crisis previous to working remote, hopefully, part of your day is dedicated to making it better. If your health worsened since working from home, then get help. Remote working itself does not automatically improve the quality of your life. You'll create the remote work experience you have defined for yourself.
To make working remote work for you, you must have a strategy and standard drawing a life between work and life. Mental health is the new dental health, and remote work could add or diminish the quality of life you were seeking. Ignoring signs where you feel you're losing control of your work environment in the first 90 days can taint the entire experience. However, if you are proactively tweaking your home office, work processes, and relationships, then you'll start to feel this was the best career move you've made.
My name is Mark Anthony Dyson, and I am the Founder of The Voice of Job Seekers. I am a career advice writer, but more importantly, I hack and re-imagine the job search process.. I've worked with hundreds of job seekers one-on-one helping them to construct a narrative and strategy that appeals to hiring managers and recruiters. I present at colleges and organizations, and facilitated many workshops including my volunteer effort through a Job Lab. I write and create useful job search content on this blog and write career and workplace advice for blogs such as Glassdoor, Payscale, Job-Hunt.org, Prezi and more. Media Feature highlights: Forbes, Business Insider, NBC News, Glassdoor, LinkedIn's #GetHired, and NPR Freelance writer and content contributor: Glassdoor, Payscale, job-hunt.org, The Financial Diet, RippleMatch.com and more. Contact me to contribute career, job search, or workplace advice for your site at markanthonydyson@gmail.com.