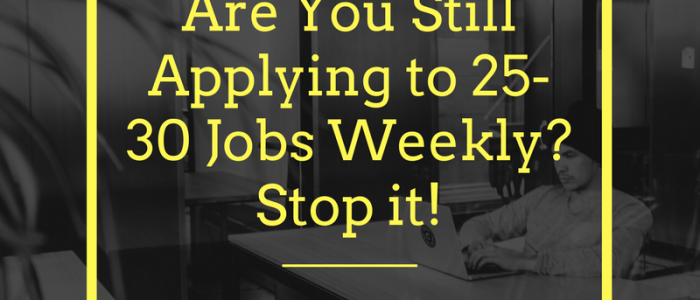 How To Stop Applying To 25-30 Jobs A Week Unsuccessfully by Mark Anthony Dyson
I wanted to share this question I answered a few years back. While this person asked about breaking into an Human Resources career, I thought some of this will apply universally (for the most part):
I apply to about 25-30 jobs a week and haven't been able to get noticed. What can I do to help improve my chances?
I'm a media studies major and just got my masters in communications, so I can basically go into any field, though I'm probably best suited for Human Resources (HR). Are there any general tips one can offer about getting into the field?
Most people get the jobs they want (including HR) by doing several things. Many of these strategies are disruptive but create success for several career changes. Since you just graduated and the only information about you here is your interest, these are shots in the dark:
Network, network, and network
You may have a gold mine already with the people you know who can help you by telling them a position you want and the company you want to work for. Assuming you are trying to get your foot in the door, see if you can find within your network an employee who works for the company for you to talk to the HR manager. 
Job competition is fierce.
There are two sides to this discussion, and both are extreme. First is the employer's application process, where they will receive hundreds of applications for one position, and many times one percent of applicants are considered qualified. Second, most people start their job search with a spray (apply to dozens of jobs) and pray (hope they get one or two interviews) approach. 
Most companies expect you to apply online before recognizing your interest. But history shows it doesn't guarantee a callback from an employer. In my 15 years in the career industry, people who consistently win the job search are strategic in applying online, or a referral by someone they knew, became well-known in their industry, approached by a recruiter, or were introduced by a 2nd or 3rd ties connection in their network.  
Apply to small start-ups to widen your opportunity net.
I recommend applying to small companies but use your network to help find the ones hiring for your skill set. Small companies are more open to conversation starters on LinkedIn. You can attract potential recruiters and employers if you're an active LinkedIn user with a completed profile. If it's incomplete, many recruiters will move on. 
Join professional groups, organizations, or associations.
You can get to know HR professionals on LinkedIn and Facebook groups, as well as the paid national and local groups. If there are some in your hometown, it's a plus. Getting to know them and for them to know, like, and trust you give you access your competition won't have. 
Try following the hashtags #humanresources, #HR, and #humanresourcesjobs on LinkedIn. Participate in conversations relevant to the problems you want to solve. While this is a long-game strategy, being a contributor to at-large groupthink could help other people and for you to be seen as a resource.
Use your school's career services.
They can often put you in touch with active alums who are still connected with the school for the sole purpose of helping graduates with opportunities. If you need more resources and strategies to help you with your job search, they have resources and strategies to help you with your job search.
Internships are for more than just new graduates and are still viable. A few universities and colleges offered past and present graduates applications for internship opportunities a few years ago. While much has changed, the only thing to gain by calling after graduation is the connection to alum networking events.
Informational interviews (or a business conversations)
Since it's summer, things will slow down for various reasons. You can ask an office for 10 minutes of a hiring manager's time to ask for information about the position (don't ask for the job, only offer your resume if they ask you). I know people who contacted HR managers through LinkedIn. You want to use the information as intel to shape your narrative in selling yourself to other companies. Most of all, use it to build a business relationship.
Overall, whatever field you choose, your presence off and online must show an interest in the area. It's a challenging field, even if you're passionate about it. It just takes a little time and work. But again, your networking will determine your chances better than any other way.
I am the "The Voice of Job Seekers!" I offer compassionate career and job search advice as I hack and re-imagine the job search process. You need to be "the prescription to an employer's job description." You must be solution-oriented and work in positions in companies where you are the remedy. Your job search must be a lifestyle, and your career must be in front of you constantly. You can no longer shed your aspirations at the change seasons. There are strengths you have that need constant use and development. Be sure you sign up to download my E-Book, "421 Modern Job Search Tips 2021!" You can find my career advice and work in media outlets such as Forbes, Inc., Fast Company, Harvard Business Review, Glassdoor, and many other outlets.