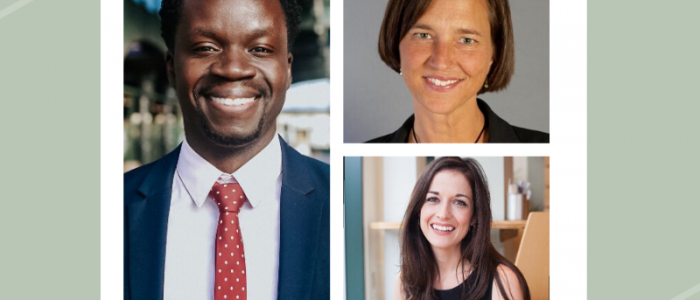 Podcast: Play in new window | Download | Embed
Subscribe: Apple Podcasts | RSS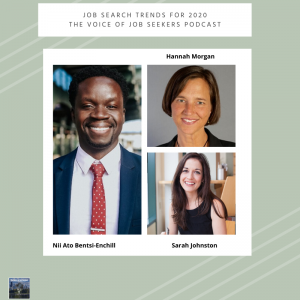 I love doing annual job search trend shows because the changes are constant in this industry. Our conversation about job search trends offers people a chance to reset their mindset and take action at the beginning of the year. This year, I decided to go with a panel so everyone can hear how different views are often the same for a proactive job search.
My guests:
Sarah Johnston, founder of the 
Briefcase Coach
, a company is helping many job seekers with their resume writing, LinkedIn strategy, job search strategy, and interview preparation. She recently was elected by LinkedIn editors as "LinkedIn Top Voice" for careers and job search.
Nii Ato Bentsi-Enchill is the founder of 
AvenirCareers.com
. Before going full-time as a business owner, he was Ivy Exec's Senior Content Manager & Career Adviser. In addition to networking/job search strategy, LinkedIn and resume writing, he uses his Psychology and Mental Health education as part of a holistic approach to career coaching.
Hannah Morgan is a return guest (this is number five, I think). She is the founder of 
CareerSherpa.net
 and loves helping people understand what actions they need to take to find a job faster. Her popular site and her US News and World Report column is a large part of being a nationally recognized expert.
Got comments about the show? Here's how:
– Call and leave a voicemail at 708-365-9822, or text your comments to the same number
– Go to 
TheVoiceofJobSeekers.com
, press the "Send Voicemail" button on the right side of your screen and leave a message
Here are highlights from our conversation
Outdated resume advice and how to strategically position your resume and yourself to reach the right people.
Career professionals – giving outdated resume advice – "Cut and Paste" keywords in resumes as white fonts.
Expecting results from non-targeted job searches and the importance of keyword accuracy and usage.
Mentioned Jobscan tool and its usefulness of matching keywords.
Sarah said none of her successful clients had a 100% keyword match.
Understanding the difference in writing a resume vs Linkedin profile creation.
All of us agree the Linkedin profile must showcase authenticity – Nii Ato says, "…it's a chance to show who YOU are."

We discuss common job search mistakes.
Sign up for my weekly newsletter at the top right of my page to receive free e-Guide, "320 Modern Job Search Tips for 2020!" This year, it will be free for a limited time.
My name is Mark Anthony Dyson, and I am the Founder of The Voice of Job Seekers. I am a career advice writer, but more importantly, I hack and re-imagine the job search process.. I've worked with hundreds of job seekers one-on-one helping them to construct a narrative and strategy that appeals to hiring managers and recruiters. I present at colleges and organizations, and facilitated many workshops including my volunteer effort through a Job Lab. I write and create useful job search content on this blog and write career and workplace advice for blogs such as Glassdoor, Payscale, Job-Hunt.org, Prezi and more. Media Feature highlights: Forbes, Business Insider, NBC News, Glassdoor, LinkedIn's #GetHired, and NPR Freelance writer and content contributor: Glassdoor, Payscale, job-hunt.org, The Financial Diet, RippleMatch.com and more. Contact me to contribute career, job search, or workplace advice for your site at markanthonydyson@gmail.com.