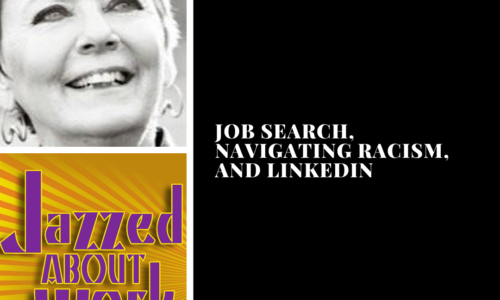 If you follow my exploits through my newsletters throughout the years, you know I've been blessed to get a few coveted news features to offer job search advice. To be featured on a National Public Radio (NPR) podcast is one of those high visibility opportunities not just once but this summer, I made my second appearance. "Jazzed About Work" is an NPR podcast produced by the Voinovich School of Leadership and Public Affairs at Ohio University.
The host of the show, Bev Jones was so gracious and her questions were so thoughtful, I wanted to share the transcript from the interview. Bev and I discuss how the job search is different for Black job seekers, facing racism and allyship, the usefulness of LinkedIn in finding a job, and the Job Lab. Her questions were relevant and provocative that only an insider to my work would ask. It was an experience like no other. It's probably the first time I realized my growth in the depth of my answer. I am forever grateful to Bev in helping me discover another part of my voice I've yet explored previously.
On Jazzed About Work, Bev's questions come from my Medium column. I have a number of articles published on Medium, but I am writing a series about how race, equity, and discrimination intersect with career, job search, and workplace issues. You can check out my column there to get some perspective and context of Bev's questions.
If you want to listen to the interview, download "Jazzed About Work" podcast on iTunes,  go to WOUB site, or NPR.
Bev Jones is a executive coach, careers expert, author, speaker and host of the podcast, Jazzed About Work. Her book, Think Like an Entreprenuer, Act Like a CEO offers a strategic approach to career success.
Intro: This podcast is brought to you by the Voinovich School of Leadership and Public Affairs at Ohio University.
Beverly:  Hi, everyone, and welcome to jazzed about work, where we talk about everything that might have an impact on your career. I'm your host, Beverly Jones. And today, we'll be talking with the leading career and job search expert, Mark Anthony Dyson. Mark is a prolific writer about all things related to the workplace and about how job seekers can become more effective. In addition, Mark has worked one on one with hundreds of professionals, helping them to create narratives and strategies that appeal to recruiters and employers. In this episode, we'll talk about some of the challenges of the current job market and focus in on some of the particular challenges faced by Black professionals. We'll talk about how everybody can help fight racism in the workplace.
Mark, thanks so much for being a return guest. We had such a good conversation last time. So I've been really looking forward to seeing you again, us seeing you – speaking with you again.
Mark:              Thank you for inviting me back. It was a great experience last time, so I've been looking forward to it.
Beverly:          Well, you know, we haven't talked for a while, but I feel like we've stayed in touch. At least I've certainly been following you. I think you are so interesting to watch on LinkedIn because everything you do is so lively and you have brought my attention to all kinds of wonderful posts that other people have done, and you write some really intriguing things.
Mark:              Thank you.
Beverly:          Can you tell us about some of the things that you've been writing and doing lately, it looks like you've been keeping busy.
Mark: I've been very busy, and you know, a lot of things shut down. Some of my clients had shut down. Of course, I work with businesses, mostly writing content for them – career content. So I've just continued to write for myself. And I chose Medium as the platform to exert some different ideas that I've maybe touched on past but, you know, with the protests and the news picking up as far as the talks about race, I had a lot to say about career and race, and how it looks differently for Black people and people of color. As opposed to a traditional candidate where color isn't a particular factor. We can call them white people, right. Basically, there's some advice that I thought was exclusive for Black people. So I start writing on Medium specifically about it. And even though it's kind of public, this is between you and I, but it's for everybody because I think a lot of the advice had been universal. But I think there's some specific advice that had been towards Black people. And then, of course, I've been doing a video series, which has been an extension of my podcast and just been talking to different career professionals about a lot about everything from remote work to how to network during the virus, some salary negotiation stuff, and it's just been quite a ride since.
Beverly:          Well, so it wasn't just me looking at, watching you on LinkedIn and thinking boy, he's covering a lot of ground. Well, there are a lot of things we can talk about, but since you mentioned it, I would like to touch upon one of your pieces on Medium with advice for Black job seekers and professionals. Before we get into that, though, I think Medium is an intriguing platform, but not everybody might be familiar with it. You want to briefly describe what it means to write on Medium?
Mark:              Medium started out just as another place for people to write blog posts. And a lot of people have been able to write without a lot of filters, and you're self-editing to some degree. Now Medium is also broken out into different sections, and let's say they're magazines, so there are places like for work, fashion, even race, culture, and many different divisions of it. I write for a segment called an injustice magazine, where it's primarily about race. But there is a race subcategory available. This one is specifically geared towards Black people, and intersectionality when it comes to gender, and marginalized groups, let's say, and people are pretty plain and unedited. And that's one of the great things about Medium. It allows the people to go where they want to go and not lose their voice as opposed to me writing some for my content partners and my clients where the piece is carefully edited.
Beverly:          So, the Medium piece that I was thinking about that caught my eye. I think that the title was Black people; not all career advice is meant for you. I found it an intriguing piece. And I also noticed at the end, and you had some advice that I thought was advice meant for everybody. You had some really good suggestions, but do you want to tell us a little bit about that article. What were you getting at when you said, Black people, not all career advice is meant for you?
Mark:              Mostly career advice on the larger job boards and blog posts and articles and newspaper articles are geared towards white-collar professionals, and to a great degree, white professionals. It really takes in the considerable differences at times of Black professionals because we see things from a very different standpoint. There are enough studies even to show how ethnic names and even specifically Black names are first given a pause, and even sometimes biases even pushed towards someone with the name. And I know that even from having been a hiring manager in a call center that sometimes long ethnic names are not going to be considered because the only thing that we think or one of the only things we think is that somebody is going to be offended because we mispronounced their name. And even though that's not completely true, the employers have kind of a short leash as far as patience. So they want to get down to the best possible candidate without having any push back at all. And they built processes that kind of favor that idea. So, those are one of the things that go along with it. I talked about in the article about how fast I walked. And my white mentor suggested, and I don't think it was intentional at all, suggested that you should walk faster because that was the culture and climate of the organization. And really, it was mostly white managers that did that. And for me to be seen, like them, I should walk like them was the insinuation. In fact, she implied it several times when that wasn't necessarily true. So that's where that stemmed from. And I know a lot of people had faced a lot, kind of the same way. It's like dialect, using slang in a very slight, maybe strategic but often is looked at very differently, when really the meanings are just the same. It's just that I was exposed, or many people were exposed to a different type of language and colloquialism than other people. And not to say that society even adapts those colloquialisms is still frowned upon in a professional place when that shouldn't be.
Beverly:          So, there's been a lot of bleak and awful news lately, it feels like in recent months, but one of the things that I think has been at least it felt to me like good news is that it was my clients, you know, I talk to lots of people in different organizations. And as you do, we're in touch with a lot of different places. And what strikes me is that there has been a shift in organizations from, oh, I don't know, maybe it's six months ago, an organization would be officially against racism and maybe genuinely want to have a diverse culture because it's good for business. But nobody wanted to take the time, or maybe they didn't see the need to talk about racism. And what's happening now is, it feels like everybody's talking about it. And people are very often spotting things, like a tendency to want everybody to walk and talk the same way or expecting a certain kind of narrative for somebody's story if they're going to be promoted. People are examining those things and recognize, oh, you know, that can be an attribute of systemic racism. Do you think I'm overly optimistic, or are you noticing the same kind of conversations?
Mark: We're in the early stages, where a lot of companies are just giving by lines. If you look at the history there, and you look at who they have currently, particularly look at their board members, look at their executive C suite and see how diverse they are. That's what they mean; ultimately, there are a lot of them by saying that, yes, we support diversity and things like that. Sometimes it's tied to their clients. If they have clients that are truly diverse, then they're giving that line to for a lot of different reasons let's say, some of it is just to pander. But others are; actually, there are a few that are making interesting moves to make sure that they are responding to what everybody else was responding to. But I don't think you're overly optimistic. We all have a little glimmer of hope when we hear someone start to denounce racism, but how about racism within your organization? Races and being specific, and being to the point where it may even hurt. But ultimately, I think that's what people do because you think about it in a marriage, or in a partnership. I don't want to just hear you say I'm sorry. I want to see you sit here. I want to hear you say I'm sorry, and how do you think it affected me and how you acknowledge that affected me. That's the thing I want to hear, and I think that's the thing that Black people want to hear as well.
Beverly:          So it sounds like, and I'm reflecting what you just said, and also because you're an avid fan and read what you have. To me, it seems like you have there, two things may be that you have mentioned. One is, and you've been a leader at this, we're not going to understand each other better and notice how systemic racism plays out and get anywhere unless we have a conversation. So we need to keep talking even if it's kind of awkward. And if you're somebody who maybe you're a white person who wants to be an excellent strong ally, with your Black colleagues, part of it is having the conversation and a big part of the conversation is actually listening. Does that seem to be one thing?  The other thing is that you have to act, and you have to act in a way that shows zero tolerance for racism, so that if a leader says something racist people have to stand up. And even if it means somebody gets fired or somebody goes through a difficult period. So it's listening and action is two things that I got from what you wrote. Is that a decent summary?
Mark:              That especially the second part, is that confronting racism, and I say this is one of the articles that I've written on Medium. And, you know, I like to think that I like to promote amicable discussions about race. I even tell a story about the incident that happened some years ago, where it was funny, but there are layers to that. But one of the layers is that we should be able to have an amicable conversation. There will be some disagreement but understand whoever stands up and particularly, we want at this particular point, and I'm not saying there's a meeting between Black people and say, this is what we want. I'm saying that white people now have to kind of be a catalyst for some of this discussion and to be the one that's going to be slightly disruptive. I spoke to a woman just recently, who she says for decades, she's been kicked out of many family meetings. But as years have gone on, they hear her very loudly. And in fact, they, some of them have been prone to change the behavior. It won't change the heart necessarily, but the behavior is often the issue in the workplace. I mean, people can be racist behind closed doors, and there are people who've learned and have emotional intelligence because they grew up with it, because it's part of the generations. And we're talking about generations of white supremacy and things that just promoted the oppression of Black people and people of color that you're not going to make things happen in one conversation. So you've got to approach it like that, you should be able to have many different types of conversations over the period of time. But understand too that person should say that I can no longer be quiet about it.
Beverly:          So zero tolerance for racism when you see it, and having the courage to speak up and not back down sometimes. It's not enough to just point it out. Sometimes you just have to summon up your courage and keep pushing forward. It sounds like that's a big part of it.
Mark:              Yes, that's a big part of it. And where I go to church at, my pastor has always been for years. And when I think, before I even joined that church, he also has content from the past – I mean years of content. And he had always taught me – he's a white pastor, and has a white wife and white children. But they are a family that truly believes in diversity. And even at times, any of them any given time would be very quick to talk about the injustice of racism in these events. And I've seen my pastor even take persecution on Facebook, which, you know, depending on the culture of your friends, he would post about injustices and they will say, and one even said, don't talk about that talk about something else. I mean, and from peers that look like him and sound like him in his same profession. So it's going to be uncomfortable, but his take was because people are uncomfortable I've got to do more, not less.
Add Speaker: We'll be back with Beverly after this brief message. Are you ready to make a difference in the world? The Voinovich School of leadership and Public Affairs at Ohio University can give you the skills to do just that. The school offers a multidisciplinary approach where public policy, environmental studies, and entrepreneurship come together to educate tomorrow's leaders. Learn more about the Masters in Public Administration or Environmental Studies by visiting ohio.edu/Voinovichschool.
Beverly: Let's shift gears a little bit and think about the situation of job seekers today. I know a lot of people turn to your advice on job seeking. The remote nature of the job market and all of the chaos with so many companies seems like it's difficult for everybody, it's not an easy time. And yet, it's tempting to just give up for a while and that doesn't seem to be the answer looking at you as a model. Sometimes when things are tough, it's time to just generate your own content, keep reaching out, and among other things – network. And it looks to me that you're modeling what you talk about a lot, which is using well platforms like Medium in one case if you're a writer, but looking at LinkedIn particularly, and staying in touch with people. That's part of what you want to be doing now if you're any kind of job seeker. Would you agree that the networking habit on LinkedIn is a terrific way for job seekers to keep going even when the situation is kind of tough, like now?
Mark:              Yes. And I think people are missing opportunities. If they've been saying for years, I've got to get on LinkedIn. I've got to get LinkedIn and you're not on LinkedIn by now. The window isn't closed. But I think when people really were shut down those first few months of March, April, and May, those are real opportunities to get in contact with people. But I think a lot of sharing and commenting draw attraction. And we're not even talking about publishing that if you want to five times your reach. Of course, it's not just about reach, but it's about establishing authority in the sense of LinkedIn. LinkedIn, people will say I don't want to become famous, you don't have to, but you do have to show that you have some mastery of your craft or whatever that craft is, or if you have a new craft, that was the time and it still is the time to do so. There's a lot of opportunities and there's a lot of ways you can do that just within your profile. But if you're looking to get new opportunities, this is time to reach out and you taking responsibility for that. And to take advantage of every opportunity there is to connect with people. Commenting is one, sharing posts and even connecting when you're writing connection notice to someone that's a great way to connect and you know, make a thoughtful, make it grammar free as much as you can. And but, you know, having said that, not everybody has perfect grammar, I'm still working through that. And I'm a writer for four years. But people will respond to the genuine and sincerity, not particularly that you have your verbs conjugated.
Beverly:          So, not everybody who's listening has even seen like then I, and a lot of people who have profiles never really go beyond that. What you're talking about is that If I can restate this correctly, what you're talking about is it's you can have your profile and if you want to write something you can have a post but you don't have to do the post. What you do so well is you find interesting articles written by other people and then you write a comment. And in the comment, some of your values can come through whether it's a topic like racism or you can make a cop or a topic about the substance of a job and you can talk about this is how you do it well. In your comments, you can develop a profile that others can see and very few words they can get a sense of you, is that right? Is that how it happens?
Mark:              That, yes. And there are people that do share, they share without a comment. Two sentences of a comment just to summarize an article is really the bear, are the minimum and acceptable minimum to even get a discussion going. I mean, it's a discussion and really LinkedIn is made right now where almost anybody can see your content or whatever you share, not just your work your network. So somebody in your network has liked a comment or commented, LinkedIn reward you by having that person go through other feeds that they're connected to. So you can get quite a bit of visibility. If you're doing something as simple as writing a couple of sentences, whether you're sharing a post or even a sentence or two in commenting. It increases your visibility, you can't — the way I look at it ultimately is it's not just employers and recruiters that you want to try and get their attention. My contention in the past few months has been there are people call refers, there are people who are willing to refer somebody that may complement their position, or might fill a position within their company. And very often they get compensated in some kind of way. Not always monetary, but a lot of them do get monetary rewards for referring a successful job candidate. So there are people who are looking and willing to do or even just connect you with someone. There are so many generous people on LinkedIn, out of all the noise and things or people who do recognize that there are people who want to work and had a streak of bad luck during this pandemic, and that are willing to connect other people. So think of yourself relating to that person as well.
Beverly:          Actually, that's a really important point that there are many kinds of people on LinkedIn who will take a minute or two, and answer a question or make a referral, or make a suggestion. If people haven't been involved in a platform like LinkedIn, they tend to be pretty cynical that this some stranger is going to be helpful to me when they don't know me, but it really does happen every day, doesn't it?
Mark:              Yes, it happens every day. I see success stories come through every single day of how someone else played a part in their connection to a job or to an opportunity or even if it was volunteer work, or if it was just valuable information, every little bit helps. And that literal now it's not just a cliché.
Beverly:          Well, I know that one of the things that you've done a lot of is working with individual professionals and individual job seekers and helping them maybe chart how they want to show up on LinkedIn or enter in a job interview, by having a narrative about who they are and what their strengths are. I think that's an intriguing concept. And if you're doing something like social media, if you have that narrative, if you kind of has a handle on your own story, it gives you a framework for knowing what to say and where you want to post. That's my take on it could you talk a little bit about what it is you do when you work with clients and narratives and what you mean about framing a narrative
Mark:              Largely, you should have an end goal and honestly, most people don't have an end goal of creating demand for the work. I mean, they do, but they don't. And you could tell in one-two ways. One is that they're not showing their work, they're not out there for the world to see, or even talking about it. But if you are creating, if you want to create a demand for your work, you do have to create a narrative. And that doesn't mean a little summary on your LinkedIn profile, though that helps. But a larger part you're creating stories of where you've gotten from point A to point B, point B to point C and point C to point D, and so on. So within that, you talk about even how tough it was for you to get to that point if you had some challenges and how you've been able to go around those challenges. Or maybe that burden is something that has stemmed from your childhood that affects the way that you look at, the way that you view challenges. All that plays a part and I think now is a time to create narratives. And really, when we talked about that we have to talk a little bit about personal branding, is that if you're really not creating that demand for your work, or demand for your service or demand for a service, then it's going to be hard for you to create narratives that really matter. Having a lot of little random stories, doesn't attract you to people who might be your peers, your colleagues or people who will hire you, or recruit you or refer you. So to think of things in that manner will come down to what your end goal is and being very clear about it and doing things to communicate that bit by bit.
Beverly:          So one of the things that people can do to help frame their story is practice on their friends, I mean you can help each other articulate a story that kind of holds together and says who you are. I noticed that you do something, I think you call it a job lab, where you bring people together in a group. I like the idea of people working together to get things done. Can you tell me about your job lab?
Mark:              Sure. My job lab is a part of the Aim to Work initiative by my church in Chicago, First Christian Church of Christ. I'm sorry, First Christian Church of Chicago, and one of the initiatives was to build a job lab for two summers prior. I would just have people come, people were members, people from the community will come and you know, hear a short presentation, then try to address some of their issues and try to answer each person's questions. And usually, this has been a small group. And during the pandemic, since we couldn't meet as a large group at first, I decided to take it online and invite select people on my mailing list. And I started out inviting – the last time I invited 1300 people, and on my mailing list, I have more than that, but I just selected those specific individuals. And it wasn't really all that scientific. But there were more of the recent people who subscribed to my email list and sent them invitations and 10 people responded. And so this time I sent initially last two weeks ago 1500 invitations and 30 plus have responded. So it seems like more people who are beginning to find out about it are beginning to connect with that idea of that they get to come and learn how to Job Search collaboratively then by themselves because I still do some Q&A. But when people hear other people, how other people are approaching it, they're getting that value from them. But they're also getting value from the discussion at large. So that's how job labs work, I try to think of it is as you take little parts of everything, you try to put them together and that people are getting something out of it.
Beverly:          Well, your website as well as your LinkedIn activity, it's just a wealth of great information for job seekers? Would you share the website now in case people want to learn more about what you're doing there?
Mark:              Sure, it's thevoiceofjobseekers.com.
Beverly:          Okay. And I do recommend it as a place for people who are looking around and trying to think about how to organize themselves for a job search, or maybe they're trying to just keep going because it can feel like an uphill battle. Let me ask, we're running out of time here. There's always so much to talk about. But let me just ask, before we finish up, do you have any other final words of encouragement or suggestions for people whether they're launching a search or are in the middle of a search right now or just trying to bring some more energy to their career in kind of a difficult time. Do you have any final thoughts?
Mark:              Yes. Probably a couple, one I've already talked about, is thinking about the breadth of your work. And what it will mean for others if you start making it known, what kinds of things you're working on, and showing your work. And then don't be afraid of a little self-promotion, or marketing, whatever you want to call it. People won't know unless you put it out there first. But what would be great if you're giving more than you're taking, then other people will share your work. And I think that really works out because it means something and it's valuable when you are promoting yourself and you let people initially know. But it is 10 times value to you when other people are sharing your work and sharing what you do and sharing your statuses. And every time you share you just think about it's going to help you build another relationship. But you can only do it one by one, you can't do it in bulk. There's no quick way, it takes time.
Beverly:          So that's excellent advice. And I'm going to suggest also, that if people are looking for a good model on how to use LinkedIn and other mediums as a way to build their network, they go to your LinkedIn profile. That's Mark Anthony Dyson, D-Y-S-O-N on LinkedIn. And just watch how you do it. Because you are always helping other people. You're making good comments, you're making suggestions, you're making connections – you have a track of it. And then you can also see people liking what you're doing and sharing it, they're giving back because you're always giving to people. So you're a great model.
Mark:              Thank you very much. I appreciate that.
Beverly: It's always a pleasure to have you here. I hope we talk again soon and I wish you well as you're carrying the torch for job seekers in the midst of a challenge [inaudible 00:36:02].
Mark:              Yes, thank you for the invitation I enjoyed it very much.
Beverly:          Today we've been talking with Mark Anthony Dyson, career advice writer, and champion of job seekers throughout the US. This podcast is produced by WOUB public media. Adam Rich is our audio engineer. I'm your host, Beverly Jones, author of, Think Like an Entrepreneur, Act like a CEO. Today's career tip is that it's important to know how to frame your career story. Smart professionals develop a career narrative that helps them quickly communicate who they are and what they can do. Thanks for joining us today. We hope you'll come back soon. For more good talk about building a rewarding and resilient career.
I am the "The Voice of Job Seekers!" I offer compassionate career and job search advice as I hack and re-imagine the job search process. You need to be "the prescription to an employer's job description." You must be solution-oriented and work in positions in companies where you are the remedy. Your job search must be a lifestyle, and your career must be in front of you constantly. You can no longer shed your aspirations at the change seasons. There are strengths you have that need constant use and development. Be sure you sign up to download my E-Book, "421 Modern Job Search Tips 2021!" You can find my career advice and work in media outlets such as Forbes, Inc., Fast Company, Harvard Business Review, Glassdoor, and many other outlets.