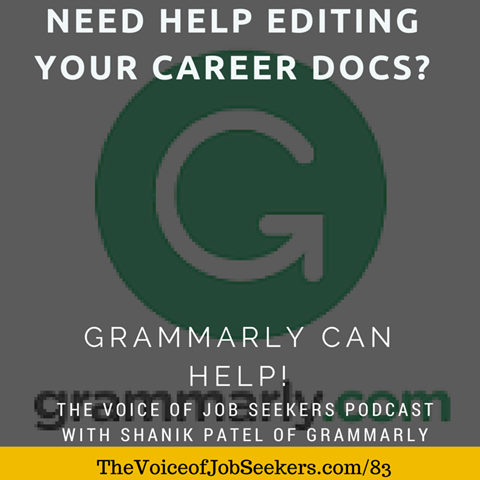 Podcast: Play in new window | Download | Embed
Subscribe: Apple Podcasts | Android | RSS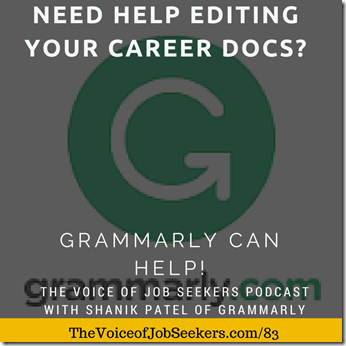 Note: I have an affiliate account with Grammarly and benefit when you click on the ads on the right panel of TheVoiceofJobSeekers.com. This is a small way for you to support the show if you wish to do so.
Grammarly is the best grammar checker software on the planet. There are more than 250 grammar rule checks it makes in its search for errors. It's hard for those of us who write for a living to create an edit to perfection. I receive help from editors from time to time for client documents and blog posts. I also find the software from Grammarly helpful and useful on a regular basis (I still use an editor to help me with writing for clients and articles from time to time).
I have reviewed other grammar and spellcheckers on these articles:
https://thevoiceofjobseekers.com/five-resources-to-help-correct-resume-grammar-errors/
https://thevoiceofjobseekers.com/3-more-resources-to-help-proofread-your-resume/
https://thevoiceofjobseekers.com/three-more-resources-to-help-correct-resume-grammar-errors-part-2/
My friend and colleague Lauren Milligan and I also walk through some editing and proofreading techniques in episode 49 specifically for writing resumes.
My guest is Shanik Patel of Grammarly. He makes a compelling case for you to get help with writing error-free documents by using Grammarly.
When you visit the blog, you will notice that a Grammarly affiliate ad is one of two that I  have on the blog. It is a product I use and don't mind selling because I benefit far more for the quality of writing I produce than the link itself. I recommend that if you are struggling to create a quality business related document for work, job search, and/or business to invest at minimum the premium version.
How do you proofread documents? What methods do you use? I would love your feedback in one of three ways:
1) Leave a voice mail or text message at 708-365-9822. Let me know if I can share it on future shows
2) Email me: mark@thevoiceofjobseekers.com
3) Go to TheVoiceofJobSeekers.com and press the "Send Voicemail" button to leave a message online
The "writing problem" begins in school.
In September 2012, the National Assessment of Educational Progress released the results of its annual writing test, The Nation's Report Card: Writing 2012, suggesting that 75 percent of 8th and 12th grade students are unable to present their ideas in a clear, grammatically correct manner despite being given access to word processing tools for the first time in the test's history.
Only 43 percent of all students who took the SAT in 2013 met the SAT College & Career Readiness Benchmark (which indicates a student's likelihood of achieving a B- average or higher during the first year of study at a four-year college).
Student writing scores on the SAT have declined five points since 2011 and consistently represent the lowest student outcomes of any section of the test.
Poor writing skills continue in the workplace.
More than two thirds of salaried jobs require a significant amount of written work, making written communication a key consideration in hiring.
Experts estimate that low literacy costs the American economy $225 billion a year in lost productivity. Improved workplace literacy can increase employees' efficiency, effectiveness, and productivity on the job. As a result, employers experience greater customer satisfaction and process improvement, a lower incidence of accidents, reduced waste, and fewer errors.
Business Roundtable's member companies are still forced to spend more than $3 Billion on remedial writing courses each year, for both hourly workers and salaried workers.
Better writers tend to be more successful in the workplace.
Grammarly'sElance Study
Professionals are judged every day by the quality of their writing — and paid accordingly.Grammarly reviewed nearly 500 freelance professionals' profileson Elance whose work was rated by employers.
We then reviewed the freelance profiles for spelling, grammar and punctuation errors. Our goal was to determine whether accurate writing related to the freelancers' credibility,hireability, or pay.
The best-reviewed freelancers across all categories were those with the fewest writing errors.
Better writers earn more money per job.
Grammarly's Linkedin Study
Professionals with fewer grammar errors in their profiles achieved higher positions. Those who failed to progress to a director-level position within the first 10 years of their careers made 2.5 times as many grammar mistakes as their director-level colleagues.

Quality writing helps you to get ahead in your career.Grammarly reviewed 100 LinkedIn profiles of native English-speakers in the consumer packaged goods industry. Each of the professionals we looked at worked for no more than three employers over the first 10 years of their career. Half were promoted to director-level or above within those 10 years, and the other half were not.
We found that:
Fewer grammar errors correlate with more promotions. Professionals with one to four promotions over their 10-year careers made 45 percent more grammar errors than those with six to nine promotions in the same time frame.
Fewer grammar errors associate with frequent job changes. Those who remained at the same company for more than 10 years made 20 percent more grammar mistakes than those who held six jobs during the same period.

You need to proofread to be a better writer!

Top mistakes you're probably making in your resumes, cover letters, professional emails
Options for obtaining a proofreader — human being, Microsoft Word's spelling and grammar checker, Grammarly
I encourage you to follow them on their Facebook page that has five million members and growing!
Have you subscribed to this show on iTunes? If you haven't, please do so. This is also a great place to write an honest review. Enjoy listening to the show. Let us know what you think.
Do you need help with resume writing or career direction? Do you need coaching or instruction? I can help.
Also, join our community on Linkedin! You'll enjoy some of the insights shared by community members and other career pros!
My name is Mark Anthony Dyson, and I am the Founder of The Voice of Job Seekers. I am a career advice writer, but more importantly, I hack and re-imagine the job search process.. I've worked with hundreds of job seekers one-on-one helping them to construct a narrative and strategy that appeals to hiring managers and recruiters. I present at colleges and organizations, and facilitated many workshops including my volunteer effort through a Job Lab. I write and create useful job search content on this blog and write career and workplace advice for blogs such as Glassdoor, Payscale, Job-Hunt.org, Prezi and more. Media Feature highlights: Forbes, Business Insider, NBC News, Glassdoor, LinkedIn's #GetHired, and NPR Freelance writer and content contributor: Glassdoor, Payscale, job-hunt.org, The Financial Diet, RippleMatch.com and more. Contact me to contribute career, job search, or workplace advice for your site at markanthonydyson@gmail.com.