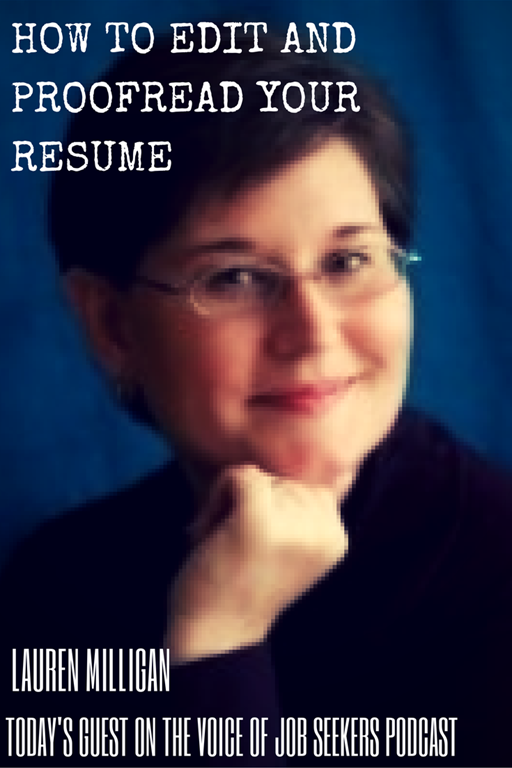 Podcast: Play in new window | Download | Embed
Subscribe: Apple Podcasts | RSS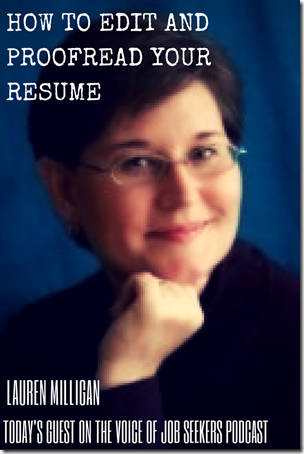 With all of the advice on the internet warning everyone that your resume is likely tossed with one typo, employers report there are too many errors of all sorts. Today, Lauren Milligan and offer advice to prepare your resume for perfection (although, we throw in a caveat with this point).
Blog: TheVoiceofJobSeekers.com/49/
Phone: 708.365.9822
Email: [email protected]
I met Lauren Milligan about five years ago on a career panel. We kept in touch throughout the years and landed here on the show. You can find her career expert advice featured on Time, Yahoo, or CareerBuilder. Back in the day, she was a co-host on a weekly podcast so you will hear how comfortable she is in our conversation. She founded the extremely successful ResuMAYDAY company located here in the Chicago area.
Here are the highlights of our discussion:
We stated in the beginning that who helps edit a resume is critical to a quality resume.
Common errors are spelling, typos and grammar. Lauren notes inconsistencies in putting periods at the end of bullet points is problematic
Lauren stated  have to assume that employers will be strict about grammar on your resume, especially in the smaller details. Stating how you are detailed and then your resume failing to exhibit grammar detail will likely disqualify your candidacy
Another anomaly in writing is when job seekers write resume summaries the same way they do bullet points. Lauren recommends full sentences in the summary, which sets up the context for the job, and highlighted fragments in the bullets, but she emphasizes consistency
She uses "I," "Me," and "My" in the summary part, but NOT in the bullet points. Her clients say that employers comment how well they connect to the candidate
Lauren recommends reading your resume backwards is best to focus on each word instead of a stream of words. She emphasizes that she does not trust spellcheckers.
Don't forget to sign up for our updates at
. The next one will be on Aug. 13.
I am the "The Voice of Job Seekers!" I offer compassionate career and job search advice as I hack and re-imagine the job search process. You need to be "the prescription to an employer's job description." You must be solution-oriented and work in positions in companies where you are the remedy. Your job search must be a lifestyle, and your career must be in front of you constantly. You can no longer shed your aspirations at the change seasons. There are strengths you have that need constant use and development. Be sure you sign up to download my E-Book, "421 Modern Job Search Tips 2021!" You can find my career advice and work in media outlets such as Forbes, Inc., Fast Company, Harvard Business Review, Glassdoor, and many other outlets.