Editors note: Grammarly is the first affiliate partner for this blog, and those who purchase it through my affiliate link, I receive compensation. The reason is simply coincidental, I have recommended before this post 2 1/2 years ago. It is a product I believe in for the job seeker who needs help to edit resume and cover letters (and other documents).
I have heard many different arguments for NOT using proofreading software over the years. As a writer, I understand that most people will not take the time to proofread for many levels of grammar. Just as it is unrealistic for every English major to master all phases of grammar, it is also unrealistic for all proofreading software to catch every single grammar anomaly.
Editors are paid to be perfect. I use an editor for my client's work, you know, the ones that pay me hundreds of dollars to write resumes, business documents, etc.
I use Grammarly to help me to write for the blog from time to time, because real editors are so doggone expensive. It also helps me manage the increased volume of work received around this time of year. How many people use an editor, or can afford an editor, or clear about the value of an editor? I have edited documents for other resume writers, and they consider me a good editor, but not as effective as the ones that do it for a living.
That is why using Grammarly is worth its value for most job seekers. There are colleges like the University of Phoenix and University of South Florida who provide the use of the software for students. Naysayers argue that proofreading software does not recognize, and cannot address context or recognize the less obvious grammar rules. This is true. That is where the human eye is the most important, but if most people can assess the context well enough beyond their spelling and verb tense Achilles heel, then Grammarly will add value.
To check a quick sentence on email to an employer or to a friend, you have choices to set to "business" or "casual," and other choice settings you deem appropriate.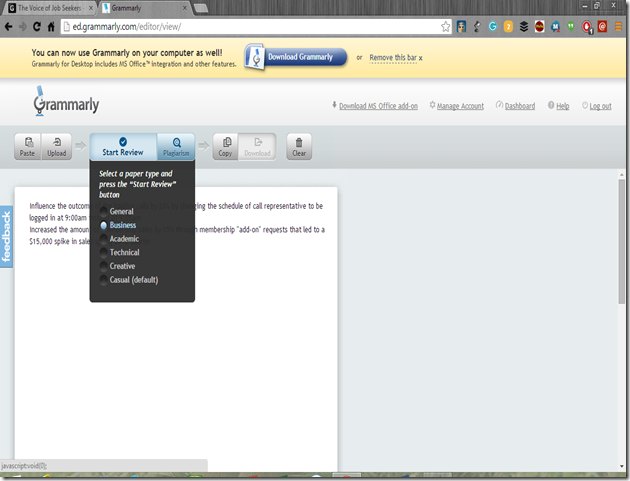 I am offering five reasons why it's so useful for most people who can use a second pair of eyes:
1. Spelling
Grammarly is excellent at picking up spelling errors. Even if it does not discern the context 100% of the time, choices will be available for your choosing.
2. Correct comma placement
I found that Grammarly is mindful in accepting the placement when listing three items in a row as demonstrated. On a resume, this is important to get right. Many employers ding the applicants for not having a perfect resume and many times comma placement were a problem. Grammarly is consistent to alert the user whether to remove the comma, or to correctly place it.
3. Past and present tense
This is where I cough and gasp here because most of the time Grammarly recognizes inconsistent action verbs used as past tense. Then there is the current job situation where there are accomplishments past and current that need to be noted. Although, in this example, Grammarly OK'd the content, it does not always succeed.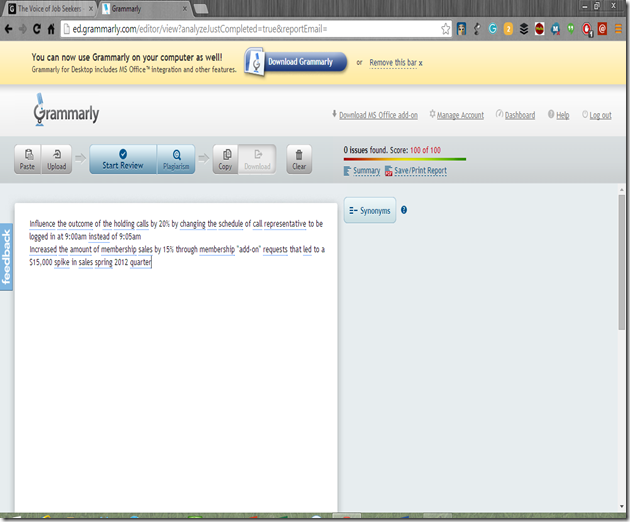 4. Capitalization
Grammarly is excellent in recognizing capitalization errors. No matter the level of profession, I have found that these errors are common and sometimes egregious. The 2013 version of Microsoft Office is equal to the task, but Grammarly has always been a champion in this area. I have tested around 15 of the major (or popular) grammar proofreading software or grammar tutorials. Grammarly so far has been the most consistent as far as a correction software.
5. Passive tense
I have used the academic version of Grammarly and to me, it is nearly perfect. Should you choose the "casual" setting on the paid version (see 1st example screen shot), it will not be as keen as the technical or business setting. Phrases such as, "could have been" or "should have been," are mostly flagged.
I will say that there are times when Grammarly will say to check the sentence again for passive tense (I tried to provide an example, but the examples were too confusing). As with all proofreading/grammar software, you must use good judgment.
Conclusion
Some of my colleagues will be outraged for me to recommend Grammarly or any software for grammar. I think that if you have witnessed as many resumes and cover letters with horrid grammar, tools like Grammarly can bring you significantly closer to perfection than without an editor or an English major (choose a professional editor). The cost of paying for Grammarly is far less than an editor. It is an opportunity to take your documents from subpar to great, or from great to excellent.
I am the "The Voice of Job Seekers!" I offer compassionate career and job search advice as I hack and re-imagine the job search process. You need to be "the prescription to an employer's job description." You must be solution-oriented and work in positions in companies where you are the remedy. Your job search must be a lifestyle, and your career must be in front of you constantly. You can no longer shed your aspirations at the change seasons. There are strengths you have that need constant use and development. Be sure you sign up to download my E-Book, "421 Modern Job Search Tips 2021!" You can find my career advice and work in media outlets such as Forbes, Inc., Fast Company, Harvard Business Review, Glassdoor, and many other outlets.