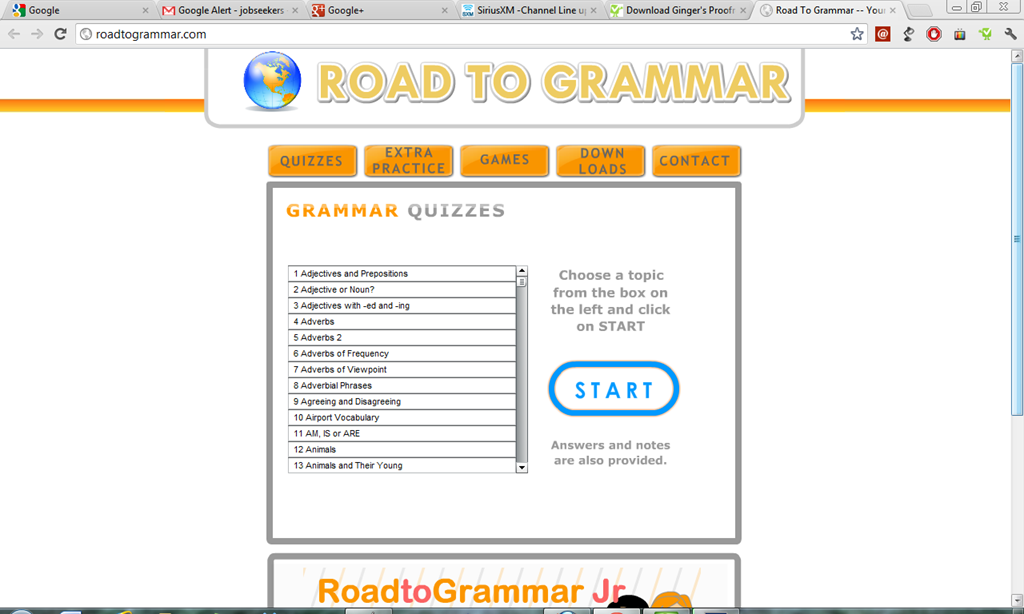 Once again, I found additional resources to help anyone proofread his or her writing anything career related (or anything at all). Every communication leaves an impression these days and I hate to see people lose out on opportunities because spelling or grammar! So to help you proofread your resume, I scoured the web and found three more tools you can consider using.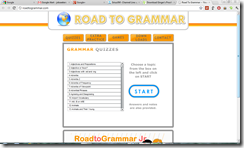 This site provides 365 categories of quizzes. Some of the categories are slightly redundant but this tool provides simple quizzes to help you with weaknesses in grammar.
I took the adverb test and scored 14 of 15. Some are more challenging than others, and while it doesn't do the grammar check for you, a good way of reviving some of the basics learned in school and proofread your resume and other documents in the first draft. There are games and additional challenges to at least help you make a step forward improving your grammar.
This site is a diamond in the ruff in the scope of Internet tools. It is F-R-E-E.

I downloaded the software which works well with Word, Firefox, Chrome, and Outlook. I tried it with Word (I use 2010, but works with 2003) by entering part of this post. The Ginger box has a small box that appears at the top of the page that says F2 in green, which instructs you to highlight the sentence, paragraph, or complete paper and press F2. I chose a paragraph and Voila! The above graphic appears offering a corrected sentence.
This app does not detect the passive voice phrases. For casual notes, it wouldn't matter, but for your résumé, too much passive voice makes you sound as if you avoid responsibility (Heeehe!). Just kidding. It's not a good look.
For you bloggers out there using Windows Live…Sorry! It doesn't work there but it will work with your Outlook. So if you are writing business letters or letters to employers, this will check your spelling and grammar. This is one of the best free proofreading tools I've tried so far.+ Add New Category
Interested in what I reviewed last fall? Here are the two articles I previously written you can check out: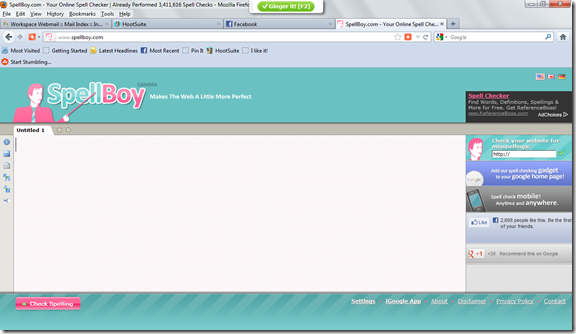 This site, unlike the others that I have reviewed, is strictly a spell check site with a couple of unique features. On the right, it has several sections that the first will check your blog (if you have one) for spelling errors. Of course, I had to try THIS BLOG and the search found 16 errors. Words like uncategorized, javascript, and jobseeker (which I purposely spell the way I do at times). Once I spelled attributes, a-t-r-r-i-b-u-t-e-s, but it does not say which article. I have 97 articles before today, no sleep loss tonight.
The other two interesting boxes feature that the app can be present on your iGoogle page or Chrome extension (by the way, all three apps mentioned today have Chrome extensions). The other suggests that it has a mobile app. I checked my Android phone, no luck.
Please let us know if it is on the iPhone in the comment section.
There is no excuse now to not proofread any written material you author. This will improve your personal brand, and hopefully, produce quality documents. Is this helpful information? What grammar or spelling challenges do you hope to overcome?
Please share in the comment section.
ZWRYVVCRBCEZ
I am the "The Voice of Job Seekers," career consultant, job seeker advocate, career writer, and founder of this award-winning blog. I help the employed, unemployed, underemployed, and under-appreciated find jobs using job search strategies to navigate the new job market. I aim to give a safe place online to those with different needs, cultures, and ethnicities to find their voice in the job market. Thousands have read my career advice throughout the web as I write about everything from job search strategies to the mobile job search. I have published more than 400 articles on this blog and some of the largest career sites such as Recruiter.com, YouTern, and Come Recommended. I've been quoted in major online publications such as Monster, TIME/Money, Fortune, Business Insider and MSN. FlexJobs, JobMonkey, Aerotek, Career Pivot, and CareerSherpa listed my podcast as one of the top podcasts to help your job search. Love for you to sign up for the weekly newsletter. I share the latest articles I've written, new podcast episodes, and answer any questions you may have. The new job search is scary and if you need help, I am here for it!