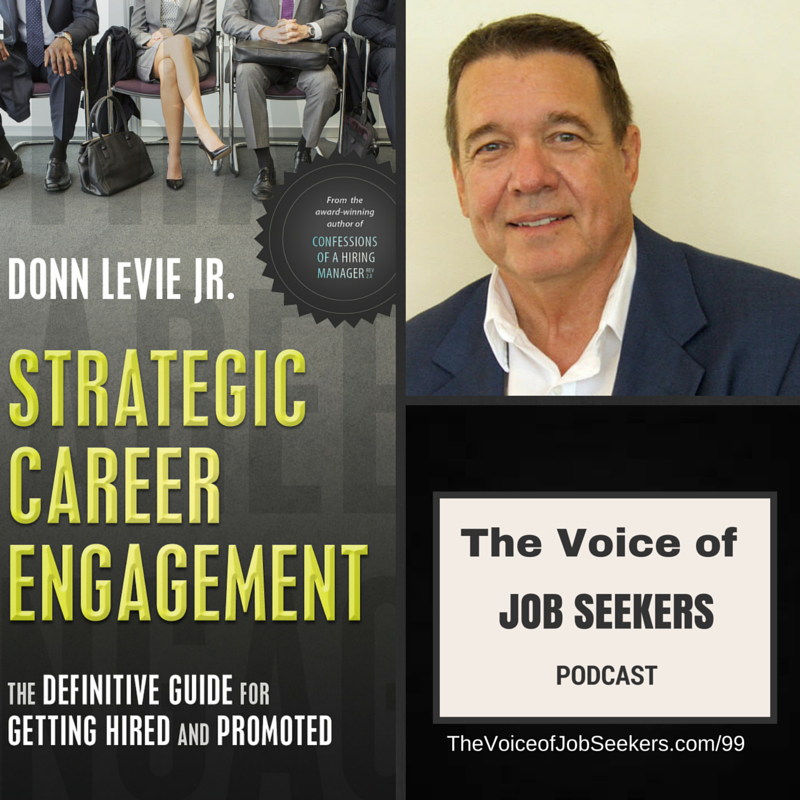 Podcast: Play in new window | Download | Embed
Subscribe: Apple Podcasts | Android | RSS
An opportunity to tap into of former hiring manager is a terrible thing to waste. That is why this conversation is a MUST listen to for your career management goals. You will clearly hear someone who is now an advocate for job seekers want you to know how to prepare for the job search. Donn Levie is a speaker, trainer, author of the just-released book, Strategic Career Engagement, The Definitive Guide for Getting Hired and Promoted. His tips will provide value in getting you closer in presenting your best self before employers and help you with your career management aspirations and goals.
What is the toughest part of your job search? I would love to know! Here's how you can tell me:
1) Leave a voice mail or text message at 708-365-9822. Let me know if I can share it on future shows
2) Email me: mark@thevoiceofjobseekers.com
3) Go to TheVoiceofJobSeekers.com and press the "Send Voicemail" button to leave a message online
Those of you who are career professionals can receive the additional bonus by leaving your blog, and I will link to it.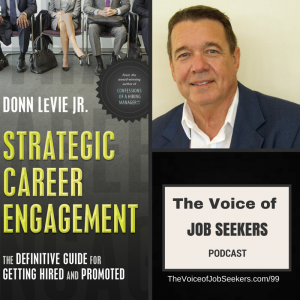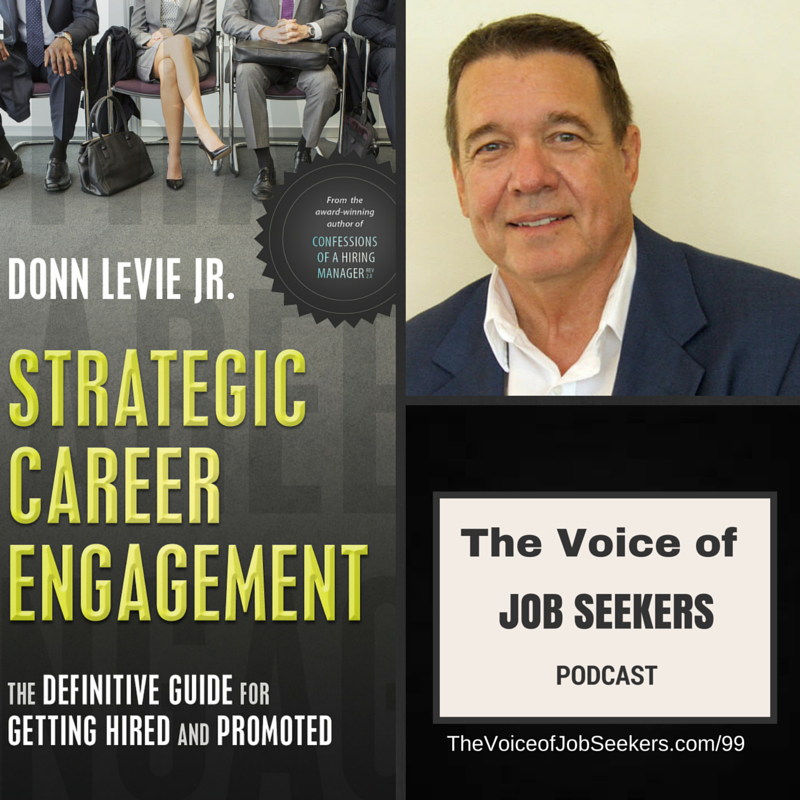 Here is a summary of our discussion:
What connects the job seeker and hiring manager is "value." The job is done once it is certain that the job candidate can fulfill the needs of the hiring manager
One of the challenges of hiring managers is positive prejudices — the comparison to the last person who held the position is often unfair, but human
The vision of the desired candidate can cloud the attributes of a qualified and stellar candidate and muddy tracking down job opportunities. It is a frequent faux pas in career management
Demonstrate expertise towards the hiring managers needs not your past experiences as part of sound job search strategy
Donn calls poor cover letters have an "obituary" format
Donn describes  "value-ocity quotient" and its importance to strengthening your value and brings you closer to the desired position
The successful job candidate communicates their brand will raise his or her "valueocity quotient" and increases their influence, impact, and income
Donn recommends keeping a project log to keep an accomplishment record –an important facet of career management strategy
Donn talks about the "Trojan horse" technique — in the book maps out a job search strategy to implement and promote their brand post-interview
Don't stop pursuing the job after the interview has ended. Donn talks about the success strategies his clients use to stay "top of mind"
Have you subscribed to this show on iTunes? If you haven't, please do so. iTunes is a great place to write an honest review and increase the show's visibility. Enjoy listening to the show.
Let us know what you think.
Do you need help with resume writing or career direction? Do you need coaching or instruction?I can help.
Also, join our Linkedin community! You'll enjoy some of the insights shared by community members and other career pros!
I would still like to help self-published career professionals promote their books. If you're interested, find more info here.
I am the "The Voice of Job Seekers," career consultant, job seeker advocate, career writer, and founder of this award-winning blog. I help the employed, unemployed, underemployed, and under-appreciated find jobs using job search strategies to navigate the new job market. I aim to give a safe place online to those with different needs, cultures, and ethnicities to find their voice in the job market. Thousands have read my career advice throughout the web as I write about everything from job search strategies to the mobile job search. I have published more than 400 articles on this blog and some of the largest career sites such as Recruiter.com, YouTern, and Come Recommended. I've been quoted in major online publications such as Monster, TIME/Money, Fortune, Business Insider and MSN. FlexJobs, JobMonkey, Aerotek, Career Pivot, and CareerSherpa listed my podcast as one of the top podcasts to help your job search. Love for you to sign up for the weekly newsletter. I share the latest articles I've written, new podcast episodes, and answer any questions you may have. The new job search is scary and if you need help, I am here for it!