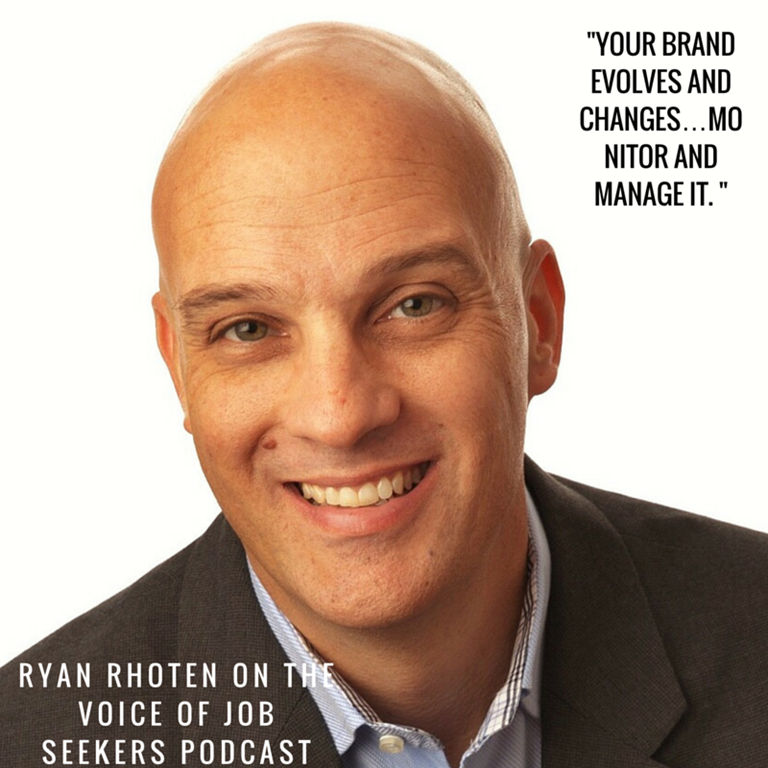 Podcast: Play in new window | Download | Embed
Subscribe: Apple Podcasts | Android | RSS
For college students, building, managing, and marketing his or her personal branding efforts can be quite complex. It's possible that grads will  change jobs up to an average of 20 times during their career. But you know what, that is OK to experiment and try different things. My guest and fellow podcaster Ryan Rhoten as done it himself. Through the advice he shares, he tells his story of graduating from college with the intention of building and flying planes.
Are you clear and intention about your personal branding efforts? I would love to hear from you in one of three ways:
1) Leave a voice mail or text message at 708-365-9822. Let me know if I can share it on future shows
2) Email me: mark@thevoiceofjobseekers.com
3) Go to TheVoiceofJobSeekers.com and press the "Send Voicemail" button to leave a message online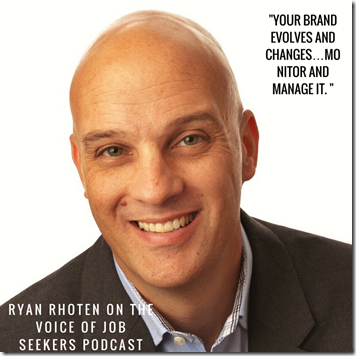 Let me tell you a little more about Ryan. He is a personal branding and online reputation strategist, founder of the podcast "Brand New You," all found at RyanRhoten online. By the time this aired, Ryan had already reached out to me to be a guest on his podcast. Little did he know he was already on my guest wish list. He has been featured on Forbes, The Muse, and Mashable as well as speaking at various conferences such as FinCon.
Here are some highlights from our discussion:
As a college grad experiment and look at different careers. School is still the foundation in the real world
Many more options are available, nothing wrong with trying and moving on
Your brand evolves and changes…monitor and manage it
Ryan defines personal brand is who you are at the core. Personal branding is telling the world who you are, the value you offer mostly online
Putting  the real you online is as important so your personal brand and personal branding are congruent
High school and college students aren't helping themselves in the way they come across online. College administrators are looking at your online activities
Clean up your social media profiles, delete updates considered "questionable"
All of your social media accounts should have the same professional pictures
Check all of the images on Google and work to get rid of the unflattering pictures. You may need to contact the website hosting the originals to ask him or her to take them down. Remove the ones you host on your profiles. Google ranks pictures by amount of times it is clicked on
Put more good content out there to minimize bad images or unfavorable content
Everyone should start their own blog – not necessarily your website. Medium, branded.me, and LinkedIn helps push content out
Think about the job you want, what you're learning in school, and write about it. It's hard but it is a way to stand out above the competition
Google loves videos and in-depth articles. Written, audio, and video are all popular and rank well. A WordPress blog is one of the top platforms to blog
Have a strategy when using any platform
Need help with your career goals, directions, or efforts? Do you need coaching or instruction? I am here for it!Also, join our Linkedin community! You'll enjoy some of the insights shared by community members and other career pros!
I would still like to help self-published career professionals promote their books. If you're interested, find more info here.
For the first time in 1 1/2 years, I am opening to career professionals to write guest articles. If you're interested, you can go here for further topics and directions to submit.
My name is Mark Anthony Dyson, and I am the Founder of The Voice of Job Seekers. I am a career advice writer, but more importantly, I hack and re-imagine the job search process.. I've worked with hundreds of job seekers one-on-one helping them to construct a narrative and strategy that appeals to hiring managers and recruiters. I present at colleges and organizations, and facilitated many workshops including my volunteer effort through a Job Lab. I write and create useful job search content on this blog and write career and workplace advice for blogs such as Glassdoor, Payscale, Job-Hunt.org, Prezi and more. Media Feature highlights: Forbes, Business Insider, NBC News, Glassdoor, LinkedIn's #GetHired, and NPR Freelance writer and content contributor: Glassdoor, Payscale, job-hunt.org, The Financial Diet, RippleMatch.com and more. Contact me to contribute career, job search, or workplace advice for your site at markanthonydyson@gmail.com.