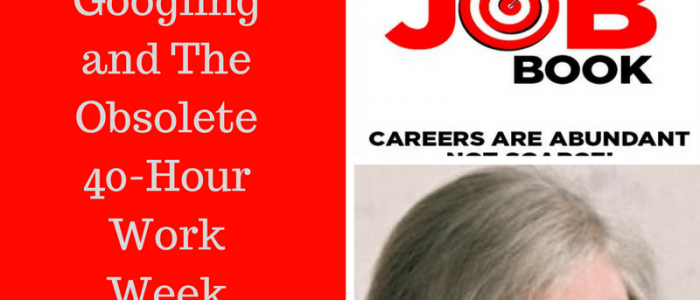 Podcast: Play in new window | Download | Embed
Subscribe: Apple Podcasts | RSS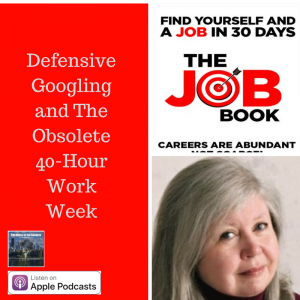 Still conflicted with building your brand online. Have you tried defensive googling, yet? Concerned the data or the lack of data about you on Google it's vital to your job search? Did you know the 40-hour work week is obsolete? We address all three of these questions in today's episode.
We have two segments today I hope will improve your career. You'll learn more about finding yourself and strengths can guide you to positive career outcomes. You should also stop looking for a 40-hour job. More on this in the show. Finally, You'll also learn practical steps in using Google to correct, protect, and build your online presence to make yourself attracted to employers.
Join in on the conversation. Here's how:
Call and leave a voicemail at 708-365-9822, or text your comments to the same number
Go to TheVoiceofJobSeekers.com, press the "Send Voicemail" button on the right side of your screen and leave a message
Send email feedback to mark@thevoiceofjobseekers.com
Susan is the founder and a pioneer in the online job advice space. She is the founder of job-hunt.org and is an online job search expert. Susan also owns
WorkCoachCafe.com
. Both are Forbes 100 Best Career Sites. She is also a Personal SEO Researcher and Writer and writes for the Huffington Post and Forbes.   I want you to hear what Susan Joyce and I talked about Defensive Googling. I invite you to listen to the conversation, then go practice what we discussed. It could be the difference between knowing your value as a job candidate and not knowing why you're getting rejected.
Here are some of the advice Susan gives about defensive googling:
Good bad and ugly of Googling or defensive Googling
People used to call it vanity Googling or ego-surfing for your name
Everyone should practice defensive googling once a week
100% of employers and recruiters when considering potential candidates
Lack of information or misinformation on Google can ruin your reputation
Lack of knowledge to employers means irrelevance, or you're hiding something
How often should you Google yourself? Once a week is best
Do a private search – Chrome is best – Use the "New Incognito Window" using the dots top right and choose – Google will ignore your preference through this window
You want to see what the world sees
Do the other browsers: Bing, Yahoo, Duck Duck Go – Find the "Private Window" choice (See Safari browser)
Include searches on your position
The second conversation is with
Diane Phillips
who is the co-author of
The Job Book: Find Yourself and a Job in 30 Days
. She has more than three decades of experience spanning the globe that includes working with Fortune 100 executives and corporations, Nobel Prize winners, radio and TV programming and production, school curriculum development and author. Expert in personal and professional development of executive leaders and their teams, driving impactful outcomes and systematic solutions.
Here are some of the highlights from Diane about finding yourself and the 40-hour work week: 
The forty hour work week is obsolete and the ideal workplace
Good work often results in more action the following weeks
Companies and employees would benefit most when everyone works during their most productive times of day
Ideally getting paid for the chance to complete work (speed), and not for clocked in hours is the best
Diane explains how we find the best culture for us
Find our unique traits, original and inspired ideas–find yourself and identifying your strengths will help you find the opportunity
Diane shares the ideal work traits for herself as an example to create an environment to achieve quick solutions
Young people are breaking the "…this is how it always was done…" narrative
Diane explains how people can find themselves–through honesty, respecting each other's unique qualities in how we work best
Do you need coaching or instruction?
I am here for it! Use my contact information above to inquire about individual or group coaching. You can also sign up for my weekly newsletter at the top right of my page. I try to pack as much value in my newsletter to more than 1,100 people as possible. If you want to see an example of what I send out, go here.
My name is Mark Anthony Dyson, and I am the Founder of The Voice of Job Seekers. I am a career advice writer, but more importantly, I hack and re-imagine the job search process.. I've worked with hundreds of job seekers one-on-one helping them to construct a narrative and strategy that appeals to hiring managers and recruiters. I present at colleges and organizations, and facilitated many workshops including my volunteer effort through a Job Lab. I write and create useful job search content on this blog and write career and workplace advice for blogs such as Glassdoor, Payscale, Job-Hunt.org, Prezi and more. Media Feature highlights: Forbes, Business Insider, NBC News, Glassdoor, LinkedIn's #GetHired, and NPR Freelance writer and content contributor: Glassdoor, Payscale, job-hunt.org, The Financial Diet, RippleMatch.com and more. Contact me to contribute career, job search, or workplace advice for your site at markanthonydyson@gmail.com.