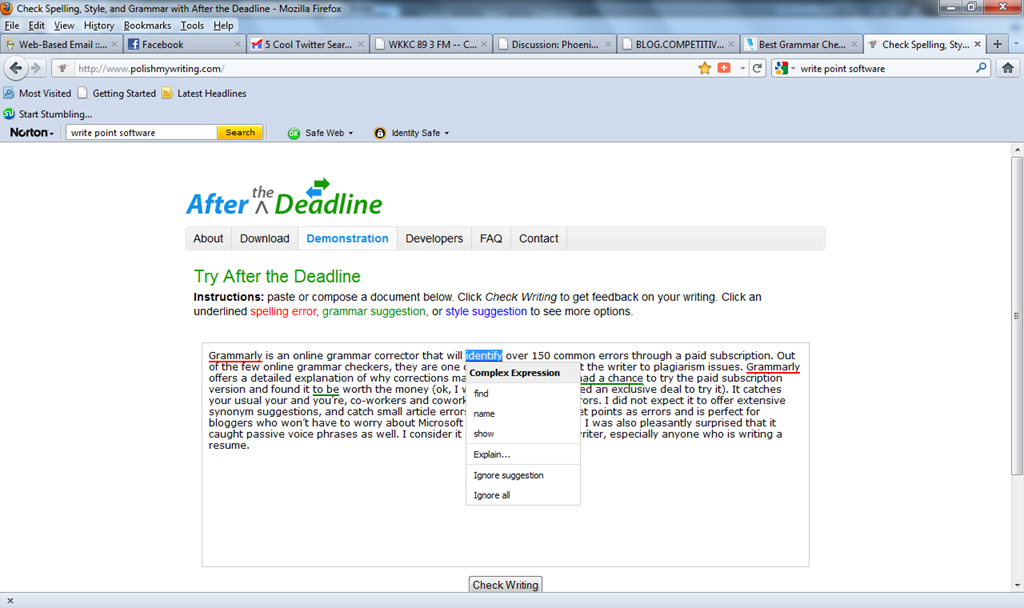 It is critical to correct all résumé grammar errors. Résumés, cover letters, or any job-related need perpetual scrutiny to ensure an error-free document. The below resources can help anyone achieve perfection, or at least close to it.
Grammarly is an online grammar corrector that will identify more than 150 common errors if you purchase a paid subscription. Out of the many online grammar checkers, this checker will alert the writer to plagiarism issues. Grammarly offers detailed explanations of why corrections may need to be made, plus examples to compare. I had a chance to try the paid subscription version and found it to be worth the money (ok, I was privvy'd and received an exclusive deal to try it). It catches your usual "your and you're," "co-workers and coworkers," and "it's and its" errors. I did not expect it to offer extensive synonym suggestions, and catch small article errors. Grammarly sees bullet points as errors and is perfect for bloggers who won't have to worry about Microsoft codes from Grammarly. I was also pleasantly surprised that it caught so many passive voice phrases. I consider it a superb tool for any writer, especially for writing a résumé.
Polishmywriting.com (After The Deadline)
After The Deadline is advantageous for shorter bits of writing, and not specifically for résumé writing. Although, it would be a strong complement to using any grammar and spell check, especially in catching passive voice errors. The limited correction suggestions are somewhat comparable to Word (Oh, the check puts accents on résumé. Just saying!).
The other issue in using this checker is the word suggestions for synonyms.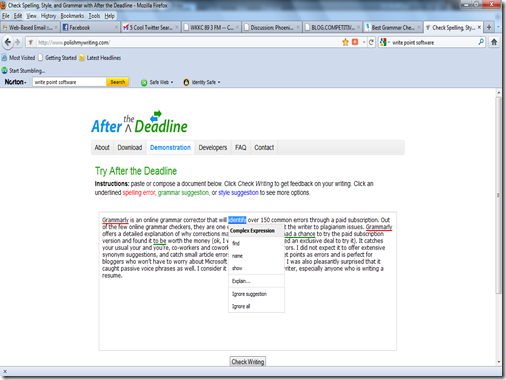 In this case, "identify" was underlined and ATD offered synonym replacements: find, name, and show. I suppose if you want additional simplicity in your writing it's helpful, but for resumes may be a hindrance for keyword usage. I would still recommend it as a way to have a second pair of eyes you normally wouldn't have.
The Elements of Résumé Style by Scott Bennett
Many résumé writers use this constantly, and I take it almost everywhere I go. I haven't memorized all the latest trends or practices, and this book helps as a quick reference. It contains grammar usage rules, lists of action verbs, statements, position descriptions, and words and phrases to avoid.
This week, another résumé writer that I knew asked me an opinion on a résumé of the use of italics. I verified in Mr. Bennett's book that italics is not a correct résumé practice unless you are citing a publication. Some résumé writers whine about how résumés are not true formal writing, as the rules suggests. The truth is that résumés lean towards, if not epitomize, formal writing rules. This book helps the writer hit the mark.
Strunk and White: The Elements of Style
This book is another travel companion I take anywhere that I work away from home. Most people who struggle with condensing sentences should skip right to the "Elementary Principles of Composition" chapter. This gives you the down and dirty in trimming the excess and unnecessary words. I'll admit it is not an easy read, which is why studying it is futile.
This book can help concisely write highly technical passages. Although technical descriptions are lengthier than ordinary descriptions, the reader doesn't need a book to read.
Grammar Girl's Quick and Dirty Tips for Better Writing
I recommend this publication because it is an entertaining version of Strunk & White with a palatable presentation. You can download her podcast tips on iTunes (there are at least 100 tips currently loaded). If you have high and middle school age children, they can benefit from listening to the podcasts.
The last three publications are small books you can carry around and are less than $10 through Amazon. You can find them at the library if you don't want to purchase them, although I recommend buying each of them.
Oh Yeah, about the giveaway
Congratulations to Marlene Garth in winning a copy of the The 11 Laws of Likability by Michelle Tillis Lederman. However, I HAVE ANOTHER COPY to giveaway. You can win a copy by simply doing one of three things.
You can read my review of the book, and either comment on the review link, Re-Tweet the review link and add @MarkADyson, or post the review link on Facebook and tag me at Facebook.com/Mark.A.Dyson.
I would like to announce a new winner on Thursday's post, so good luck to all. It is a valuable book for job seekers in expanding one's thinking about networking for business and jobs. Being "liked" is the center of all successful transactions and partnerships, and Michelle offers workable strategies to achieve "likability."
I am the "The Voice of Job Seekers!" I offer compassionate career and job search advice as I hack and re-imagine the job search process. You need to be "the prescription to an employer's job description." You must be solution-oriented and work in positions in companies where you are the remedy. Your job search must be a lifestyle, and your career must be in front of you constantly. You can no longer shed your aspirations at the change seasons. There are strengths you have that need constant use and development. Be sure you sign up to download my E-Book, "421 Modern Job Search Tips 2021!" You can find my career advice and work in media outlets such as Forbes, Inc., Fast Company, Harvard Business Review, Glassdoor, and many other outlets.