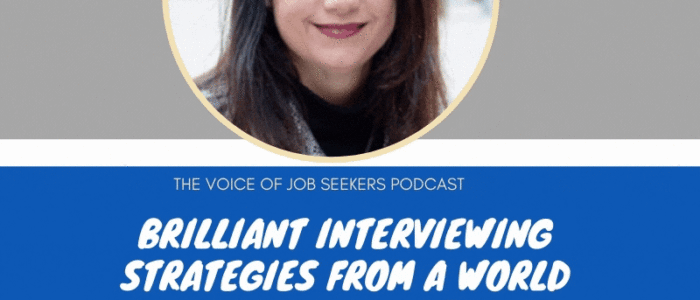 Podcast: Play in new window | Download | Embed
Subscribe: Apple Podcasts | RSS
The little things could turn your interviewing skills around, no matter your professional level, including the C-Suite. Lisa Rangel is back on the show to discuss how to take your interviewing skills to the next level even if you're interviewing remotely.
You are more than welcome to join the discussion. Here are three ways you can:
– Call and leave a voicemail at 708-365-9822, or text your comments to the same number
– Go to TheVoiceofJobSeekers.com, press the "Send Voicemail" button on the right side of your screen and leave a message
– Send email feedback to mark@thevoiceofjobseekers.com
More about Lisa:
She is the founder and Managing Partner of Chameleon Resumes.  Her blog is a Forbes top 100 website for your Career. She is also a 10-time Certified Professional Resume Writer (CPRW), former 13-year recruiter, and Job Search Expert.
Highlights from our conversation:
Lisa notices no set pattern to the hiring process as it's "all over the place."
Listen to the story she tells about a client going in for the 14th interview
Lisa has seen clients interview up to four times over 10 days.
We discussed the mind shift that needs to take place when interviewing remotely.
"…people go into interviews and they subliminally or consciously wait for somebody to lead the show and wait to see what they should be mimicking or what they should be mirroring back…"
We discussed the importance of making the interviewer feel comfortable in conversation mode, or as Lisa analogies it as, "…if someone came into your home…"
Offensive mindset (How to)
Explaining gaps questions gracefully Not everyone wants to go remote, and although all jobs are not remote, what does that say about the worker or candidate who is not willing?
Recruiters are hearing and accepting how employment is affected by the pandemic so it's OK to "…latch on to that."
My name is Mark Anthony Dyson, and I am the Founder of The Voice of Job Seekers. I am a career advice writer, but more importantly, I hack and re-imagine the job search process.. I've worked with hundreds of job seekers one-on-one helping them to construct a narrative and strategy that appeals to hiring managers and recruiters. I present at colleges and organizations, and facilitated many workshops including my volunteer effort through a Job Lab. I write and create useful job search content on this blog and write career and workplace advice for blogs such as Glassdoor, Payscale, Job-Hunt.org, Prezi and more. Media Feature highlights: Forbes, Business Insider, NBC News, Glassdoor, LinkedIn's #GetHired, and NPR Freelance writer and content contributor: Glassdoor, Payscale, job-hunt.org, The Financial Diet, RippleMatch.com and more. Contact me to contribute career, job search, or workplace advice for your site at markanthonydyson@gmail.com.