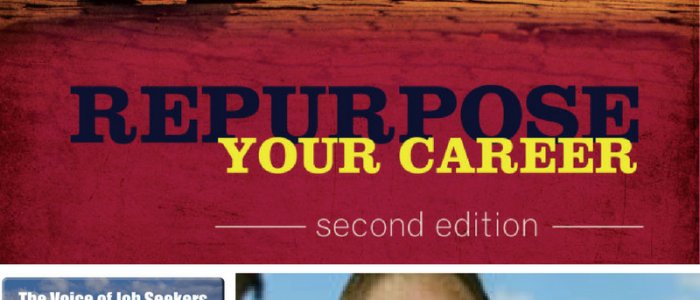 Podcast: Play in new window | Download | Embed
Subscribe: Apple Podcasts | RSS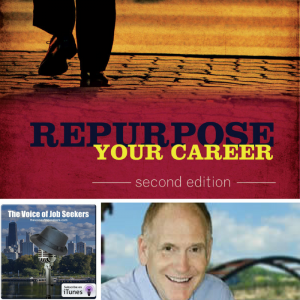 Marc Miller is back on the show again to talk about his new book, "Repurpose Your Career: For the 2nd Half of Life." He shares stories from his clients and helping them to align their interests and careers.
Have you decided to make a career pivot in your career? Are you in your 2nd half of life? Let's discuss!
Let me know what you in one of three ways:
Call and leave a voicemail at 708-365-9822, or text your comments to the same number
Go to TheVoiceofJobSeekers.com, press the "Send Voicemail" button on the right side of your screen and leave a message
Send email feedback to mark@thevoiceofjobseekers.com
Marc's new book is now in the Amazon bookstore. His media features include CBS Money Watch, U.S. News and World Report, and Forbes.  His blog, Career Pivot, is a Forbes Top 1oo Best Career Website and has achieved several other best career website awards.
Here some highlights from our discussion on how to repurpose your career:
Marc added five years of client stories and shifted from baby boomers to clients in their 40's
"Failure is an option" and a requirement, fail fast, then pivot
Big changes can occur by just moving with the flow
We discuss the importance of self-awareness or as Marc phrases it as "Know Thyself."
"Just because you're good at something doesn't mean you should do it all the time!"
Authentically put your best foot forward, then an employer can if you're fit
Marc goes back in time with his clients to the best/worst times in their career to understand "why."
Making the same mistakes twice is not a bad thing
We discuss the chapter on personal operating systems. He uses the Berkman assessments with each of his clients.
Behavioral patterns are insightful to discovering your career goals
Do you need help with resume writing or career direction? Do you need coaching or instruction?I can help.
My name is Mark Anthony Dyson, and I am the Founder of The Voice of Job Seekers. I am a career advice writer, but more importantly, I hack and re-imagine the job search process.. I've worked with hundreds of job seekers one-on-one helping them to construct a narrative and strategy that appeals to hiring managers and recruiters. I present at colleges and organizations, and facilitated many workshops including my volunteer effort through a Job Lab. I write and create useful job search content on this blog and write career and workplace advice for blogs such as Glassdoor, Payscale, Job-Hunt.org, Prezi and more. Media Feature highlights: Forbes, Business Insider, NBC News, Glassdoor, LinkedIn's #GetHired, and NPR Freelance writer and content contributor: Glassdoor, Payscale, job-hunt.org, The Financial Diet, RippleMatch.com and more. Contact me to contribute career, job search, or workplace advice for your site at markanthonydyson@gmail.com.