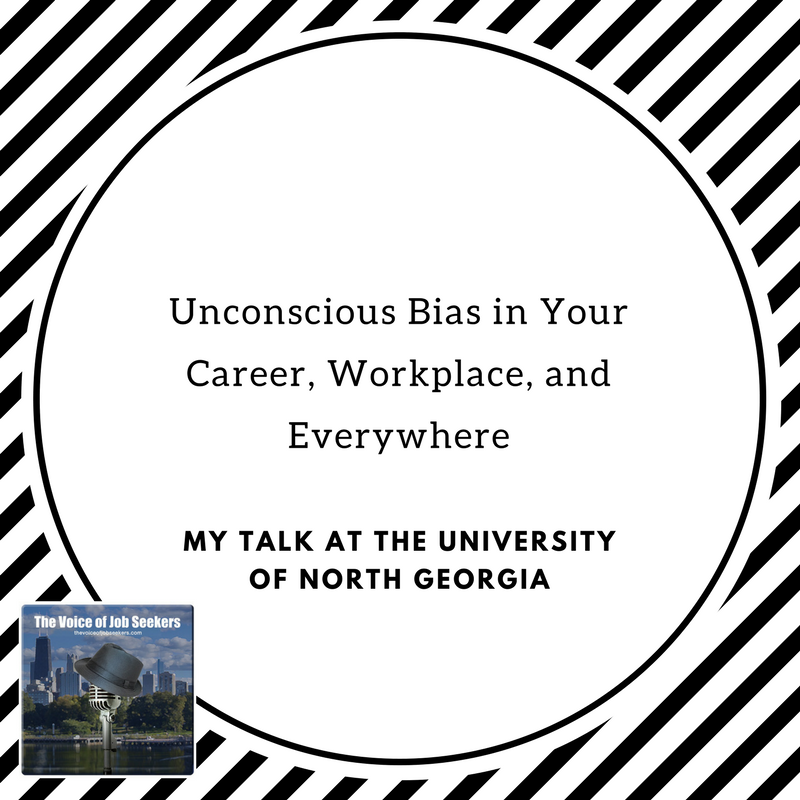 Podcast: Play in new window | Download | Embed
Subscribe: Apple Podcasts | Android | RSS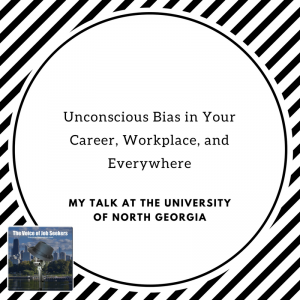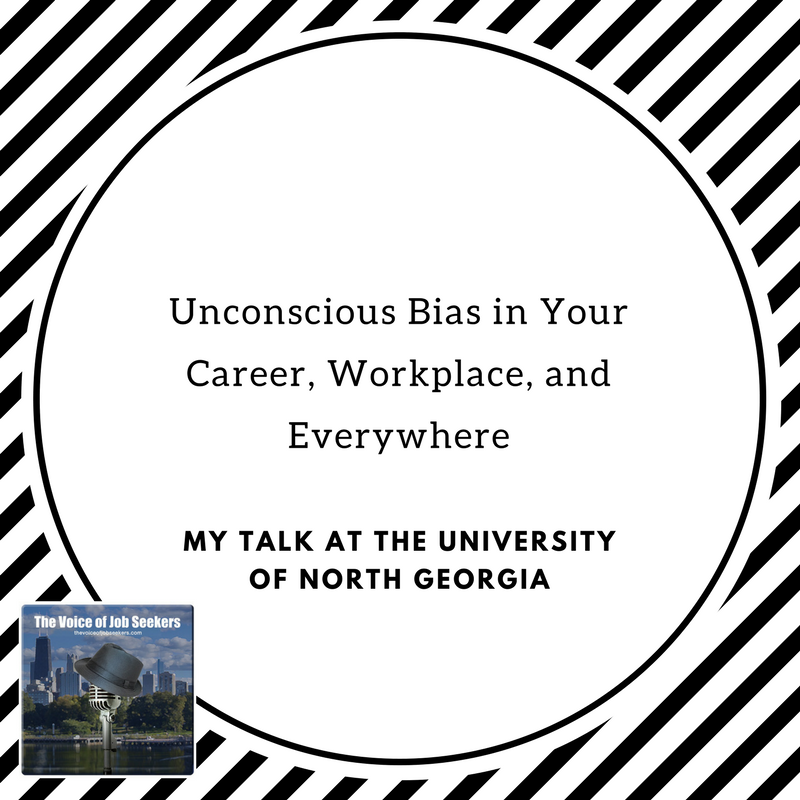 Last week, I traveled to the University of North Georgia to present a talk about "Unconscious Bias."  I recorded it so I can share it with you at least a part of it. I talk about how it affects everyone in their career, life, and workplace.
This is an important topic to me as it affects the job search. In the end, I hope we can create amicable and responsive dialogue to take out bias in the job search process.
As always, I invite you to join the conversation. Here are three ways you can do so:
Call and leave a voicemail at 708-365-9822, or text your comments to the same number
Go to TheVoiceofJobSeekers.com, press "Send Voicemail" button on the right side of your screen.
Send email feedback to mark@thevoiceofjobseekers.com
Unconscious Bias: Fear of the unknown
During my talk, I discuss how a safe environment to make the unconscious "conscious" was key. I posed the question as a theme how can we have respectful and amicable dialogue during the process. Everyone must feel alright about working through the language of bias and dismantling differences. Since my talk targeted the Student Affairs division and students, much of it was for them. My total talk was approximately an hour and a half.
Need help with your career goals, directions, or efforts? Do you need coaching or instruction? I am here for it!
If you're in Chicago, you might be interested in my live event on February 12. Tony Chatman is my guest and we will discuss "Unconscious Bias" and how it affects your career. We will also stream it on Facebook Live if you go to The Voice of Job Seekers Facebook page about 2pm CST.
If you want to join me, send me a note. Send it to  mark@thevoiceofjobseekers.com or call 708-365-9822 for more information. You can text me at that the same number and I will respond.
I am the "The Voice of Job Seekers," career consultant, job seeker advocate, career writer, and founder of this award-winning blog. I help the employed, unemployed, underemployed, and under-appreciated find jobs using job search strategies to navigate the new job market. I aim to give a safe place online to those with different needs, cultures, and ethnicities to find their voice in the job market. Thousands have read my career advice throughout the web as I write about everything from job search strategies to the mobile job search. I have published more than 400 articles on this blog and some of the largest career sites such as Recruiter.com, YouTern, and Come Recommended. I've been quoted in major online publications such as Monster, TIME/Money, Fortune, Business Insider and MSN. FlexJobs, JobMonkey, Aerotek, Career Pivot, and CareerSherpa listed my podcast as one of the top podcasts to help your job search. Love for you to sign up for the weekly newsletter. I share the latest articles I've written, new podcast episodes, and answer any questions you may have. The new job search is scary and if you need help, I am here for it!