Podcast: Play in new window | Download | Embed
Subscribe: Apple Podcasts | RSS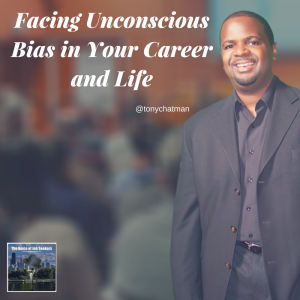 Understanding unconscious bias is important for employers and job candidates.
It's also critical for respectful conversations in the workplace. For a long time, I have wanted Tony Chatman to come on my show. We have talked about many ideas. Unconscious Bias is a topic both of us are passionate about made it easy to start finalizing.
The show was recorded live in front of an audience of three as well as a Facebook Live stream (more people engaged the conversation via Facebook). I would like to thank the First Christian Church of Chicago along with the Greater Ashburn Community Development Corporation for hosting us. Hundreds saw the live streaming and after the video posted on Facebook.
I also published it on my YouTube page.
 We would love your input. Here's how you can contribute to the conversation:
Call and leave a voicemail at 708-365-9822, or text your comments to the same number
Go to TheVoiceofJobSeekers.com, press "Send Voicemail" button on the right side of your screen
Send email feedback to

[email protected]
Let me share a little about my friend: 
Tony Chatman is a Corporate Relationship Expert and President of Chatman Enterprises Inc. Some of his corporate clients include the Social Security Administration, Chase Bank, and the U.S. Secret Service. Tony is a prolific professional speaker on Unconscious Bias and is in demand around the country on this topic.
Here are a few of our discussion highlights. The show lasts 90 minutes and is worth every minute of your time
I am the "The Voice of Job Seekers!" I offer compassionate career and job search advice as I hack and re-imagine the job search process. You need to be "the prescription to an employer's job description." You must be solution-oriented and work in positions in companies where you are the remedy. Your job search must be a lifestyle, and your career must be in front of you constantly. You can no longer shed your aspirations at the change seasons. There are strengths you have that need constant use and development. Be sure you sign up to download my E-Book, "421 Modern Job Search Tips 2021!" You can find my career advice and work in media outlets such as Forbes, Inc., Fast Company, Harvard Business Review, Glassdoor, and many other outlets.