Podcast: Play in new window | Download | Embed
Subscribe: Apple Podcasts | Android | RSS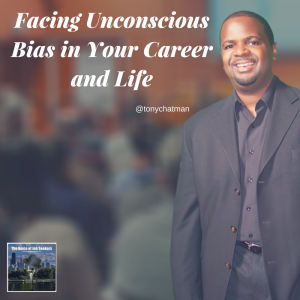 Understanding unconscious bias is important for employers and job candidates.
It's also critical for respectful conversations in the workplace. For a long time, I have wanted Tony Chatman to come on my show. We have talked about many ideas. Unconscious Bias is a topic both of us are passionate about made it easy to start finalizing.
The show was recorded live in front of an audience of three as well as a Facebook Live stream (more people engaged the conversation via Facebook). I would like to thank the First Christian Church of Chicago along with the Greater Ashburn Community Development Corporation for hosting us. Hundreds saw the live streaming and after the video posted on Facebook.
I also published it on my YouTube page.
 We would love your input. Here's how you can contribute to the conversation:
Call and leave a voicemail at 708-365-9822, or text your comments to the same number
Go to TheVoiceofJobSeekers.com, press "Send Voicemail" button on the right side of your screen
Send email feedback to mark@thevoiceofjobseekers.com
Let me share a little about my friend: 
Tony Chatman is a Corporate Relationship Expert and President of Chatman Enterprises Inc. Some of his corporate clients include the Social Security Administration, Chase Bank, and the U.S. Secret Service. Tony is a prolific professional speaker on Unconscious Bias and is in demand around the country on this topic.
Here are a few of our discussion highlights. The show lasts 90 minutes and is worth every minute of your time
I am the "The Voice of Job Seekers," career consultant, job seeker advocate, career writer, and founder of this award-winning blog. I help the employed, unemployed, underemployed, and under-appreciated find jobs using job search strategies to navigate the new job market. I aim to give a safe place online to those with different needs, cultures, and ethnicities to find their voice in the job market. Thousands have read my career advice throughout the web as I write about everything from job search strategies to the mobile job search. I have published more than 400 articles on this blog and some of the largest career sites such as Recruiter.com, YouTern, and Come Recommended. I've been quoted in major online publications such as Monster, TIME/Money, Fortune, Business Insider and MSN. FlexJobs, JobMonkey, Aerotek, Career Pivot, and CareerSherpa listed my podcast as one of the top podcasts to help your job search. Love for you to sign up for the weekly newsletter. I share the latest articles I've written, new podcast episodes, and answer any questions you may have. The new job search is scary and if you need help, I am here for it!