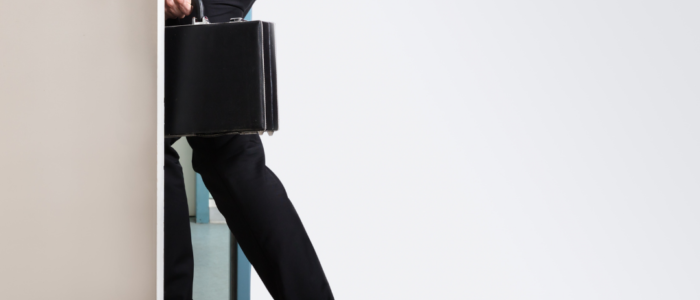 The writing is on the wall, and you quit a long time ago in your heart. You don't know what your next step is. Well, I can help you get started, but so you'll see, I believe in strategy all the way through.
Don't jump on "The Great Resignation" train.
Don't prepare a speech and walk out. Unless, of course, you're being abused. In that case, know what you're taking with you. Know what you're leaving behind. Count the costs understand the loss.
Forget what your friends are doing. If you're jealous of their moves and feel left out, debrief. The feelings are real but don't compare your lane with their freeway. I offer a little more in this article on Fox Business.
Passion alone isn't going to cut it. But don't just listen to me. Watch this conversation with Terri Trespicio, author of "Unfollow Your Passion."
Unfollow Your passion with Terri Trespicio https://t.co/YbRqixX2pY

— Mark Anthony Dyson (@MarkADyson) December 4, 2021
Instead, start with my six signs, and there are more, but you should know and embrace your own:
1. When you realize the job has changed into something you don't enjoy anymore, or the value is gone. The elements and dynamics you once enjoyed are mundane or lack meaning to you, your boss, and the organization.
2. The rewards of self-satisfaction have demands where you are now doing things you don't want to do. At first, the pride of the work was the honeymoon stage, but the thrill is gone.
3. You were noticed and rewarded at first, but now you have to fight to get recognized. You're taken for granted, or your boss may be rewarded for your work and ideas. In either case, your motivation is waning. Drawing more attention to your work may help, and it may need to document those successes and make them well known. If that doesn't work, use your accomplishments and results as a springboard to find another employer.
4. Working for a bad boss who mistreats you is often the worse situation anyone experiences. Although the range of mistreatment is quite broad, some bosses overstep their boundaries to where their errant ways become personal. Complaining or filing a suit might be a soul-sucking option, or the easiest option is to find another job or just quit due to damaged dignity.
5. Rumors your position, department, or you will be laid-off. If you ask your boss about it, they will likely decline to answer it (or lie to you). Since the rumor mill is undependable, you should start engaging your network for future possibilities. Even if it doesn't happen this time, it may happen down the road. If you ignore a job search until you hear rumors, you're likely light-years behind in making a seamless transition to the next job.
6. You haven't received a pay raise in more than a year. Talking about it with your boss could be challenging as we are in a pandemic that's been economically turbulent, and inflation is surging. If you're thinking of asking, consider the signs the company or your boss may directly or indirectly broadcast. Look for announcements of increases in hiring or freezes, sales performance surges or declines, or even layoffs. Timing is everything for pay raise requests, and it deserves serious consideration in determining your next moves.
Quitting is life-changing, yet it must be empowering. Don't let someone else's reason be yours.
I am the "The Voice of Job Seekers!" I offer compassionate career and job search advice as I hack and re-imagine the job search process. You need to be "the prescription to an employer's job description." You must be solution-oriented and work in positions in companies where you are the remedy. Your job search must be a lifestyle, and your career must be in front of you constantly. You can no longer shed your aspirations at the change seasons. There are strengths you have that need constant use and development. Be sure you sign up to download my E-Book, "421 Modern Job Search Tips 2021!" You can find my career advice and work in media outlets such as Forbes, Inc., Fast Company, Harvard Business Review, Glassdoor, and many other outlets.