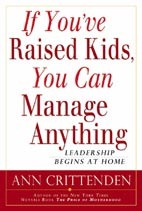 If You've Raised Kids, You Can Manage Anything by Ann Crittenden was written some years ago to show that parenting skills translate to job skills.
In her book, Crittenden expounds in detail on transferable skills such as:
–call for multitasking and the ability to function amidst constant distractions
–enhance interpersonal skills, from effective negotiation to dealing with difficult people
–develop skills in motivating and encouraging others to excel
–teach a keen sense of fair play and integrity, and much more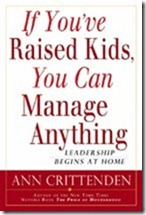 image credit
Each person should self-evaluate his or her own parenting to glean the job lessons from teaching, discipline, and feeding their child. I wholeheartedly subscribe to this not only in theory, but also as a participant and a witness.
Each job seeker who is raising his or her children, should apply this thinking as part of an interviewing strategy and to show transferable skills:
Managing and handling difficult situations
Parents that take the high road here benefit the most because employers do not need to glean that you speak to subordinates or anyone like a child. A  demonstration of a diplomatic approach always works without screaming, or yelling comes across better.
Multi-tasking and coordinating
Cooking, cleaning, and helping with arithmetic is no joke. Display your tenacity by sharing how you toggle between home applications (as they were software applications). Show employers how planning is a skill in coordinating your children's events, activities, and academics.
Networking
Concentrate on how these relationships produced invaluable projects and processes in the Parent-Teacher world. To show that you can establish partnerships with others translates in building partnerships.
Adept to various kinds of learning
Since technology is constantly changing personal communication, and the way you conduct business, and demonstrate the way you monitor your child's use of online tools on the Internet.
Microsoft Office and Budget
Have you used Excel and Access for budgeting? How about writing school letters and business correspondence. Have you balanced your bank and household accounts using Excel? These are hard skills that have project management elements.
Don't expect any of these to land you an office of your own, but you can position these as relevant skills in most cases.
My name is Mark Anthony Dyson, and I am the Founder of The Voice of Job Seekers. I am a career advice writer, but more importantly, I hack and re-imagine the job search process.. I've worked with hundreds of job seekers one-on-one helping them to construct a narrative and strategy that appeals to hiring managers and recruiters. I present at colleges and organizations, and facilitated many workshops including my volunteer effort through a Job Lab. I write and create useful job search content on this blog and write career and workplace advice for blogs such as Glassdoor, Payscale, Job-Hunt.org, Prezi and more. Media Feature highlights: Forbes, Business Insider, NBC News, Glassdoor, LinkedIn's #GetHired, and NPR Freelance writer and content contributor: Glassdoor, Payscale, job-hunt.org, The Financial Diet, RippleMatch.com and more. Contact me to contribute career, job search, or workplace advice for your site at markanthonydyson@gmail.com.