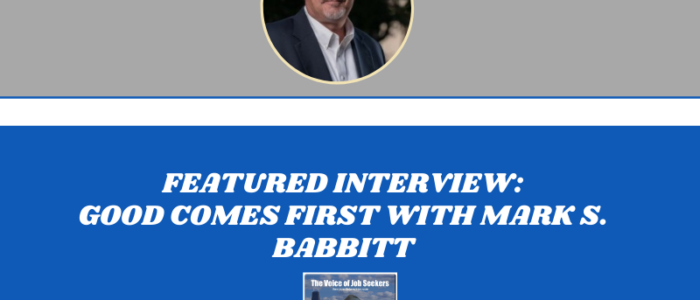 Podcast: Play in new window | Download | Embed
Subscribe: Apple Podcasts | RSS
Mark Babbitt and his coauthor Chris Edmonds wrote their latest book, Good Comes First, to challenge companies to lead by doing what's right for employees and not the status quo. You want to find a company that practices "good" ahead of the agenda as a job seeker, right? Mark is my featured guest on today's show.
And I share an episode of "#JobSeekerNation" and my co-host, Jack Kelly, and our guest, Nickquolette Barrett. We discuss the things we learned about employers and workers since the beginning of the pandemic.
Included in this episode is a short clip of another podcast and web show where I was a guest called "Who Ya Know – Job Networking Show." A big thanks to Trevor Houston, Foster Williams, and Mark Elder for hosting my appearance and asking great questions.
You are more than welcome to join the discussion. Here are three ways you can:
– Call and leave a voicemail at 708-365-9822, or text your comments to the same number
– Go to TheVoiceofJobSeekers.com, press the "Send Voicemail" button on the right side of your screen and leave a message
– Send email feedback to [email protected]
More about Mark: 
Mark Babbit, CEO of YouTern and President of WorkIQ, says you have an opportunity to find work you care about. Mark has been on the podcast several times over the years. He is constantly working on making the workplace better for everyone. He has been featured in Forbes and The Wall Street Journal, and many other news outlets.
Conversation highlights: 
Company cultures haven't changed. Mark and Chris became more frustrated that we were sending people out into the job market only to have them become disappointed and frustrated and, and they couldn't find the right culture for them.
People are leaving good jobs because they're not good for them or their souls or their values.
It's good for job candidates to ask, "Why is this position open?" Companies often are not honest about their answer so the candidate can decide what's best for them.
A quote from our conversation, "One of the things that we do and I, and we realize it's risky given that I am. And so is my coauthor, an old white guy is we, we call today's business leaders out on the carpet, and we say they are afflicted with "Boomer Male Syndrome (BMS), and that they're leading how they led in 1979."
Mark says that leaders need to start defining what their values are and not just saying, "…oh, well, one of our values is integrity." Well, what does that mean? They're 19 different answers to the define integrity question. Probably pretty important to define what that means.
He talks about how Human Resources hasn't practiced or enforced diversity, inclusion, and equity. He says that "…HR has been guilty of this for decades. We don't fix our diversity problem. We start yet another program that's going to take on the issue. It doesn't do anything, but it makes us look good."
I am the "The Voice of Job Seekers!" I offer compassionate career and job search advice as I hack and re-imagine the job search process. You need to be "the prescription to an employer's job description." You must be solution-oriented and work in positions in companies where you are the remedy. Your job search must be a lifestyle, and your career must be in front of you constantly. You can no longer shed your aspirations at the change seasons. There are strengths you have that need constant use and development. Be sure you sign up to download my E-Book, "421 Modern Job Search Tips 2021!" You can find my career advice and work in media outlets such as Forbes, Inc., Fast Company, Harvard Business Review, Glassdoor, and many other outlets.