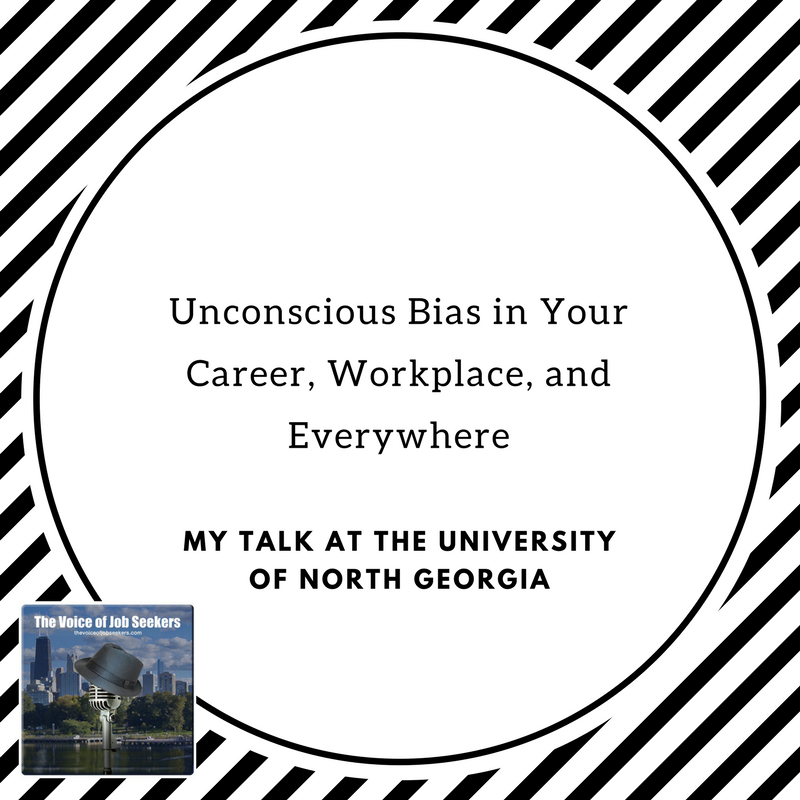 You may not realize you have unconscious bias.
All of us have unconscious biases affecting the way we react to one another fairly and justly. I've witnessed it from time to time and even more so recently. I have had clients throughout the years confronted with biases about a) color b) age or c) ethnicity.
Because I have been talking about issues impacting negatively on ex-offenders, people of color, women, disabled, and other groups, I have garnered more attention. Since speaking to groups treated like 2nd class citizens, my show's downloads have decreased.
Good. I do not pander to or wander from my goal: to be The Voice of (ALL) Job Seekers.
Don't over react. Race is a big part of the discussion and doesn't mean you're a racist based on recognizing unconscious biases.
I was asked to come to the University of North Georgia to talk about "Unconscious Bias" due to my Facebook postings on diversity and inclusion. I have been studying and noticing how microaggressions (the result of unconscious bias) emasculate job seekers. Many young people (especially of the aforementioned) who are assaulted with hurtful assumptions way before his/her first job interview.
I recorded an excerpt from my talk at the University of North Georgia on unconscious bias. I wish I had a day to bring training to a complete circle, but grateful to introduce the idea of promoting amicable and respectful dialogue around the affect of bias.
Here is the link to the show and notes. You can also subscribe to the podcast on iTunes here.
I am open in talking more about this subject (like all of my articles) offline. If you want to contact me, please call me at 708-365-9822. If you would like for me to present at your organization or college, email me at mark@thevoiceofjobseekers.com. I will gladly consider facilitating a discussion on this topic in any format you'd like.
I am the "The Voice of Job Seekers," career consultant, job seeker advocate, career writer, and founder of this award-winning blog. I help the employed, unemployed, underemployed, and under-appreciated find jobs using job search strategies to navigate the new job market. I aim to give a safe place online to those with different needs, cultures, and ethnicities to find their voice in the job market. Thousands have read my career advice throughout the web as I write about everything from job search strategies to the mobile job search. I have published more than 400 articles on this blog and some of the largest career sites such as Recruiter.com, YouTern, and Come Recommended. I've been quoted in major online publications such as Monster, TIME/Money, Fortune, Business Insider and MSN. FlexJobs, JobMonkey, Aerotek, Career Pivot, and CareerSherpa listed my podcast as one of the top podcasts to help your job search. Love for you to sign up for the weekly newsletter. I share the latest articles I've written, new podcast episodes, and answer any questions you may have. The new job search is scary and if you need help, I am here for it!