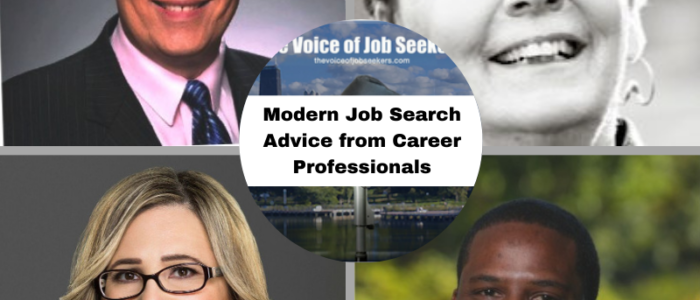 Podcast: Play in new window | Download | Embed
Subscribe: Apple Podcasts | RSS
Today's show will be a potpourri of job search advice coming from several different voices in the career space. People are not just struggling with getting advice. They comprise of audiences with various needs. I am hoping this will serve various types of people, stimulate some creative views and thinking, and of course, find more opportunities.
You are more than welcome to join the discussion. Here are three ways you can:
– Call and leave a voicemail at 708-365-9822, or text your comments to the same number
– Go to TheVoiceofJobSeekers.com, press the "Send Voicemail" button on the right side of your screen and leave a message
– Send email feedback to mark@thevoiceofjobseekers.com
Those on the mailing list are offered the chance to participate in the Job Lab. If you want to join us on October 24, the last Job Lab for the year, sign up at the blog.
Here's the show flow:
👂🏾I will play my NPR podcast interview on "Jazzed About Work" from mid-August, discussing LinkedIn.
👂🏾More about signing up for "421 Modern Job Search Tips 2021".
👂🏾Wendi Weiner and I discuss LinkedIn and using it effectively, but mainly, we begin by discussing how executive job seekers can start getting back on track.
👂🏾Damian Birkel and I discuss some LinkedIn strategies to help you reach out to new people to add to your network and start a relationship. He offers strategies, including researching industry professionals before connecting with them, and how it makes it easier for you to forge a relationship with them.
👂🏾Ozias Washington offers insight into how college grads needed to pivot and perhaps need future job searches.
The extended versions of each interview are found on my YouTube channel.
More about Beverly 
Bev Jones is the host of the weekly NPR podcast, "Jazzed About Work," housed at WOUB-FM as part of Ohio University. Bev is an executive coach and author of the book, "Think Like a CEO, Act Like an Entrepreneur." The excerpt at the beginning was my 2nd appearance on her show.
More about Damian
Damian Birkel is a Career Expert and author of The Job Search Checklist. This is Damain's second time on the show. He's been featured in CNN, Wall Street Journal and NPR's "All Things Considered." He is a personal friend and is a mentor to me.
More about Wendi
Wendi Weiner (Wee-ner) is an Executive Resume Writer and Personal Brand Expert. Through her company, The Writing Guru helps C-Suite Executives with their career materials, including their LinkedIn Profiles.
More about Ozias
Ozias Washington is a career coach who, at the time, was working with Wheaton College students. He has worked with hundreds of students over the years, helping them plan for their careers after college. You can reach via LinkedIn.
I am updating my free e-book entitled, "421 Modern Job Search Tips for 2021." I plan to release it to my email list on October 30, before everyone else will be alerted on November 13.
Want it early? Sign up on the blog.
My name is Mark Anthony Dyson, and I am the Founder of The Voice of Job Seekers. I am a career advice writer, but more importantly, I hack and re-imagine the job search process.. I've worked with hundreds of job seekers one-on-one helping them to construct a narrative and strategy that appeals to hiring managers and recruiters. I present at colleges and organizations, and facilitated many workshops including my volunteer effort through a Job Lab. I write and create useful job search content on this blog and write career and workplace advice for blogs such as Glassdoor, Payscale, Job-Hunt.org, Prezi and more. Media Feature highlights: Forbes, Business Insider, NBC News, Glassdoor, LinkedIn's #GetHired, and NPR Freelance writer and content contributor: Glassdoor, Payscale, job-hunt.org, The Financial Diet, RippleMatch.com and more. Contact me to contribute career, job search, or workplace advice for your site at markanthonydyson@gmail.com.