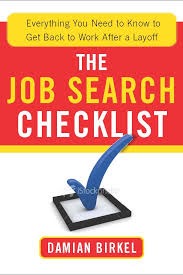 Podcast: Play in new window | Download | Embed
Subscribe: Apple Podcasts | RSS
Editor's note: AMACOM Books  has kindly agreed to allow giveaway copy of the book, The Job Search Checklist. Listen to the show or read the bottom of the show notes for more information.
Damian Birkel is the author of "The Job Search Checklist: Everything You Need to Know to Get Back to Work After a Layoff." He is a Certified Career Counselor and Founder of Professionals in Transtion support Group, Inc. that assists laid-off employees. He and his organization has been featured on CNN, WSJ, NPR and other national news outlets.
Damian and I discuss his story and how and why he created Professionals in Transition, his non-profit organization that has helped over 4,000 job seekers. We talk about the preparation for job loss and why must job seekers understand this process. He says that leading psychologists agree that job loss is the same emotional state as losing a loved one, or divorce. Grieving is a necessary part of the process before moving on.
Damien does state that at some point that someone needs to provide support but tough love. Listen to what he says about the "Bridge statement" that connects job loss to your current status indicating the direction our heading. How important is that to formulate to frame that in who you meet that may help you find a job? Damien provides a clear answer to a tough question that is often asked. This statement is only two sentences!
I also love the section he entitled, "What not to do and why." You say that, "If you kill your career Karma (reputation) by blasting your old company, it will create a negative impression of you."
Some of the other advice from the book he mentions in the show:
"Do not send a sloppy email to anyone (regardless of how well you know them)
"Don't keep you job loss and job search a secret."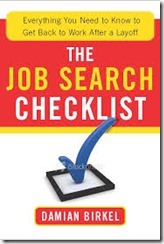 And now the giveaway….
Comment about the interview and qualify for a chance to get a FREE COPY of Damian's book, The Job Search Checklist. I will pick a winner randomly, and he or she will receive the book directly from AMACOM Books. I will announce the winner on Friday, November 8!
I am the "The Voice of Job Seekers!" I offer compassionate career and job search advice as I hack and re-imagine the job search process. You need to be "the prescription to an employer's job description." You must be solution-oriented and work in positions in companies where you are the remedy. Your job search must be a lifestyle, and your career must be in front of you constantly. You can no longer shed your aspirations at the change seasons. There are strengths you have that need constant use and development. Be sure you sign up to download my E-Book, "421 Modern Job Search Tips 2021!" You can find my career advice and work in media outlets such as Forbes, Inc., Fast Company, Harvard Business Review, Glassdoor, and many other outlets.