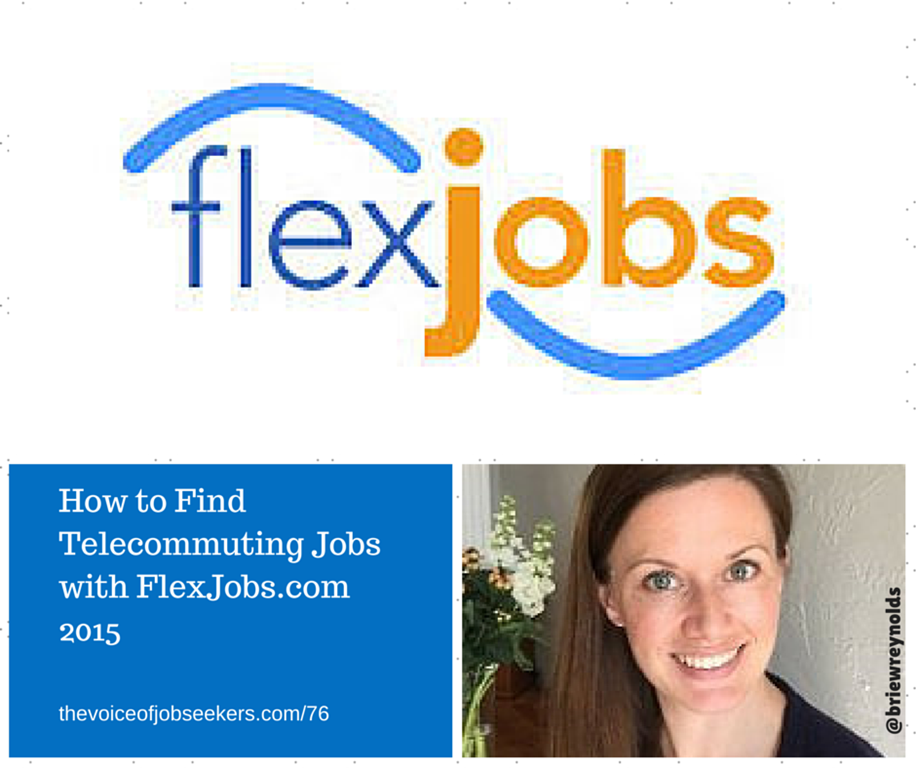 Podcast: Play in new window | Download | Embed
Subscribe: Apple Podcasts | Android | RSS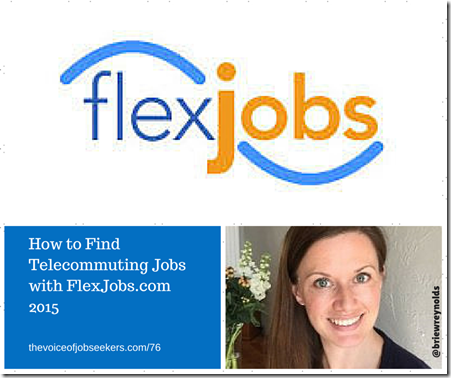 This special edition of the podcast features FlexJobs.com, a service providing legitimate and closely screened telecommuting jobs. There will be segments in the weeks to come where we will highlight relevant content for job seekers interesting in working remotely in a full or part-time capacity. You will hear Brie Reynolds (@briewreynolds), online content director for FlexJobs in most of the segments sharing what is featured on their blog, and studies highlighting the benefits of remote jobs and careers. If you are interested in telecommuting jobs and never knew how to find one, then this show is where you can start discovering new opportunities.
Have you ever worked from home or remotely even part-time? What has been your experience? We would love to hear about what you like or didn't like? There are three ways to provide feedback other than commenting on the blog:
Email me at mark@thevoiceofjobseekers.com
Call and leave a voice mail message at 708-365-9822
Go to TheVoiceofJobSeekers.com, press the "Send Voicemail" button on the right  (in red), and it will activate your laptop mic so you can leave a message
If you're a career professional, adviser, coach, recruiter, or advise job seekers in some way, and would like to leave advice, your perspective, or disagree, do so. I will reward you with a link to your blog, and let me know if it's OK to replay or read your feedback on the show.
Here are some highlights from our discussion:
What does it mean to telecommute?
Jobs posted have flexibility in work schedule in any way and are remote. The telecommuting jobs are screened, so postings are scam and ad free so that job seekers can pinpoint the flexibility they need
Common skills needed to work remotely are proactive communication and self-reliance. Challenges: working alone and being comfortable, and focusing through distractions such as other calls and mail delivery. Myths: Telecommuting jobs mean that you won't need childcare. Children at home during work hours mean distractions. Another myth is that you're slacking off while at home when studies show that remote workers are most productive.
53% of telecommuters work more than 40 hours/week. Only 28% of non-telecommuters do (Inuit)
Research will help you determine the type of set up and equipment you need to meet company requirements. Get it set-up ahead of time so that you can tell employers that you are prepared for day one
It also helps to be tech savvy and be prepared to handle your tech issues. In most cases, you will not have a help desk to help you resolve tech issues
100 Top Companies with Remote jobs in 2015
Telecommuting benefits?
When looking for telecommuting jobs or remote work, here are some helpful  keywords:
Remote work
Virtual job
Distributed teams
Work from home
Telecommuting solves a number of issues for both companies and workers such as, lower rental space and equipment costs for companies, and less travel time and gas for employees. For both the employer and employees, telecommuting can reduce each person's environmental footprint
I refer to the DeVry/MBO partner survey where 1 of 2 professionals will be telecommuting and the show that featured the survey.
Brie shared the following studies regarding the rise of telecommuting:
Intuit: In 2014, 24% of US workers telecommute some hours each week
Forrester: telecommuting will rise to include 43% of US workers by 2016
SHRM: 83 percent of HR professionals said telecommuting would be more prevalent in the next five years
Job seekers do not have to restrict his or her opportunities by state while searching. People can find companies in other states increasing possibilities. Freelancers can also find opportunities using FlexJobs for temporary or part-time telecommuting jobs.
FINALLY!
Subscribe to my newsletter and receive two things:
1. My e-book, 5 Easy Ways to Create an Online Presence
2. My bi-weekly e-zine where I peel back the curtain, and provide a look behind the scenes and offer you personalized and intimate advice not on the blog or podcast
My name is Mark Anthony Dyson, and I am the Founder of The Voice of Job Seekers. I am a career advice writer, but more importantly, I hack and re-imagine the job search process.. I've worked with hundreds of job seekers one-on-one helping them to construct a narrative and strategy that appeals to hiring managers and recruiters. I present at colleges and organizations, and facilitated many workshops including my volunteer effort through a Job Lab. I write and create useful job search content on this blog and write career and workplace advice for blogs such as Glassdoor, Payscale, Job-Hunt.org, Prezi and more. Media Feature highlights: Forbes, Business Insider, NBC News, Glassdoor, LinkedIn's #GetHired, and NPR Freelance writer and content contributor: Glassdoor, Payscale, job-hunt.org, The Financial Diet, RippleMatch.com and more. Contact me to contribute career, job search, or workplace advice for your site at markanthonydyson@gmail.com.