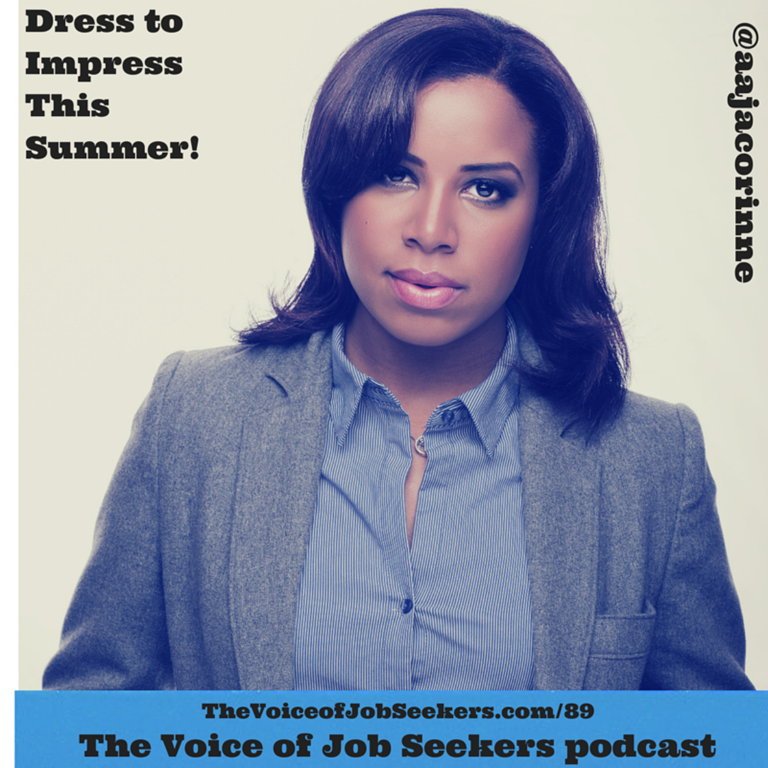 Podcast: Play in new window | Download | Embed
Subscribe: Apple Podcasts | Android | RSS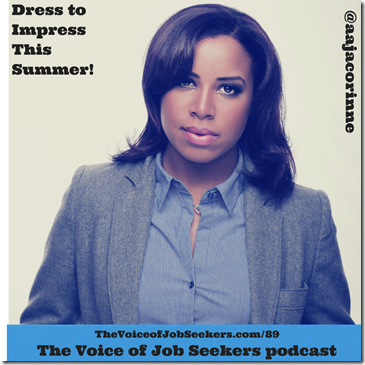 It's summer, and you want to impress without going broke or breaking your personal brand. You're a professional, and every impression counts during your job search or next opportunity. How you present yourself can create second chances at a career you desire. Once again, I invited Aaja Corinne (@aajacorinne), a fashion signature expert, to give us some short but useful advice that can make a difference.
What is your fashion faux pas? Here are three ways you can add value to our conversation:
1) Leave a voice mail or text message at 708-365-9822. Let me know if I can share it on future shows
2) Email me: mark@thevoiceofjobseekers.com
3) Go to TheVoiceofJobSeekers.com and press the "Send Voicemail" button to leave a message online
Those of you who are career professionals can receive the additional bonus by leaving your blog and I will link to it.
Aaja gave us practical advice on the signature look back on episode 80. She has appeared in JET magazine and WVON 1390, as well as some well-known clients such as Babyface. Here are some highlights from our conversation:
Wear white anytime, not just on Memorial day
Break up a white outfit with color that will flatter you
Great places to shop for savings – JCPenneys, Marshalls, K&G (for men), TJ Maxx, Burlington Coat Factory, Rossi Dress for Less (Women)
While you're in line, use your smartphone to find coupons. Many stores will honor them on top of existing sales
What's not good for your brand: Ill-fitting clothing, unpolished shoes, high hemline, untucked shirt, flip-flops (professional events), exposed bra straps, low-cut shirts, overly tight clothing
Dress for industry job standards: Be conservative, know your respective industry, and wear what complements your personality
Find out and wear colors that flatter you. Wear what you look best in color undertones
Have you subscribed to this show on iTunes? If you haven't, please do so. iTunes is a great place to write an honest review and increase the show's visibility. Enjoy listening to the show. Let us know what you think.
Do you need help with resume writing or career direction? Do you need coaching or instruction?I can help.
Also, join our Linkedin community! You'll enjoy some of the insights shared by community members and other career pros!
I am the "The Voice of Job Seekers," career consultant, job seeker advocate, career writer, and founder of this award-winning blog. I help the employed, unemployed, underemployed, and under-appreciated find jobs using job search strategies to navigate the new job market. I aim to give a safe place online to those with different needs, cultures, and ethnicities to find their voice in the job market. Thousands have read my career advice throughout the web as I write about everything from job search strategies to the mobile job search. I have published more than 400 articles on this blog and some of the largest career sites such as Recruiter.com, YouTern, and Come Recommended. I've been quoted in major online publications such as Monster, TIME/Money, Fortune, Business Insider and MSN. FlexJobs, JobMonkey, Aerotek, Career Pivot, and CareerSherpa listed my podcast as one of the top podcasts to help your job search. Love for you to sign up for the weekly newsletter. I share the latest articles I've written, new podcast episodes, and answer any questions you may have. The new job search is scary and if you need help, I am here for it!