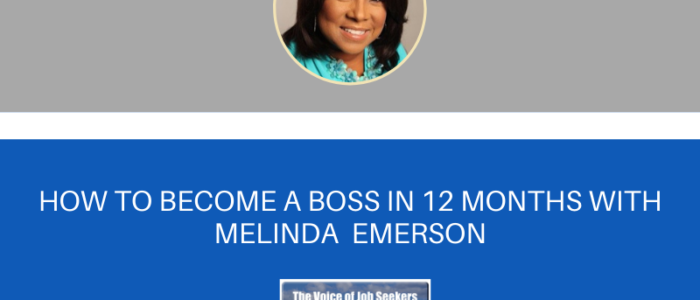 Podcast: Play in new window | Download | Embed
Subscribe: Apple Podcasts | RSS
This week, my feature conversation is with Melinda Emerson, AKA Small Biz Lady, and author of How to Become a Boss In 12 Months. Near the beginning of our conversation, she told me, "…the future of work is going to be, um, part and parcel." I never heard it put that way. She'll explain it future as you listen to the conversation.
You are more than welcome to join the discussion. Here are three ways you can:
– Call and leave a voicemail at 708-365-9822, or text your comments to the same number
– Go to TheVoiceofJobSeekers.com, press the "Send Voicemail" button on the right side of your screen and leave a message
– Send email feedback to [email protected]
Show Lineup
Here's the show flow for this episode:
Clip from a recent episode of my appearance on the CareerBuilder's podcast with Mike Bird and Lisa Plain. You can listen to the complete episode here. Leave them a review about what you think of the show.
Excerpt of my live stream show#JobSeekerNation with my co-host Jack Kelly and our guest Ruth Sternberg.
My featured interview with Melinda Emerson
More about Melinda:
Melinda's book, How to Become a Boss In 12 Month is the second edition, is a manual on how to build a business before opening the doors. She should know as she is known as "Small Biz Lady" worldwide. No, I'm not exaggerating. If you were securing your Twitter account back in 2009-12, she was your first ten suggestions of people to follow. She also had a New York Times column, and her Twitter account showed she was a content machine!
Conversation highlights:
Melinda believes the future of work will see businesses demand employees handle themselves as a whole or part-time business.
She says there's a difference between doing something because you need money and building an actual business.
"And honestly, it takes 12 to 18 months on average to break even. That ain't you collecting a check every week. That's you covering the basic expenses of the business!"
Melinda created a quiz to see if you're ready to build a business at BossQuiz.com.
"I want you to be a side hustler. I want you to work both jobs till. Until that second job is making real money, and do not cannibalize your paycheck because let's not get it twisted–you got to make sure that if you have an opportunity, you need to keep that opportunity until you're ready to walk away."
She says that clearing debt is essential, as is your credit score must be above 700.
"What is the one fundamental difference between then and now for you? The biggest difference between starting a business 22 years ago and now is video mark. Video marketing has become so pervasive."
I am the "The Voice of Job Seekers!" I offer compassionate career and job search advice as I hack and re-imagine the job search process. You need to be "the prescription to an employer's job description." You must be solution-oriented and work in positions in companies where you are the remedy. Your job search must be a lifestyle, and your career must be in front of you constantly. You can no longer shed your aspirations at the change seasons. There are strengths you have that need constant use and development. Be sure you sign up to download my E-Book, "421 Modern Job Search Tips 2021!" You can find my career advice and work in media outlets such as Forbes, Inc., Fast Company, Harvard Business Review, Glassdoor, and many other outlets.